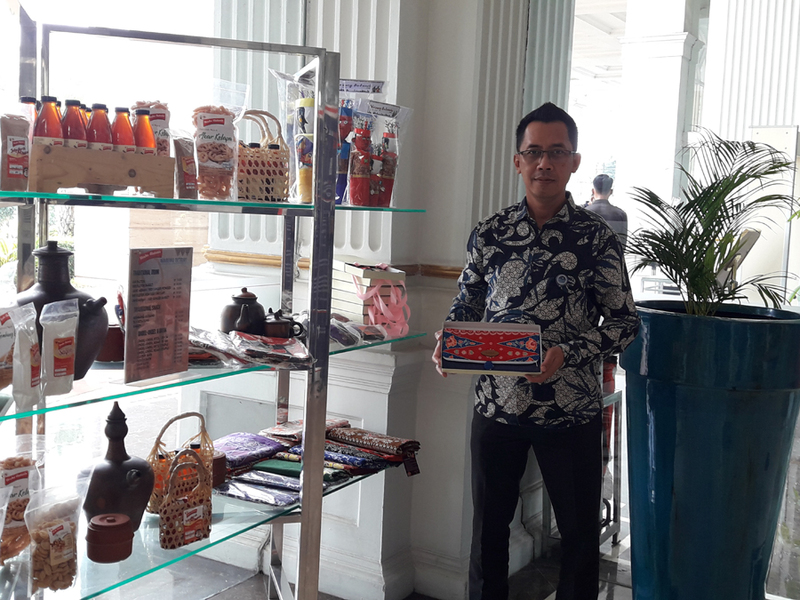 October 2nd is a very special cultural day in Indonesia as it is the day where it is celebrated as National Batik Day (Hari Batik Nasional), a celebration of the batik fabric – the traditional Indonesian cloth which originated from Java. The special day marks the momentous occasion when batik was recognised as a Masterpiece of Oral and Intangible Heritage of Humanity by UNESCO back in 2009.
To honour the significant day, Mercure Jakarta Batavia was inspired to show appreciation for batik by showcasing Batik Betawi from Rosha Batavia, in collaboration with [email protected] in the hotel's lobby area. Moreover, the campaign is aligned with the Mercure brand's "Discover Local" programme, and the batik exhibition further enlivened the Accor group programme held particularly throughout October, entitled "Batik Nusantara Celebration from ALL – Accord Live Limitless", which in turn, is part of the Accor group's year-round campaigned called "Rediscover Indonesia with ALL – Accor Live Limitless".
This campaign entices guests to not only enjoy a stay experience but also to indulge in exquisite local experiences through four pillars: culinary, arts and culture, fitness and health, and destinations, through collaborations with tourism and creative economy players and MSMEs (Micro, Small and Medium Enterprises).
The origin of the word batik comes from the Javanese words 'mbat' (throwing) and 'tik' (dot), hence, the word 'membatik' means writing a series of dots to form a beautiful pattern. Batik generally refers to the wax-resist dyeing technique applied to cotton and silk, as well as referring to the craftwork produced using this technique.
Batik encompasses a deep philosophical significance, where varying motifs and colours hold diverse religious and cultural symbolism, specifically Batik Tulis, which has a comprehensive technique and may take up to a year to finish.
One of Jakarta's trademark crafts is Batik Betawi, which has been around since the 19th-century and was favoured by the upper class including the Dutch, Chinese and indigenous elites in Batavia. Commonly utilising bright basic colours, patterns on this traditional batik features motifs that describe the culture that exists in Betawi including Salakanagara, Nusa Kelapa, Rasamala, Ondel-ondel, Kali Ciliwung, Tanjidor, Jali-jali and Peta Ceila, which became the distinct signature of Batik Betawi.
One establishment that produces Batik Betawi is Rosha Batavia, which has been opened since 2010 and is located in Jl. Karya Bakti, Gg. Bacang, RT 04/06 No. 56, Kecamatan Beji. In addition to creating beautiful Batik Betawi, Rosha Batavia also offers traditional Betawi snack which is made using age-old recipes that have been passed down through generations. With a tag line of "Traditional Millennials", Rosha Batavia strives to preserve and celebrate Betawi culture so that it will continue through young generations of today and the future.
Indulge in sophisticated and beautiful Batik Betawi fabrics, mini ondel-ondel, mini clutch and more, starting from IDR 50,000 and traditional Betawi snacks starting from IDR 25,000, which you can find in the lobby area of Mercure Jakarta Batavia.
For more information, please call +62 21 5083 0100 or visit all.accor.com
Mercure Jakarta Batavia
Jl. Kali Besar No. 44 46, Roa Malaka, Jakarta Barat
+62 21 5083 0100
[email protected]
all.accor.com