Last month, young and talented musician Vera Anastasia presented the concert "Untukmu Negeriku" (For You, My Country)to showcase her love for her home country. The concert was held to honor Indonesia's 72nd Independence Day and wassupported by talented and dedicated Indonesian musicians. The performers prepared a special repertoire of Indonesian songs with a special composition of musical instruments to represent the richness of Indonesian culture and Unity in Diversity.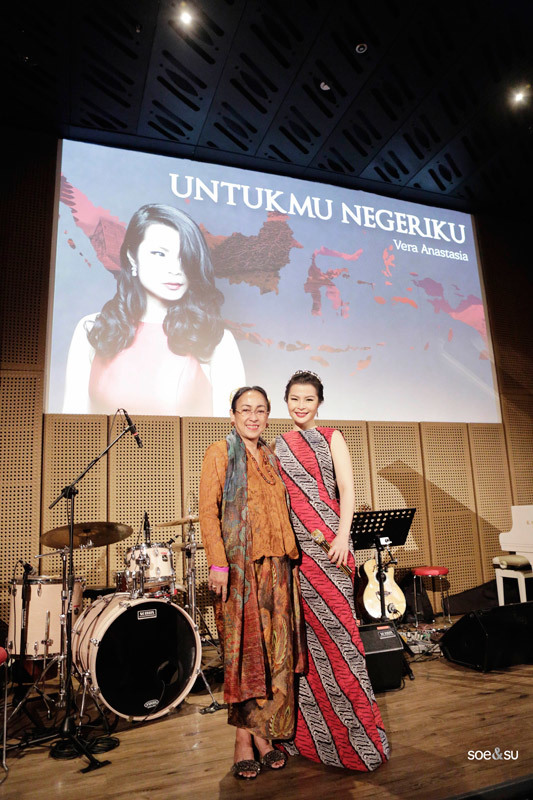 To open the concert, Vera performed "Gending Sriwijaya", a song about the Sriwijaya Kingdom, which was one of the biggest and most powerful kingdoms in the archipelago and brought unity to Indonesia for the first time with a large colony of territories. She continued the show with "Rayuan Pulau Kelapa" but gave the song an exotic and light touch of jazzarrangement as well as "Simfoni Raya Indonesia", composed by Guruh Soekarnoputra and presented as a refreshing easy listening arrangement.
Vera then sang "Bengawan Solo", one of the most famous Indonesian songs around the world, and combined it with "Jembatan Merah" for a medley. Her repertoire also included songs of Ismail Marzuki, which she performed as modern arrangements as a form of preserving Indonesian old songs for the young generation.
Ibu Sukmawati Sukarnoputri, the daughter of the first Indonesian President, Ir. Soekarno, read a poem titled "Kemerdekaan" (Independence), while Sir Dr. Harry Darsono, Phd. Accompanied Vera on the piano for the song "Sepasang Mata Bola", composed by Ismail Marzuki.
As a tribute and expression of gratitude to her late parents and Indonesia as "motherland" of all Indonesians, Vera thenperformed "Bunda Piara", accompanied by special percussion - Tifa - to represent the sounds of eastern Indonesia, and eventually closed the evening with the epic song "Indonesia Jaya" as a message to all generations.
Vera growing up with Indonesian children's songs and started singing herself when she was still in kindergarten. At the age of7, Vera began to play classical piano. Although her piano lessons were stalled for several years due to economic difficulties and uncertain national security after the riots of 1998, Vera's enthusiasm for music never faltered. When Vera joined a choir at junior high school Santa Maria under the guidance of Yoseph Chang, she also began to develop her vocal skills. Vera learned to listen to the vocal harmonization that guided her to become a soprano.
Her journey in music was not as smooth as she had imagined it, mainly because of the obstacles she faced, both from economic pressures and opposition of some family members. With the support of her late mother, Vera completed her accounting degree and at the same time kept learning about piano classics, music theory and especially vocal skills by attending the ABRSM (Associated Board Royal School of Music), from which she then graduated with a High Distinction score.
With Hans Huang as her mentor, Vera was selected to perform in the ABRSM High Scorer Concert three years in a row as participant with the highest national vocal examination score at grade 6 to 8, and also practiced to perform as 'solo performer' by embracing a wide repertoire of music, such as Aria, Lieder, Classical, and also Contemporary songs - the latter of which made Vera develop a deep passion for jazz songs and Broadway musicals.