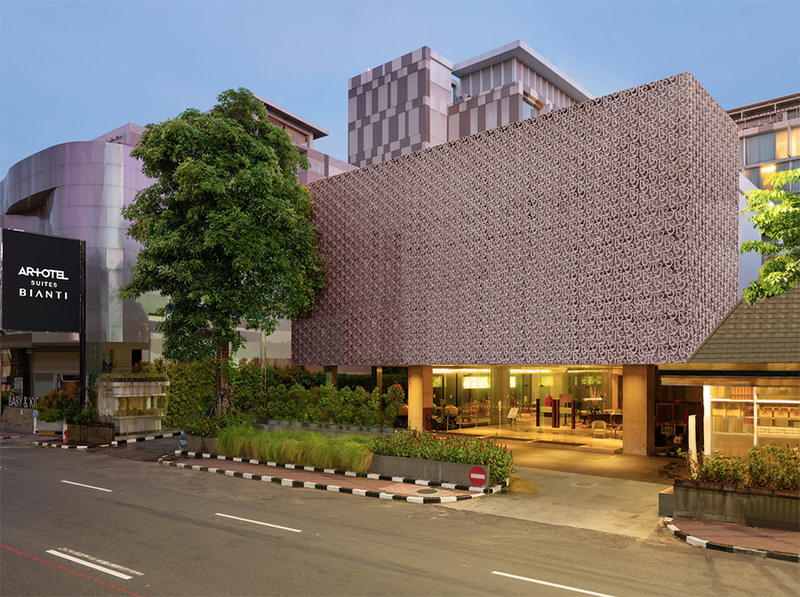 The prominent art-focused hospitality brand, ARTOTEL Group, has announced that they've taken over a five-star hotel in Yogyakarta and transformed it into the brand's latest venture - ARTOTEL Suites Bianti - Yogyakarta.
Classified under the brand's ARTOTEL Suites category, ARTOTEL Suites Bianti - Yogyakarta boasts the characteristics of a five-star hotel that merges the finest architectural design aesthetics with the lifestyle concept through Art and F&B. Encompassing the theme of Rejuvenation, this new establishment will alter the hotel concept of the previous property that was established a decade ago into a fresh, artsy and lifestyle concept by incorporating elements of art in each corner of the hotel's facilities including the building facade, public areas, and guests rooms, along with the refurbishment of 3 dining outlets with brand-new concepts.
Located on Jalan Urip Sumoharjo, in the heart of Yogyakarta, ARTOTEL Suites Bianti - Yogyakarta is nestled amidst the largest fabric shopping centre in Centra Java and is in close vicinity to the city's business district. Featuring 141 art-infused rooms with 4 room categories, Artsy Studio, Artsy Executive, Artsy Suites, and Presidential Suites, the hotel is equipped with complete facilities for business and leisure travellers. This includes 4 choices of meeting rooms that boast a capacity of 20-100 people, F&B outlast that include an all-day dining venue, beer garden, pastry shop and sky lounge. Additionally, the hotel features wellness facilities including a fitness centre, an outdoor swimming pool and a spa facility. True to the ARTOTEL brand, this new establishment also features the ARTSPACE, an art gallery space that will feature a rotating variety of art exhibitions and installations.
"ARTOTEL Suites Bianti - Yogyakarta is the second hotel that we operate in Yogyakarta and will become a new destination for those who want to enjoy today's lifestyle in this exotic and cultural city through a touch of contemporary art and modern lifestyle ambience provided by ARTOTEL Suites Bianti - Yogyakarta. By featuring a variety of new facilities, ARTOTEL Suites Bianti - Yogyakarta will revive the Indonesian tourism industry, especially in Yogyakarta, after experiencing a slump due to the Covid-19 Pandemic. We also want this hotel to create a new ecosystem for Yogyakarta's creative economy industry through its facilities in which we can provide a place for young artists who live in Yogyakarta to showcase their artworks, both in the visual arts and music, through the ARTSPACE facility and F&B outlets at ARTOTEL Suites Bianti - Yogyakarta," said Eduard R. Pangkerego, Chief Operating Officer of ARTOTEL Group.
"Our hotel owner is very interested in the lifestyle concept that ARTOTEL Group brings in operating its hotel chain, so the management decided to appoint ARTOTEL Group to be our next hotel operator with a goal that our hotel will always be a preferred destination for local and international tourists who come to Yogyakarta by keeping up the growing market demand. Therefore, we agreed to change the hotel concept into an artistic hotel and operate our F & B outlets into stand-alone restaurants and bars to be well-known hangout places in Yogyakarta in accordance with direction from the ARTOTEL Group team. The renovation process will be carried out within 3 months with a target in March 2022 ARTOTEL Suites Bianti - Yogyakarta will have a new "face". We believe "When it comes to art, it's important not to hide the madness", so we are ready to make ARTOTEL Suites Bianti - Yogyakarta a more attractive and memorable destination for local and international tourists," added Imant Setiawan, CHA., CRMH, General Manager of ARTOTEL Suites Bianti - Yogyakarta.
Media Contact:
ARTOTEL Group
Yulia Maria - Director of Marcom
[email protected]
+62 812 998 2567