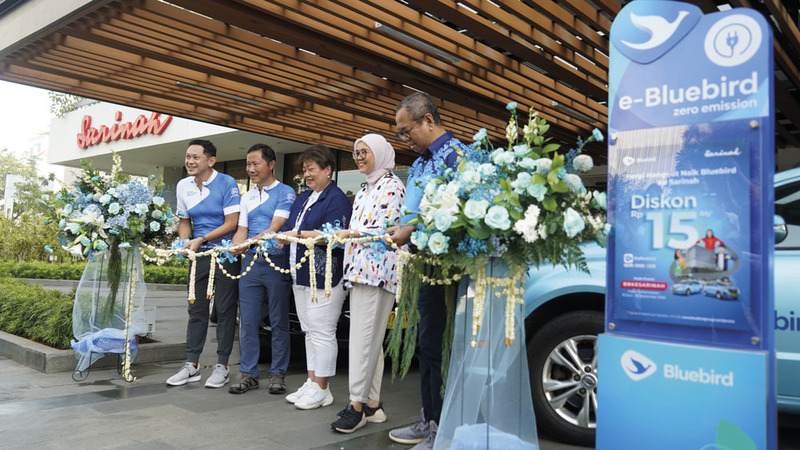 Bluebird is committed to supporting Sarinah by providing safe and comfortable transportation services for visitors

On 20th June this year PT Blue Bird Tbk, a leading and trusted transportation service provider in Indonesia, on its 50th anniversary, is committed to supporting Sarinah as a shopping center that is 100 percent committed to promoting local culture and brands to support economic recovery and tourist. To support this step, Bluebird is officially present in Sarinah as a trusted transportation service provider partner to provide safe and comfortable mobility for visitors.

The inauguration of this collaboration was marked by the launch of the Bluebird base in the southern lobby of Sarinah by the President Director of PT Blue Bird Tbk, Sigit Djokosoetono, Deputy Director of PT Blue Bird Tbk, Adrianto (Andre) Djokosoetono, President Director of PT Sarinah, Fetty Kwartati, Director of Business and Property Development PT Sarinah, Selfie Dewiyanti, and also witnessed by representatives of the Ministry of Tourism and Creative Economy of the Republic of Indonesia, Edy Wardoyo, as the Deputy Secretary of Tourism Products and Event Organizers.

The inauguration of the base in Sarinah was opened with cycling activities from the Bluebird Group headquarters and running starting from the Sudirman street area to campaign for environmentally friendly mobility, which is included in the Bluebird Run and Ride series of activities.

The Minister of Tourism and Creative Economy, Sandiaga Salahuddin Uno, appreciated the two companies' steps in supporting the company's creative economy. "I am happy to hear that the two companies are collaborating to support the local creative economy, with the hope that in the future it will be able to create business opportunities and employment opportunities for the wider community. Moreover, there is a joint cycling activity to campaign for a healthy mobility style as one of the beneficial urban tourism activities. Activities like this can overcome various crises caused by climate change and achieve sustainable development in reducing carbon," said the Minister.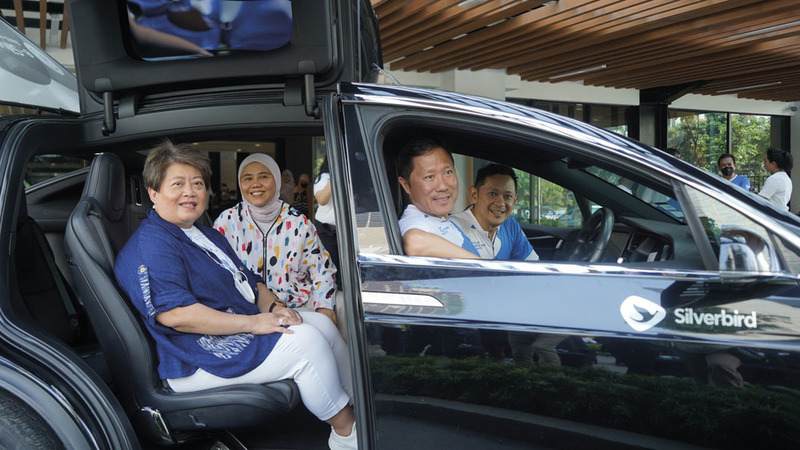 The President Director of PT Blue Bird Tbk, Sigit Djokosoetono said, "On my birthday Our 50 companies are committed to expanding the reach of public access through collaboration with iconic local shopping centers in Jakarta. We want to support Sarinah's efforts to promote local culture and brands by providing safe and comfortable mobility facilities for its visitors."

Furthermore, Sigit said that this activity is a collaboration of two native Indonesian companies in supporting the promotion of local culture and brands. "We are a native Indonesian company. So we took the initiative to collaborate in supporting local brands and culture so that they can grow," said Sigit.

Fetty Kwartati, President Director of PT Sarinah, on the same occasion also said, "Sarinah who is 60 years old is also growing from time to time with Bluebird who is also 50 years old. So this collaboration has historical value but is also contemporary because the two companies are the legacy of the Indonesian nation's business that still exists today. Sarinah and Bluebird understand the meaning of business sustainability and will continue to innovate to become Indonesia's leading tourism icon."

In the future, Fetty Kwartati said that Sarinah, as an urban tourism destination with a thick heritage of Jakarta, hopes to become the first shopping center with a Bluebird base that has electric taxi facilities, to support a zero emission travel experience for the people of Jakarta.

Before closing the event, Sigit added, "In line with Bluebird's commitment to facilitate public accessibility in getting safe and comfortable services, by upholding the Sustainable Vision, Bluebird will continue to collaborate to be able to jointly provide benefits to share happiness to build this country" closed Sigit.
PT Blue Bird Tbk
bluebirdgroup.com