Over the last five years, Indonesia's beer industry has expanded exponentially, becoming one of the top markets in Southeast Asia to introduce various imported beer brands from Western countries. Now, a new brand has finally been introduced to the market – Parallel 49 – a brand from Vancouver, Canada, whose collection of craft beers with distinct characteristics along with unique flavours and eccentric packaging designs. The arrival of Parallel 49 in Indonesia makes for an exciting addition to Indonesia's imported craft beer portfolio.
The main overall goal of Parallel 49 is to create high-quality beer products that are accessible to everyone. For this reason alone, in 2021, PT Pantja Artha Niaga, as an alcoholic beverage importing company, showed interest in Parallel 49 and finally decided to partner with Pacific Rim Distributors, an exporter company specialising in craft beer from Vancouver.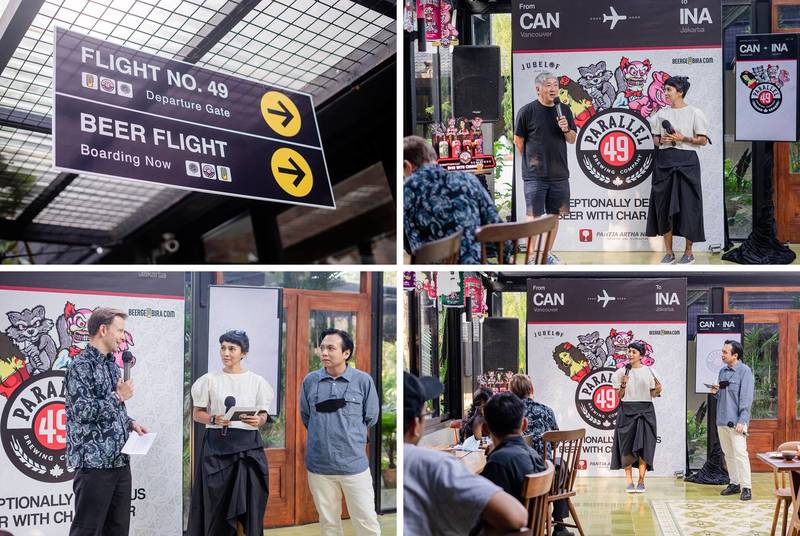 There are four Parallel 49 beer variants that are introduced, namely, Trash Panda Hazy India Pale Ale (ABV 5.0%); Jerkface 9000 Northwest Wheat Ale (ABV 5.0%); Ruby Tears Northwest Red Ale (ABV 6.0%); and Filthy Dirty India Pale Ale (ABV 7.2%), which is expected to attract craft beer connoisseurs in the country.
"We are very optimistic about the partnership between PT Pantja Artha Niaga and Pacific Rim, as a bridge company with the first Canadian beer we imported, namely Parallel 49. There are so many opportunities that can be developed in Indonesia now. We also really appreciate the role of the Trade and Invest British Columbia Office in Indonesia, which gave us the opportunity to introduce ourselves to the Pacific Rim," said Arief Haadi Mulia, Brand Manager of PT Pantja Artha Niaga.
"The Provincial Government of British Columbia helped provide navigation on matters related to logistics, finance and culture so that this Canadian craft beer can enter the Indonesian market. The support and relationships that are established are extraordinary, they are always there for us every step of the way. After 18 months, we have finally penetrated the market and we are proud to say that our craft beer is selling well. We couldn't have done it without their help and hard work," shared Garett Senez, Vice President of Marketing at Pacific Rim.
Established in 2012, Parallel 49 is a brewery company based in East Vancouver that is currently available in more than 100 cities in Canada and worldwide, including Asia, such as Singapore, Thailand, and now, Indonesia. Parallel 49 is imported and distributed exclusively by PT Pantja Artha Niaga.

You can find Parallel 49 in beer-selling outlets in several big cities such as Jakarta, Semarang, Medan, Bali, Surabaya and more. Additionally, Parallel 49 can be purchased at certain Red & White-owned outlets in Jakarta and online through minuman.com