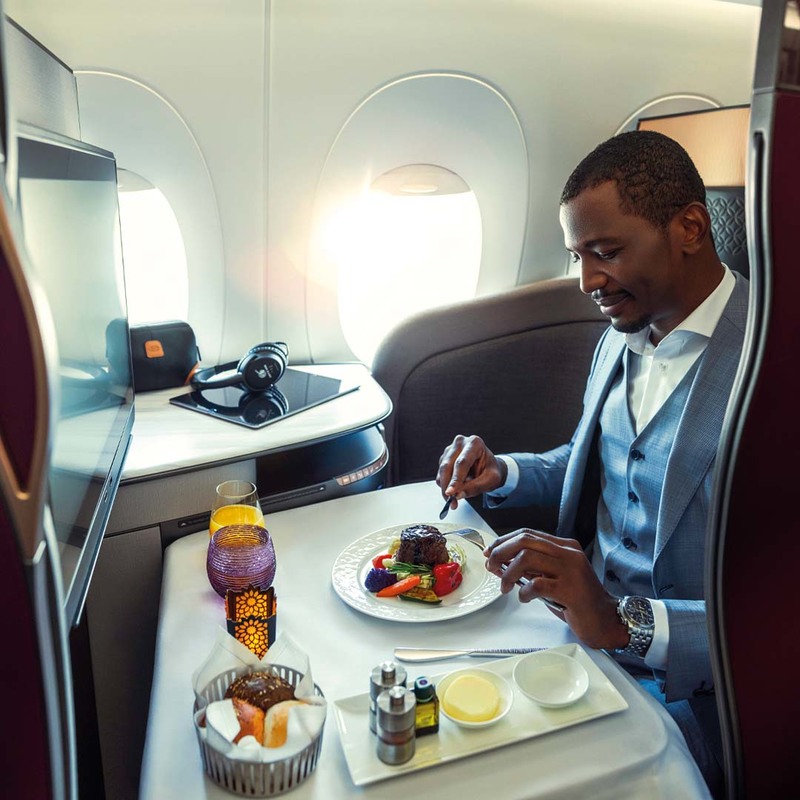 It's time to get back in the sky and experience the world's most memorable destinations with an unforgettable journey in the World's Best Business Class, as recognised by 2019 Skytrax World Airline Awards and 2019 TripAdvisor Travellers' Choice Awards. The first-ever cabin to offer aft and forward-facing seats, takes cabin innovation to an entirely new level, thanks to its quad configuration. Welcoming the new standard of Business Class!

On board Qatar Business Class, journeys have always been exclusive, but now – with the introduction of their first-ever Business Class suites with doors they have created an experience that redefines expectations. Introducing the quad, a private space fully adaptable to travelers' requirements. Whether traveling with family, friends, or business colleagues, movable panels allow passengers to transform their space into a social area, allowing them to work, dine or socialise at 40,000 feet. And when they wish to relax or sleep, the cabin crew transforms the space back into a private room for the ultimate in privacy and comfort.


Cabin interiors are designed in QatarAirways signature colours of burgundy and grey, enhanced with elegant and warm rose gold detailing. The seats have been thoughtfully dressed in the latest and finest fabrics, to optimise comfort. The media panel also comes with an all-access power port, with USB, HDMI and NFC capabilities for complete convenience. And each suite offers ambient mood lighting, fully lie-flat beds and generous storage space, creating a new standard in comfort.

Of course there is world-class entertainment with up to 4,000 options to choose from, so passengers can immerse themselves in seat-gripping action, tension-filled drama, or just unwind into a world of make believe. And for the amenities Qatar Airways have partnered with two Italian luxury brands BRIC's and Castello Monte Vibiano to design an amenity kit with a range of skin care products and in-flight necessities that are designed exclusively to ensure that everyone arrives fresh at their destination.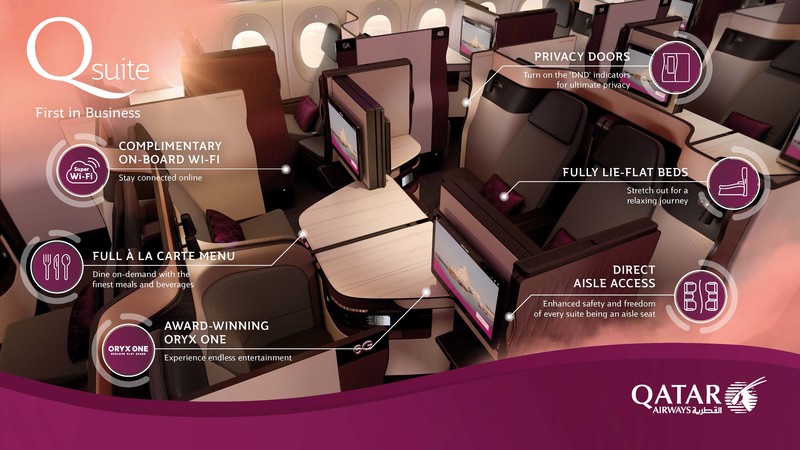 But it doesn't stop there, next is the outstanding service! The first fully lie-flat double bed promises the ultimate journey in Business Class. And the bespoke turn down service complete with pillows, a quilted mattress and a soft, plush duvet is now complemented by The White Company sleepwear and slippers* to further enhance the quality of sleep. Their suites feature doors and a Do Not Disturb indicator, so passenger's slumber is guaranteed to be uninterrupted.

With service based upon world-renowned Arabian hospitality, the cabin crew anticipate passengers needs on each and every journey. Made up of 125 nationalities, Qatar Airways crew has been voted the Best in the Middle East by 18 million passengers by Skytrax Awards 2017.

Qatar Airways will fly Qsuite from Jakarta to Doha starting 29 March 2021
It's Business Class like never before.

For more information : qatarairways.com
*For long-haul night flights and ultra long-haul flights only.