"In my 29 years of working the streets of Pegangsaan, no company, hotels, entity, nor anybody has ever done anything like this. This is an experience of a lifetime and I am very grateful." With watery eyes, Rachmat, 62 years of age, described the overwhelming experience.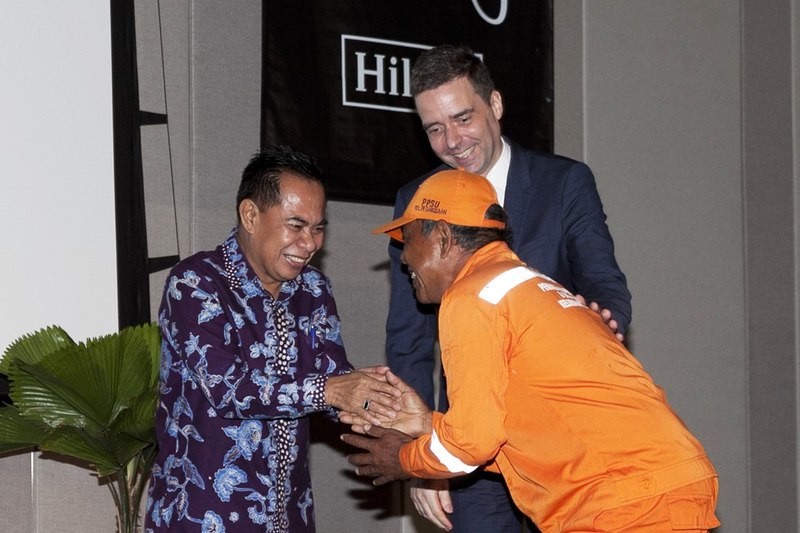 Here is Rachmat, a Public Facility Maintenance Agency (PPSU) officer, plucked away from his everyday labour of cleaning the streets and public areas for one night to enjoy a grand banquet held in celebration of his dedication alongside 99 of his peers.
The celebration was organised at DoubleTree by Hilton Jakarta – Diponegoro in honour of Jakarta's finest, aptly known as Rainbow Troops thanks to each division's attribute colour. Held in conjunction with Hilton group's 100th anniversary, DoubleTree by Hilton's 50th anniversary and DoubleTree by Hilton Jakarta – Diponegoro's 5th anniversary, the event invited public workers in the vicinity to experience Hilton hospitality with a dinner buffet set at the DoubleTree by Hilton Jakarta – Diponegoro. The hotel's Makara Grand Ballroom was transformed for this reception into a dining room with a semi-patio feel complete with long wooden benches and tables as well as diverse culinary booths, such as a noodle station, an Indonesian food station, a Western section, desserts and many more.
Regarding the event, Nils-Arne explained, "We decided to celebrate our anniversaries together with communities working hard around use and keeping our streets clean and our parks safe, and it is a privilege to be able to celebrate with them."
The appreciation dinner, along with a number of other initiatives, such as Bye Bye Plastic Bag and Breast Cancer Awareness, is part of the brand's Acts of Hospitality program in which they would demonstrate kindness to society in order to give back.
"This hotel is very particular in giving back to the community since we opened five years ago. In line with our Travel with Purpose targets where we aim to create positive social and environmental impact through initiatives like tonight," Nils-Arne added.
DoubleTree by Hilton Jakarta – Diponegoro
Jalan Pegangsaan Timur No. 17
T: +62 21 3190 4433
IG: @doubletreejkt
FB: @DoubleTreebyHiltonJakarta
www.jakartadiponegoro.doubletree.com