What kind of a nation will Indonesia be in 2045, one hundred years after gaining independence from nearly 400 years of Dutch rule? This was the basic question asked at the 4th Indonesia Economic Forum held on November 22 & 23rd.
The nation has indeed come a long way from those days. It has experienced political, economic and social upheaval but throughout its history it has held firm to its identity and sense of oneness despite its diversity.
As it now looks at the horizon to the coming three decades that will define its place in the global community, Indonesia has much to be optimistic about. It is one of the fastest growing economies in the region and offers enormous opportunities for continued sustained growth over the next three decades. It has all the right characteristics to make the leap from emerging economy to developed economy status by 2045.
These characteristics include a young, dynamic and productive population. A fast growing consumer class, vast natural resources and a number of world class companies. It has also a vibrant entrepreneurial class reflected in the 1,500 start-ups that have been formed, putting the country third worldwide behind the US and India.
Potential however must be realized. So can Indonesian start-ups create products and services that are wanted by the rest of the world? Will Indonesia merely be a market for the rest of the world or can it also be contributor to the transformation of human society under way?
Over two days, the Indonesia Economic Forum discussed issues ranging from the need to find new models for infrastructure development to using Fintech to enhance financial inclusion to using EdTech (education technology) to improve the country's education system.
As part of its ongoing efforts to engage with a broad cross-section of Indonesian society, the Indonesian Economic Forum this year launched the DaretoDream initiative where it plans to engage with 10,000 university students across the country over the next 12 months.
The DaretoDream campaign, in partnership with Campaign.com, will allow university students to express themselves and voice their hopes and aspirations for their nation. The initiative will also involve private corporations, government institutions and civil society by providing mentorship, internships and guidance to the students.
Jakarta deputy governor Sandiaga Uno, who launched the DaretoDream initiative has agreed to be the patron and invite university students to his office to shadow him and get a first hand understanding of how the city government operates.
Minister of Transportation, Budi Karya Sumadi was the guest of honor at the 4th Indonesia Economic Forum. In his keynote address, the minister noted that his ministry and the government are committed to improving the country's transportation network and welcome the participation of the private sector.
"The government cannot do it alone and we cannot rely on the government budget," he said. "This is why we welcome private investors, both foreign and domestic, to participate in the effort to improve the country's infrastructure."
For the county to realize its potential, it must increase financial inclusion from its current level of 37%. As Gita Wirjawan, founder of Ancora Capital and former trade minister noted in his opening keynote address, without capital good ideas will only be good ideas.
"By 2045, two thirds of children will be born in the tropics," he noted. "We are blessed with mathematics but we need to act, ideate and execute."
A just society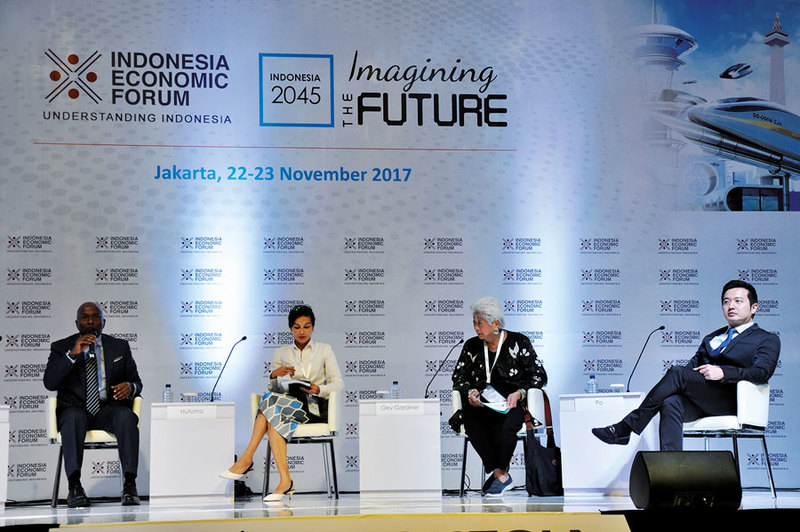 In this new global landscape, Indonesia must remain an open economy and an open society, noted Tom Lembong, chairman of the Indonesia Investment Coordinating Board. The country must also reduce the wealth gap and create equal opportunities for the bottom 70% of its population.
This is where technology can play a pivotal role. The country must adopt new economic growth models as well as new mindsets to tackle key challenges. It must attract global talent to its shores and not be afraid that it will lose out by doing so.
As Lembong noted in his exclusive interview with the Indonesia Economic Forum, Indonesia must create new global hot spots where Indonesia's brightest talent can work side by side with the best from the rest of the world.
"We have to innovate and experiment," he noted. "Innovation cannot be created by regulation and cannot be forced. It comes from people trying many, many new things and be willing to fail."
To create such an environment, the government must have a light touch approach to regulation. Lembong noted that Google succeeded because the US government gave it the freedom to experiment and grow. "Regulation is a necessary evil but its like a traffic lights that sets forth some basic values for engagement."
"Fintech is the perfect example of how we can reshape our economy," he noted. "Unless we take a deregulation oriented approach to e-commerce and the digital economy, our own people, all 260 million will leave the government behind."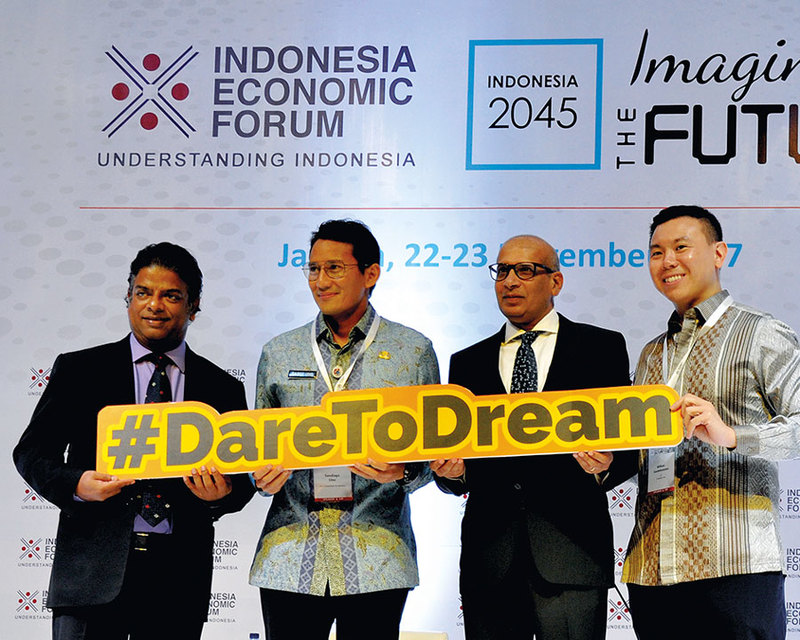 This is because as the economy develops, it will shift to the services sector and services are more easily transferred to the internet which is borderless and inherently global.
The embrace of technology, deregulation and empowering innovation will all ultimately lead to one goal.
"What should be our vision for 2045? Above all I would want our country after 100 years of independence to be a just society. Otherwise we will have division among the elite and among groups and an unhealthy environment that will lead to bad politics and bad policy."
If Indonesia can improve the lives of all its citizens over the next 30 years, create healthy living environments free of pollution, retain a positive culture and contribute to the wellbeing of the global community, it can celebrate its 100 anniversary of independence with pride and joy.
Text by Shoeb Kagda

Shoeb Kagda is the Founder of the Indonesia Economic Forum, a multi-platform initiative that engages with all segments of Indonesian society to find solutions to the biggest challenges facing Indonesia.