Jakarta, 22 October 2021 – Earlier this year, Made Dhira Dahni Pawitra, a Starbucks partner (employee) from Bali competed in the 2021 Indonesia Cup Tasters Championship and was crowned the champion. In Indonesia, the championship was organized by the Specialty Coffee Association of Indonesia (SCAI), and it is the biggest and most prestigious coffee event in the country. He has competed against 23 finalists from 20 coffee brand representatives.
On 24 October, Dahni will represent Indonesia in the world stage at 2021 World Cup Tasters Championship (WCTC). Dahni will be matched against 23 competitors from 23 countries at the championship from 22-26 October 2021 in Milan, Italy.
According to Rinaldi Nurpratama, Secretary General of SCAI, the championship awards the professional coffee cupper who demonstrates speed, skill, and accuracy in distinguishing the taste differences in specialty coffees. He commented on the championship, "The winners of the Indonesia Coffee Event during this pandemic mean a lot to the specialty coffee industry. They are able to show their enthusiasm, even in difficult times and we face it together. The industry is still racing to push for better coffee quality. WCTC is a reflection of the coffee industry on how the industry carries out quality control from the selection of coffee beans. We are so proud that the Indonesian representatives who competed have been able to go through a tight competition amongst finalists from all over Indonesia. They are the Indonesian pride and are expected to continue in proving themselves in the world stage. We hope that they can learn from each other, as well as the international level colleagues, in order to participate in leveraging innovation and the quality of Indonesian coffee in the future."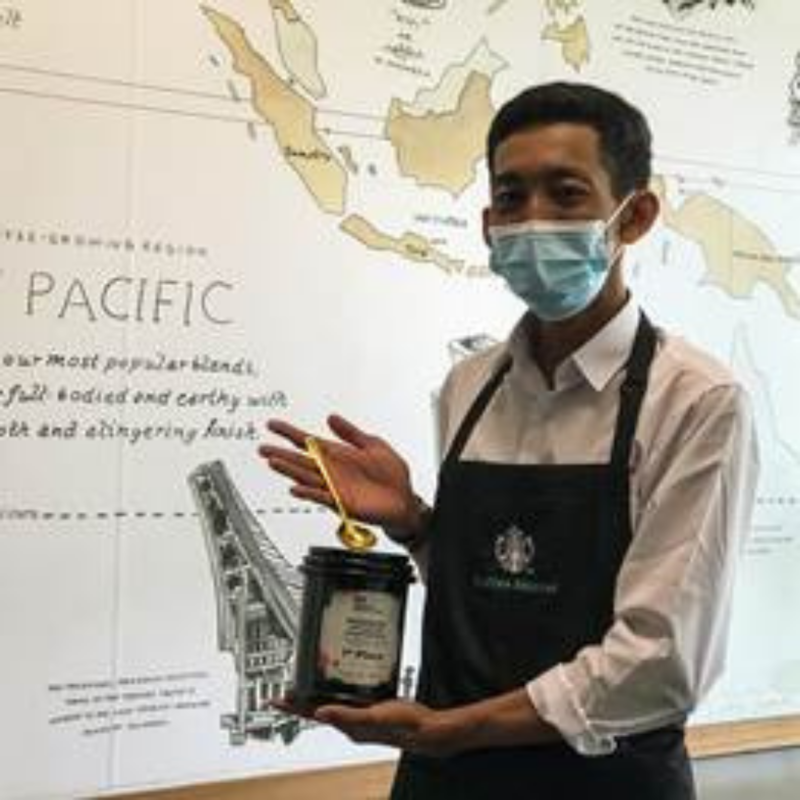 Made Dhira Dahni Pawitra or also known as Dahni shared his experience in preparing himself for this championship, "In 2018, I started to train my senses of taste by tasting a lot of coffee from different origins and roasting process, and continued with many brands of bottled mineral water to have a more sensitive palate. Prior joining this championship, I competed in the 2019 Indonesia Cup Tasters Championship, but only made it to Top 20. From there, I learn from my mistakes, listen to others' sharing, and take triangulation cupping practice everyday to develop my ability in distinguishing wide range of profiles and flavours. I keep reminding myself that being able to quickly sense the distinction is a learned skill from frequent practices. When you believe in yourself, everything is possible, and I am prepared for this world stage championship."
Dahni is a Coffee Master and a Shift Supervisor at Starbucks Sunset Star Bali. He has been a part of Starbucks family since 2018. He is a persistent individual and because of his persistence since 2019 he has always trained his sensory skills to be able to participate in this competition. This is the second time Indonesian partner has represented Starbucks and the country in a world competition, after a Starbucks barista were in top 25 of the 2016 World Brewers Cup Championship.
Let's support Dahni and Indonesia at the world championship!
About Starbucks
Since 1971, Starbucks Coffee Company has been committed to ethically sourcing and roasting high-quality arabica coffee. Today, with more than 32,000 stores around the globe, the Company is the premier roaster and retailer of specialty coffee in the world. Through our unwavering commitment to excellence and our guiding principles, we bring the unique Starbucks Experience to life for every customer through every cup. To share in the experience, please visit us in our stores or online at stories.starbucks.com or www.starbucks.com.
About PT Sari Coffee Indonesia
PT Sari Coffee Indonesia is made possible through the relationship between Starbucks Coffee Company and PT Mitra Adiperkasa Tbk., one of the most renowned department store and branded goods companies in the country. It is also the sole company exclusively licensed to set up and operate Starbucks in Indonesia. In Indonesia, all food and beverage items sold at our stores are Halal Certified by Majelis Ulama Indonesia (MUI).
About PT Mitra Adiperkasa Tbk.
MAP has a portfolio of more than 150 world-class brands from department stores, sports, fashion, kids, food & beverage to lifestyle products. As at end of March 2021, MAP operates more than 2,300 retail outlets in 81 cities throughout Indonesia. The major retail concepts under the group among others: Department Stores: Sogo, Seibu, The FoodHall; Fashion & Lifestyle: Zara, Marks & Spencer, Topman, Topshop, Kipling, Nautica, Massimo Dutti, Staccato, Swarovski, Zara Home; Sports: Sports Station, PlanetSports.Asia, Converse, Golf House, Reebok, Rockport, Skechers, Onitsuka Tiger, Clarks; Digital: Digimap; Food & Beverage: Starbucks, Pizza Marzano, Krispy Kreme, Cold Stone Creamery Ice Cream, Godiva, Genki Sushi, Burger King and Domino's Pizza; Kids: Kidz Station, Smiggle, Lego; Others: Alun Alun Indonesia. For more information about MAP please visit www.map.co.id.
For media inquiries, please contact:
Kiki Mochamad Rizki
Division manager, public relations and csr
PT Sari Coffee Indonesia