President Joko Widodo in his recent remarks at the IMF-World Bank Meeting touched on global uncertainty. This is in line with the environmental and social challenges in land-based conflicts that still exist in the business world, especially in Indonesia.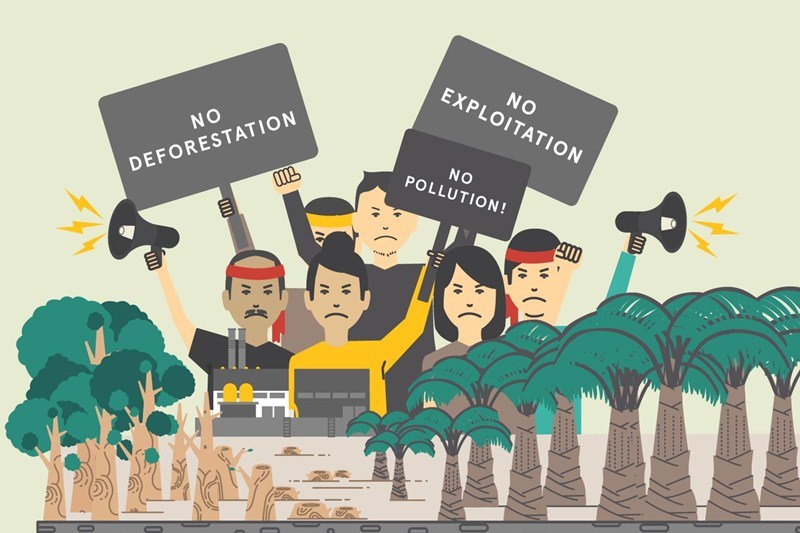 When talking about Indonesia's main export commodities, everyone is likely to refer to the growth of palm oil. In 2017, its market share reached one seventh of Indonesia's total exports to the world with almost USD 23 million. Unfortunately, the huge number does not reflect its true potential. Land-based industries whose operations are close to people and communities are often faced with social conflicts.
A study conducted in 2016-2017 illustrates how business such as oil palm plantations bear huge costs due to the conflict. It is a study initiated by the Indonesia Business Council for Sustainable Development - Conflict Resolution Unit (IBCSD-CRU) which found some surprising data about the amount of conflict costs borne by the company. Conflict produces tangible costs, which are direct and factual, and intangible costs that are direct and often undocumented.
Real costs are estimated at around USD 70,000 to USD 2,500,000 arising from loss of potential income and loss of opportunity. The risks may include loss of profits, staff and legal fees, compensation, or rising production costs. This represents 51 per cent to 88 per cent of plantation operating costs and 102 per cent to 177 per cent of annual investment per hectare. This percentage comes from the total allocation costs to deal with conflict.
In addition, social conflicts also carry intangible or 'hidden' costs that range from USD 600,000 -to USD 9,000,000. These costs are indirect losses caused by the risk of escalation of conflict, reputation risk, and the risk of violence against property and people. These findings reinforce the notion that social conflicts - including land-based conflicts have produced tremendous impacts for companies as users or land developers.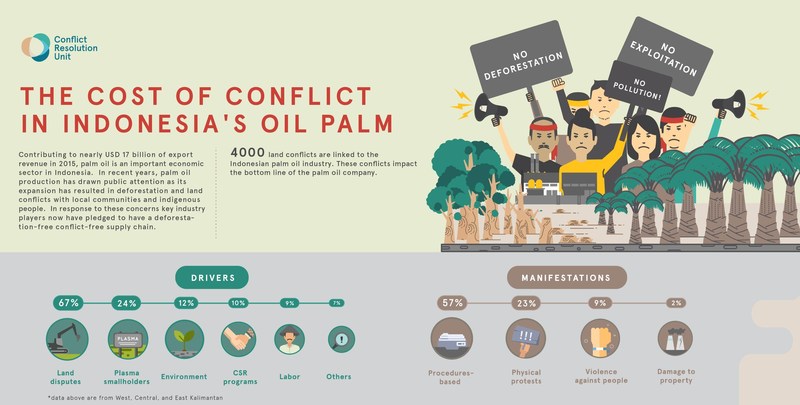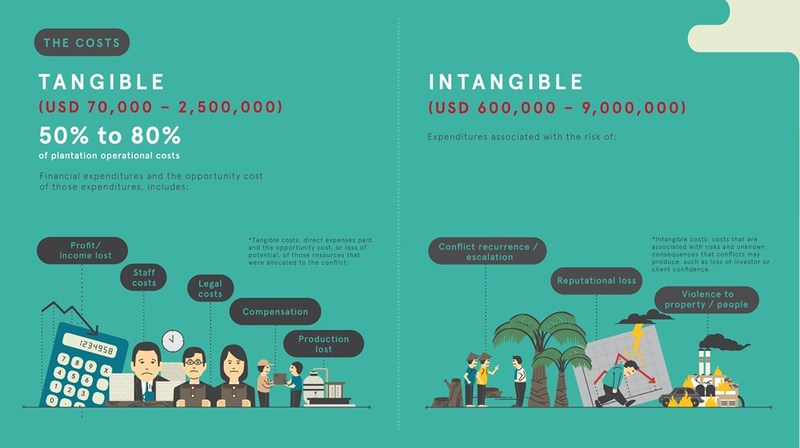 Alternative Solutions
The large percentage of costs due to environmental and social conflicts is allegedly going to lead businesses into an economic roadblock. Clan Hoek in his book "The Trillion Dollar Shift", said that business and capital have contributed to this problem, and the mis-allocation of resources at humanitarian prices and the environment in business is an expensive proposition. In short, environmental disasters and social conflicts have caused massive economic losses in the world.
If we think more deeply, it can be seen that the seeds of conflict grow and are disseminated because of the economic injustices taking place among the community and between various segments of society. But in addition to contributing to the destruction of resources in bulk, Hoek also wrote optimistically that businesses also hold the key to solving them.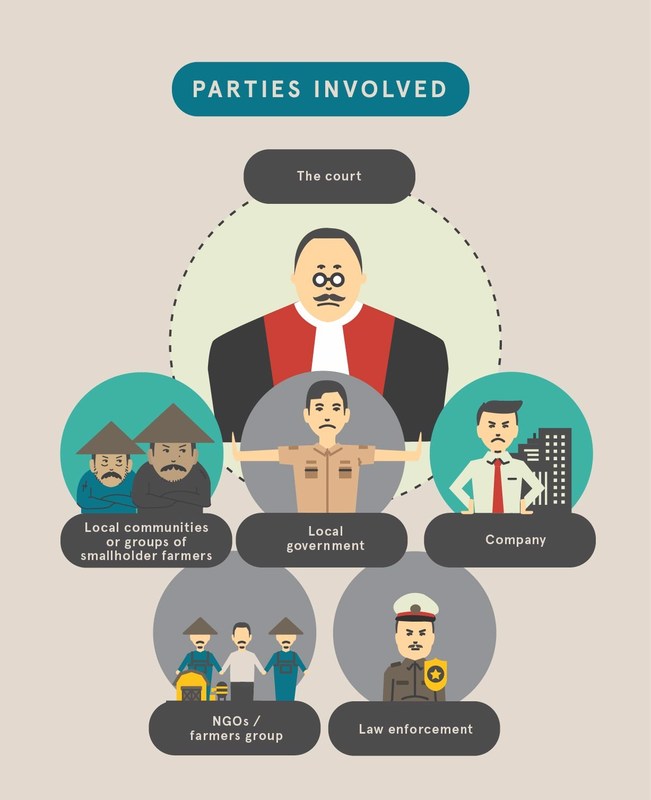 The Indonesian Chamber of Commerce and Industry (KADIN) also recognises that land use or development of land management will cause conflict. As mandated by Law No. 1/1987, KADIN must strive to balance and preserve natural resources while engaging in economic development. To reduce the potential for conflict, KADIN supports a legal umbrella for conflict resolution methods that can resolve conflicts effectively. Possible methods for resolving conflicts while creating opportunities that can turn conflict into positive relationships. The transformation of this relationship can ultimately produce not only economic value but also social and environmental benefits.
Working closely with other stakeholders, KADIN wants to pave the way to solve this problem. KADIN has even formed a special conflict resolution unit in the form of the Indonesian Business Council for Sustainable Development - Conflict Resolution Unit (IBCSD-CRU). This special unit was formed to promote mediation as an effective approach to conflict resolution in conflicts over land and natural resource management. But the CRU did not mediate the conflict itself, but chose the path of support by providing various supports to ensure that conflict resolution was carried out in accordance with existing best practices.
Another effort is to invite stakeholders to work together in the initiation of the preparation of a practical handbook on conflict resolution. This handbook will provide some basic concepts for dealing with land and social based conflicts arising from business activities. This book contains several important stages of conflict resolution, starting from the complaints mechanism, resolution, and implementation of the resolution to the way to end it.
Resolving conflicts is often a long winding road. But there is always light at the end of the road. By recognising the importance of the parties' understanding and involvement, for example, the CRU has succeeded in creating a situation of open and equal communication between palm oil plantation companies and local communities in conflict in Nabire, Papua. In Jambi, the long-standing land conflict was finally resolved thanks to active coordination with the government at the site level. In addition to increasing awareness and capacity building in conflict resolution, the CRU successfully facilitated training for 40 mediators to obtain certification in managing land and natural resource conflicts.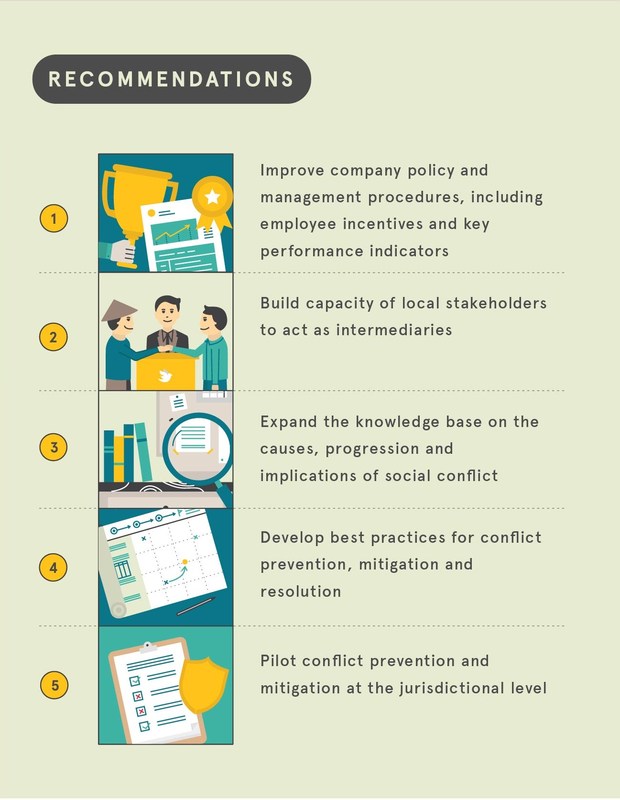 These initiatives provide a tentative model for an independent conflict resolution body that can provide access to the support of the mediation process for the conflicting parties. In addition to building public trust in mediation, the presence of this body will ensure the availability of mediation services for the parties to the conflict. When conflicts are resolved efficiently and losses due to conflict are avoided, this will be a positive contribution to improving Indonesia's business climate.
Conflict resolution will encourage sustainable business practices that certainly provide competent strength and great opportunities for the Indonesian business world, especially when we depend on commodity exports. In this period, we cannot ignore the slightest risk. And this does not only apply to oil palm commodities but other land-based commodities such as chocolate, coffee or sugar which contribute a lot to the economy are also vulnerable to this risk. This brings us to the principle that conflict resolution is one of the cornerstones in building a stronger and more resilient future.
Effective and complete conflict resolution will also contribute positively to the achievement of the Sustainable Development Goals (SDGs). Finally, I want us to understand that with sustainable business practices that are strengthened by the concept of effective and sustainable conflict management it will enable business impacts to increase significantly not only on the economic aspects but also ensure positive impacts on social, environmental and economic aspects.


_______
Text and Photos by Shinta Widjaja Kamdani. This article is originally from paper. Read NOW!Jakarta Magazine December 2018 issue"Festive Issue". Available at selected bookstore or SUBSCRIBE here.