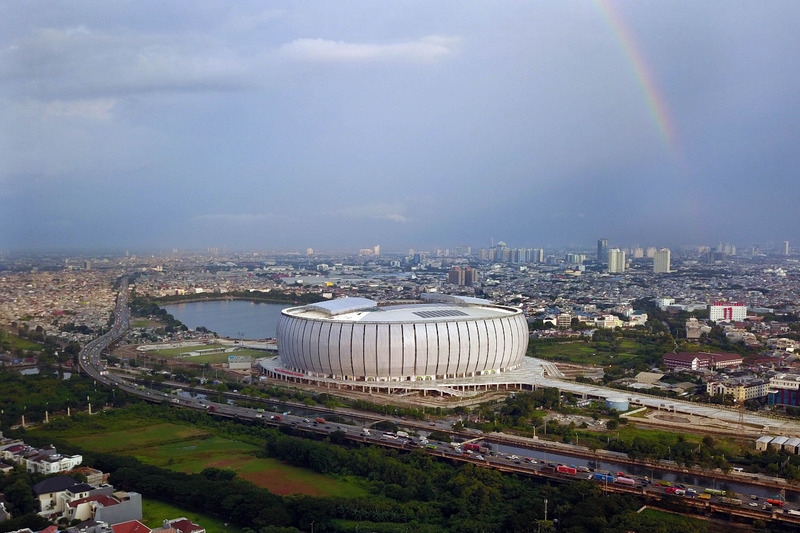 Photo: Arbain Rambey
Jakarta now has a new and magnificent sports stadium which is not only devoted to the implementation of sports but it is integrated with public transportation and its very sustainable development and operations is expected to have an impact on changing people's mindsets.
The construction of an integrated sports arena, the Jakarta International Stadium (JIS) or known as Stadion Kita, has been firmly established in the Papanggo village, Tanjung Priok, North Jakarta, an area that has become a barometer of the Indonesian economy where the busiest port in Indonesia handles more than 30% of commodities non-oil and gas and 50% of all goods flows into and out of Indonesia.
More than 23,000 people first witnessed the grandeur of the stadium when JIS became one of the locations for Eid prayers in Jakarta on 2 May. The stadium, set on an area of 221,000 square meters, was built like the stadiums in the English Premier League and meets the standards of the Federation Internationale de Football Association (FIFA) with a capacity of 82,000 spectators. This capacity is greater than many of the stadiums of world-class clubs, such as Real Madrid (81,044 spectators), Manchester United (76,000 spectators), and AC Milan (75,293 spectators). Not surprisingly, based on the Daily Mail report on 20 February 2021, JIS is included in the 10 grandest stadiums in the world. It is on the 10th list after Miami Freedom Park, Lusail Iconic, Bramley-Moore Dock, Camp Nou, Santiago Bernabeu, New Feyenoord, Della Roma, New San Siro, and Grand Stade de Casablanca.
The roof of the stadium can be opened and closed automatically. In addition, the grass is a hybrid, a blend of synthetic grass and natural grass. Its composition, 5 percent is artificial grass type Limonta from Italy and 95 percent natural grass with the Zoysia Matrella variety from Boyolali, Central Java.
In pursuit of a sustainable environment, the development of JIS follows the trend of green building development which is starting to be widespread in big cities in the world. The stadium is one of the few buildings that have achieved Greenship Platinum level in Design Recognition, which is the highest level of environmentally friendly building standards. Meanwhile, the certification or Greenship status is implemented and issued by PT Sertifikasi Bangunan Hijau (SBH), which is affiliated with the Indonesian Green Building Council (GBCI) certification body. Meanwhile, GBCI is a member of the World Green Building Council (WGBC) based in Toronto, Canada, which operates in 102 countries around the world.
But the stadium is not only for football matches or even other sports ( even though it is predicted to be Persija's basecamp!) JIS is designed to support the social life of the community in the future, a part of urban civilization, designed with modern, sustainable, and integrated regional planning. Thus, the vision of JIS is to change the character and culture of the people.
It is integrated with public transportation such as: LRT Jakarta, TransJakarta, and the Commuter Line and will have an impact accompanied by a change in the mindset of the community. This is because this concept will familiarize residents with planning their lives to be more organized, disciplined, and of high quality. In addition, the public has also become more aware of the importance of cleanliness, exercise, and comprehensive thinking.
JIS Project Manager, Arry Wibowo said, PT Jakarta Propertindo as the developer will optimize JIS as a livable and sustainable city area. This is in line with the DKI Jakarta Regional Medium-Term Development Plan (RPJMD) 2017-2022. The construction of this megastructure is a strategic activity center that not only accommodates sports activities, but also commercial, educational and entertainment activities. His assertion is that the development of JIS refers to the vision that Jakarta is becoming a developed, sustainable, cultured city which involves its citizens in realizing civility, justice, and welfare for others. So, it is hoped that the presence of JIS can encourage the spirit of developing urban regeneration.
"JIS is expected to be a catalyst for urban regeneration whose mission includes human development, general welfare, apparatus integrity, preservation, and the node of progress," Arry said.
JIS will also be the first stadium in Indonesia to carry the Green Building concept. To create an ecosystem that supports this concept, JIS will apply green attitude, the behavior of people who are more concerned about environmental sustainability and sustainability. In this way, it is hoped that JIS becomes a symbol of society's transformation towards a green attitude culture or care for the sustainability of the earth.
Of course there are critics who also say that while 90% of Jakarta's roads do not have proper sidewalks, the garbage crisis has not been fixed, the city is still sinking from depleted aquifers, and indeed the capital will move to Nusantara in E.Kalimantan within five years, that perhaps the funds could have been better used elsewhere. But since it's there we had better make very good use of it!