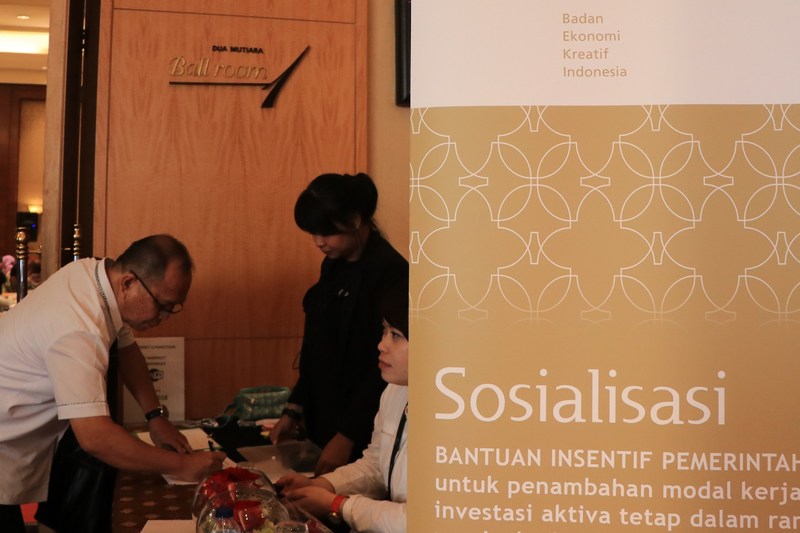 The Ministry of Tourism and Creative Economy (Kemenparekraf) officially opened the registration of the Government Incentive Assistance (BIP) programme with a budget of IDR 24 billion, encouraging stakeholders to participate in the programme to energise the industries and revive the economy from crisis.
BIP is an annual program that has been held since 2017, aimed at providing additional working capital or fixed asset investment to businesses engaged in six creative economic subsectors (digital applications and game development, fashion, craft, culinary, and film) and tourism sector. Since the Covid-19 has affected the operation among related non-essential industries, the incentive is expected to support many that need capital support.
"This is for the tourism sector specifically for homestay and 13 types of tourism businesses, all of which must be in locations in the tourist village," said Deputy Minister of Industry and Investment, Kemenparekraf, Fadjar Hutomo on the virtual briefing.
Every year, the value of BIP has increased with more recipients and distribution of funds. In the first year of implementation, BIP was given to 34 recipients including 19 culinary businesses and 15 Digital Applications and Game Developers (AGD) with a total fund of IDR 5.26 billion. In 2018, BIP was distributed to 52 recipients (14 culinary, 12 AGD, 13 fashion, and 13 crafts with a total fund distribution of around IDR 4,7 billion. Last year, BIP was given to 62 recipients, distributed to 5 creative economic subsectors namely culinary, AGD, fashion, crafts, and films. The distribution of funds provided last year was valued up to IDR 5,8 billion from the total budget at IDR24 billion.
Kemenparekraf has continued to conduct selections and curation involving experienced practitioners. The approach used to finance sources considers the empowerment of talented creative workers in order to increase the capacity of their businesses and produce more product and the quality of their works. "From this, we hope that tourism and creative economy businesses, as the actor, can utilise the budget allocated for the sustainability of their business progress and development," Hutomo said.
Acting Director of Access to Financing Kemenparekraf, Hanifah Makarim explained that this year's Government Incentive Assistance is divided into two categories namely regular and affirmative. For the regular category, BIP can be given to legal entities such as Icorporated company (PT), Koperasi (cooperative), and foundation with a maximum of IDR 200 million in assistance. For the affirmative category, BIP can be distributed to businesses that are not yet incorporated, such as UD, Firm, or CV with a maximum of IDR 100 million in assistance. Later, BIP is expected to support other business actors, among others, for leasing workspace and software, raw materials purchasing, equipment, and supporting machines.
To obtain this assistance, there are 8 steps required to be followed by all participants, from submission of proposals, administrative selection, substance selection mechanism, determination of beneficiaries, binding of commitments, disbursement of assistance, reports, and accountability, monitoring, as well as control, and evaluation.
Wishnutama Kusubandio, The Minister of Tourism and Creative Economy added that the expanding value of BIP fund is expected to be a real stimulus for the creative economy and tourism practitioners. "It will be very useful especially in the current situation as the Covid-19 pandemic has a very big impact on sustaining the tourism sector and the creative economy. Keep the spirit, stay positive and continue to be creative," Wishnutama said.
Stakeholders and businesses can register to get the fund of the Government Incentive Assistance (BIP) and read technical instructions through bip.kemenparekraf.go.id or www.kemenparekraf.go.id. The registration will be closed on 7 August 2020.