Most Valued Business (MVB) Indonesia crowned its 2018 program with a special awards ceremony, "MVB Indonesia Appreciation Night" on 14 December 2018, at Raffles Jakarta.
The event was opened by Alistair Speirs OBE, Chairman of MVB who explained that while progress was still slow in Indonesia in embracing the changes necessary to effect nationwide sustainability, there had been serious improvements in awareness which should lead to widespread adoption in years to come. He congratulated all MVB members on being the visionary leaders of the movement.
Before the presentation session of the MVB members awards, MVB announced the winners of three special awards that each representing very specific category applied under MVB Principles :
The first award was MVB Most Responsible Company won by PT. Jakarta Land. This award was given to a company that is known to have a strong commitment to security and safety procedures and environmental consciousness and has recently introduced a new waste recycling program.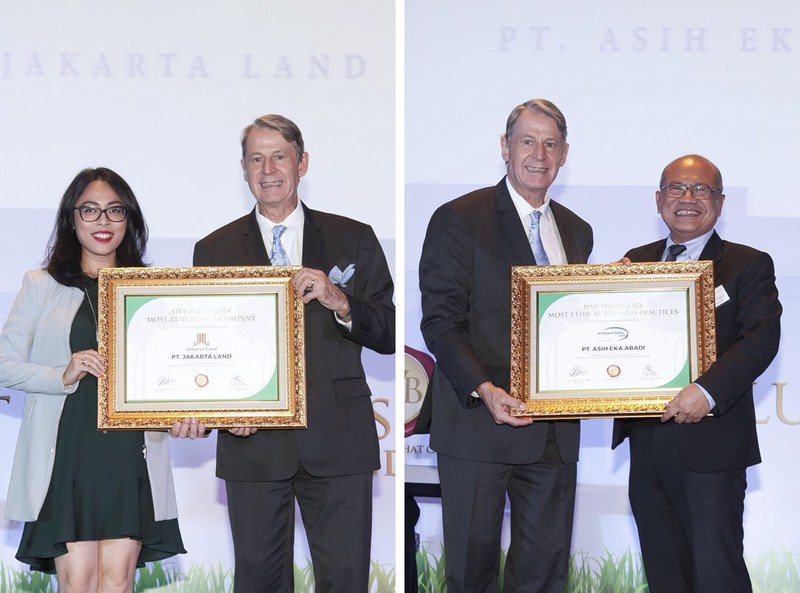 The second award was MVB Best Sustainability Initiative awarded to PT. Sari Coffee Indonesia (Starbucks). This award was given to the company that is considered to have an active, strong and on-going sustainability program in coffee purchases and excellent business practices, and has introduced new sustainable packaging in Indonesia.
The third award was MVB Most Ethical Business Practices won by PT. Asih Eka Abadi (INTERNATIONAL SOS). This award was given to the company that is considered to have very high standards in creating good working conditions, good corporate values, and have a high customer service quality.
However, the most anticipated event of the night was the MVB Indonesia 2018 Award Ceremony. The Chairman of MVB Indonesia, Alistair Speirs OBE, presented a unique plaque to 21 Member companies that were named the Most Valued Business in Indonesia for 2018. They were:
1. PT. Bayer Indonesia
2. PT. Brother International Sales Indonesia (Brother)
3. PT. Coca-Cola Distribution Indonesia (Coca-Cola Amatil Indonesia)
4. PT. Doulton
5. PT. Hatten Bali (Hatten Wines)
6. PT. Indonesia International Expo (ICE)
7. PT. International Service Pacific Cross
8. PT. Asih Eka Abadi (International SOS)
9. PT. Jababeka Tbk.
10. PT. Jakarta Land
11. PT. Jakarta Setiabudi International Tbk.
12. PT. Lautan Luas Tbk.
13. PT. Merck Tbk.
14. PT. Graha Multi Bintang (Olympic Furniture)
15. PT. Panorama JTB Tours Indonesia
16. PT. Phapros Tbk.
17. PT. Ciputra Adigraha (Raffles Jakarta)
18. PT. Putra Mataram Indah Wisata (Royal Ambarrukmo Yogyakarta)
19. PT. Sari Coffee Indonesia (Starbucks)
20. PT. Taman Safari Indonesia
21. PT. Chairul Tanjung Corpora (The Trans Resort Bali)
"We are proud to be the initiator in what we believe to be something that is really valuable for many companies in Indonesia; a program that is designed to help those who want to improve, and acknowledge those who already embrace the whole concept. We congratulate to all who have participated in this program, but still invite as many other business as possible to join us so that we could build a better future for Indonesia", said Alistair Speirs OBE begin the Chairman MVB Indonesia.
The event was held successfully thanks to the event sponsors and Most Valued Business 2018 Partners who supported the event, who were:
STRATEGIC PARTNERS :
IBCSD
NCSR
INDONESIA ECONOMIC FORUM
KNOWLEDGE PARTNERS :
CECT Trisakti
BINUS University
Towards Sustainable Business
Waste4Change
PT. PIPA
ActionCOACH
SANCTUARY
Baywa r.e.
SGS Indonesia
Avani
Bravo One
SPONSORS :
Multi Bintang Indonesia
Hatten Wines
Coca-Cola Amatil Indonesia
-------------------------------
Established in Singapore by 2015, The World's Most Valued Business (MVB) is an independent organization committed to empowering "Sustainability" and "Best Business Practices" through highlighting, encouraging, and publicizing businesses that are genuinely trying to do the right thing. It is a platform for responsible and ethical businesses to convey their messages to their concerned audiences and and a forum for the exchange of information and ideas among the member. MVB also facilitates sustainability initiatives on behalf of members for the benefit of underprivileged communities. To be part of MVB, companies need to demonstrate the highest standards in seven critical value areas as follows: Sustainability, Best Possible Business Practices, Ethical Employment, Safety and Security, Customer Service and Respect, Environmental Friendliness, and Corporate Values. In Indonesia, MVB has been represented in Indonesia by PT. Phoenix Communications since 2015.