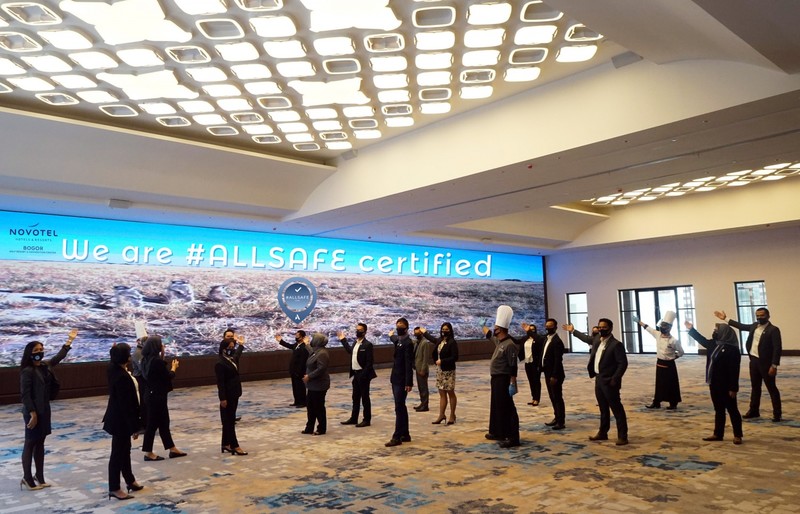 Located in the residential area of Bogor Raya, Novotel Bogor Golf Resort & Convention Center presents the perfect escape from the hustle and bustle of Jakarta. Boasting an elegant and modern ambience, the resort is an idyllic accommodation for families looking to enjoy a weekend getaway, as well as a strategic venue to host meetings and events.
The resort has recently unveiled a brand-new addition to its ballroom: the largest indoor Videotron in Indonesia, making the venue an even more exquisite choice for those seeking to organise gatherings, meetings and events. In addition to that, the resort features a convention facility with 21 meeting rooms and 2 ballrooms with a total area of 1400sqm.
The resort's new giant Videotron has been included in MURI – the Indonesian World Records Museum. The impressive indoor Videotron is installed in Gede Pangrango Ballroom, a venue that is often used for meetings, weddings and other big-scale events. The Videotron spans 30 metres in length and 4 metres in height with a 7K resolution. "Even so, we are thriving to keep getting better at the facility and always making sure to be advanced in the technology industry, so we can keep participating in order to promote Bogor's tourism aspect even further," said Scott Won, General Manager of Novotel Bogor Golf Resort & Convention Center.
A stunning hidden gem 50 minutes away from Jakarta, the resort is nestled at the foot of its surrounding mountains where guests can immerse themselves in nature and fresh air. Wrapped around 5 hectares of lush tropical gardens, the resort features an impressive 18-hole golf course.
The resort houses two dining destinations including Capriccio Mediterranean Restaurant and Meranti Verandah Restaurant, one lounge bar and an array of resort facilities such as a free web corner, free Wi-Fi, an outdoor swimming pool, a pool bar, an indoor kids club and outdoor children's playground, a tennis court, an archery field, a fitness and spa centre.
For more information, please call +62 251 827 1555
Novotel Bogor Golf Resort & Convention Center
Golf Estate Bogor Raya, Bogor
+62 251 827 1555
[email protected]
novotelbogor.com