NOW! Jakarta held its annual PR & Marketing conference at the Hard Rock Cafe Jakarta on 20 April, with more than 100 guests of the hospitality industry joining for an afternoon of learning, sharing, and most of all, fun.
Co-hosted by the Himpunan Humas Hotel H3, the event kicked off with welcome remarks by NOW! Jakarta's founder and publisher Alistair Speirs.
"In order to move forward, we can't look back all the time," he said. "We have to learn new things, and that's why we have invited a couple of speakers here today who will hopefully inspire you."
The first speaker of the day, Rahmat Chaniago from GetCRAFT, an Indonesian site that connects brands and agencies with local publishers, writers, and videographers, talked about Creative Sponsored Content and Social Media Engagement. As we all know that Indonesia's love affair with social media is here to stay, Rahmat explained how to create sponsored content and how to build and maintain engagement in social media.
Yoke Darmawan, founder and manager of Darmawan & Associate, spoke about the topic of "Personal Branding". She emphasized the fact that in order to create your personal brand, you have to know your own values and strengths, be authentic and then build trust. "If people like you", she said, "they will listen to you, but if they trust you, they will do business with you."
After a short break, where guests were treated with food and wine, founder of Smartminds Mark Copeland gave a presentation about cultural transformation based on collaboration, cooperation and communication. He discussed answers to the questions of how we can change the business culture within our organization in order to increase revenue, identify areas to innovate and calculate dysfunction.
The last speaker of the day was Eamonn Sadler, CEO of The World Most Valued Business (MVB) Indonesia, an independent organization to empower sustainability and best business practices. He shared tips for companies (mainly hotels) on how to take advantage of the changing travel market, where more and more people are looking for accommodation that address concerns about the environment and sustainability.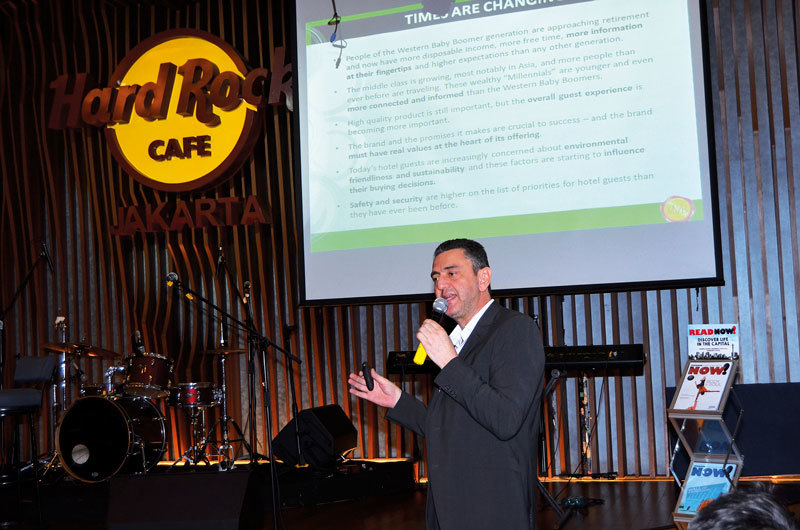 To close off the event, NOW! Jakarta handed out a couple of door prizes through a lucky draw. The PR & Marketing Conference was sponsored by Himpunan Humas Hotel H3, Hard Rock Cafe Jakarta, Darmawan & Associate, Smartminds, GetCRAFT, Alaya Hotels & Resorts Ubud Bali, Oakwood Premier Cozmo Jakarta, Sheraton Bandung, The Mayflower Jakarta - Marriott Executive Apartments, El Asador, The Bugils Group and Celebrity Fitness.
See more photos HERE