Over the last few years, South Korea has become one of the most popular travel destinations for globetrotters around the world, especially Indonesians. The sudden surge in popularity of K-Pop culture across the globe has attracted tourists to visit the East Asian country, which is home to a myriad of interesting tourist destinations and attractions, from famous K-Drama and K-Pop shooting locations, to the delectable modern and traditional Korean cuisine to the rich history of the country. Seoul and Jeju Island aren't the only popular destinations, other cities such as Jeonju, Daegu and Icheon each boast their own unique charm that attracts many visitors.
After over two years of closing its borders to foreign travellers due to the COVID-19 pandemic, South Korea finally opened its international borders at the beginning of this year. Starting from 1 June 2022, Indonesian tourists can apply for a short-term visa (C-3). South Korea has also begun implementing no quarantine regulations to make it easier for tourists to enter.
As South Korea's tourism promotion agency, the Korea Tourism Organisation (KTO) has launched a new campaign dubbed "Travel to Korea Begins Again!" to encourage travellers to visit South Korea once more. Through this campaign, KTO provides various information on recommended destinations, offering discounts and various attractive prizes from several online and offline events that they've held.
One of the series of events from the campaign presents the opportunity for K-Pop fans to win concert tickets. Additionally, KTO also offers discounts on data packages, transportation, shopping and tourist attractions during the events that will be held until 24 July 2022. Moreover, welcoming kits, coupons and giveaways can also be obtained upon arrival at Incheon International Airport.
KTO Jakarta also took part in the campaign by organising the #AkudanKorea Media & Influencer Gathering 2022 event, which was held at the Grand Hyatt Hotel Jakarta on 7 July 2022. In conjunction with the "Travel to Korea Begins Again!" campaign, this year's theme is #TimetoKoreaAgain, where KTO Jakarta collaborated with iconic public figures from different industries to speak at the event. These public figures include singer Afgansyah Reza, influencer Alexander Thian (Amrazing), Julia & Marius (Anak Jajan), and actress Dea Annisa. Through collaboration with these public figures, KTO Jakarta aims to promote Korean tourism and encourage Indonesian tourists to travel to South Korea again. During the event, the four speakers shared their respective tips about niche places, culinary destinations shopping hotspots to visit, as well as their experiences in visiting South Korean cities.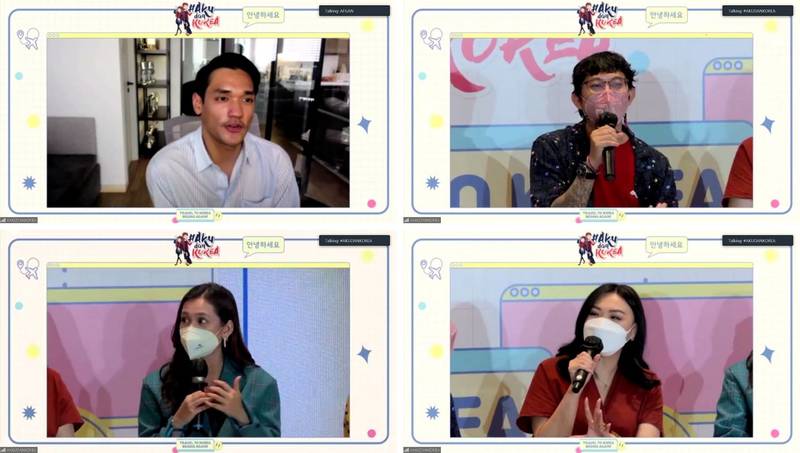 Top 3 Tourist Cities: Seoul, Busan and Jeju Island
Korea has a plethora of iconic tourist destinations, historical tours, nature tours and educational tours that are friendly for tourists who are on vacation with family, partners or friends. One of the iconic attractions in Seoul is Namsan Tower. This landmark in Seoul is well-known as a romantic destination where tourists can install love locks and enjoy the cityscape of Seoul from 138 metres high.
In Seoul, tourists can also enjoy a special experience by visiting the tallest building in Korea, Lotte World Tower & Mall. This destination features an outdoor sky bridge that is 541 metres high. Tourists can see stunning views of Seoul from the top of the tower on the 11-metre-long bridge. Additionally, tourists can also shop, witness art exhibitions, and enjoy various attractions at the amusement park.
Busan on the other hand boasts plenty of nature destinations, which include Haeundae Beach, Gamcheon Culture Village, Taejongdae Park, Hwangnyeong Mountain and Daejeo Ecological Park. Moreover, tourists can enjoy the night view of Busan by visiting The Bay 101. There, visitors can indulge in many cafes and restaurants, along with a variety of water rides.
Tourists who want to test their adrenaline limit can visit Oryukdo Skywalk, 137 Oryuk-doro, Man-gu, usan. With the theme of "Walking in the Sky", tourists can climb a glass bridge that is right above the sea where they can see the rolling waves from 35 metres high. They can also take in the stunning colours of Busan's sky during sunset from Busan Tower, 69 metres high.
Jeju Island is no less interesting than Seoul and Busan, where tourists can visit nature attractions including the beaches and mountains on the island. These destinations include Halla Mountain, Manjanggul Cave, Cheonjiyeon Waterfall, Seongsan Ilchulbong, Sangumburi, Yongmeori Coast and Seopjikoji. Don't forget to visit Udo Island in North Jeju, where you can go fishing, hiking, biking and enjoy the view from the top of Udobong, the highest peak of the island 132 metres high.
For more information about South Korean tourism, please visit KTO Jakarta's website at www.visitkorea.or.id or their official Instagram page @ktoid