Quick counts following the 17 April elections indicate that President Joko Widodo has won a second term in office but the elections have revealed a religious divide in the country. Can the President unify the country in his second term?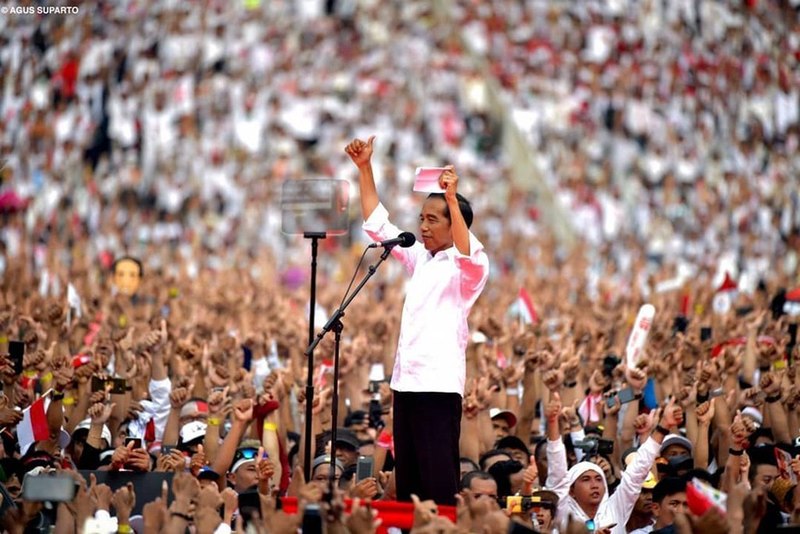 Indonesia has just concluded the world's biggest elections. Thousands of election workers in the world's third-largest democracy wrestled with the archipelago's geography to ensure villages of just a few dozen people could vote. Images of cardboard ballot boxes being transported on motorbikes, boats and planes – as well as elephants and horses – to reach mountaintop villages and communities in the country's remotest regions were broadcast on local and international television channels revealing the scale of the operation.
For those following the news closely, this was perhaps also one its most divisive. Quick counts taken shortly after indicate that the incumbent, Joko Widodo (Jokowi), has won re-election comfortably. In the hours and days that passed, however, rival Prabowo Subianto has not accepted defeat and has insisted on recounts and has blamed pollsters for manipulating results.
Prabowo, son-in-law of former dictator Suharto, is a former general accused of human rights violations who built a coalition of hardline Islamists. His campaign put religion at the front, forcing Jokowi, known as a more moderate candidate, to choose a conservative Islamic cleric, Ma'ruf Amin, as his running mate to balance the religion element. To many, this move was seen a push toward identity politics.
Jokowi won 55 per cent of the vote, which placed him 10 percentage points ahead of Prabowo. If this is confirmed, it would be a blow to the Islamist agenda. Jokowi is known as a defender of Indonesia's pluralist tradition and far more tolerant of religious minorities. But the Islamists' defeat at the ballot box does not automatically eliminate the voices of intolerance. The campaign stirred up divisions that one hopes will not continue to fester. Writing in "The Diplomat", Benedict Rogers notes that in his second term, Jokowi should focus on countering intolerance through education reform, law enforcement, countering hate speech, and tackling the injustices under Indonesia's blasphemy laws.
How long Prabowo continues to hold out is unclear, but his unhappiness has been compounded by the fact that Gerindra appears to have narrowly failed to beat out Golkar as the second-ranked party – something that was widely forecast in pre-election polls.
Another person to keep an eye on is Sandiaga Uno, Prabowo's running mate. Sandiaga may have a future as a prospective presidential candidate in 2024. Insiders and other sources say Prabowo's refusal to accept defeat led to an election night falling out with his running mate.
Religious intolerance has been rising significantly in Indonesia in the past decade, with over 250 incidents reported in 2017 according to the The Wahid Foundation, an organisation that works toward the development of moderate Islamic thought to promote democratic reform, religious pluralism, multiculturalism and tolerance amongst Muslims both in Indonesia and around the world.
Indonesia has long been held up as a role model for inter-religious harmony and Muslim democracy. These elections have shown that vision is not dead, but it is under increasing strain, according to reports. The peaceful conduct of the vote, and the rejection of Subinato's Islamist coalition, is a sign of hope. But the use of religion in the campaign is concerning. Jokowi must act fast if unity in diversity, rather than religious strife and a further lurch to extremism, is to be his legacy.