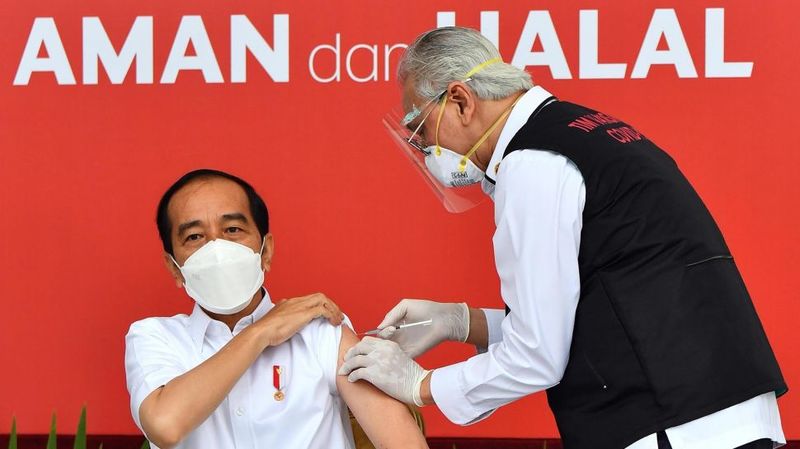 President Joko Widodo received the first dose of the recently approved corona vaccine at the State Presidential Palace, Jakarta and this marks the rollout of the first stage of Indonesia's nationwide COVID-19 immunisation drive.

This COVID-19 vaccine developed by Chinese pharmaceutical company, Sinovac Biotech, underwent clinical trials by Bio Farma and has been clinically approved by the Indonesian Food and Drug Authority (BPOM) and Indonesian Ulema Council (MUI).

Together with the President, a number of representatives from different backgrounds also received the first dose of the Sinovac vaccine that were divided in three groups.

The first group was :
1. President Joko Widodo
2. Daeng M. Faqih, Chairman of the Executive Board of the Indonesian Doctors Association (IDI)
3. Amirsyah Tambunan, Secretary General Indonesian Ulema Council (MUI) also representing an Islamic organisation (Muhammadiyah)
4. Ahmad Ngisomudin, Rois Syuriah of Nahdlatul Ulama
5. Hadi Tjahjanto, the Commander of the Indonesian Armed Forces
6. Police General Idham Aziz, the Indonesian Police Chief
7. Rafi Ahmad, representing artists and the younger generation

The second group was :
1. Budi G. Sadikin, the Health Minister
2. Unifah Risyidi, Chairwoman of the Executive Board of the Indonesian Teachers Association
3. Ronal Tapilatu, representative of the Association of Churches in Indonesia
4. Agustinus Heri, representative of KWI (Catholic)
5. I Nyoman Suarthanu, representative from the Indonesian Hindhu (Parisada Hindu Dharma)
6. Partono Bhikkhu N. M., representative from the Indonesian Budhist (Permabudhi)
7. Peter Lesmana, representative from the Indonesian Khonghucu/Matakin (Confucius)

The third group were :
1. Penny Kusumastuti, the Head of BPOM
2. Rosan Ruslani Perkasa, General Chair of the Indonesian Chamber of Commerce and Industry (KADIN)
3. Ade Zubaedah, Secretary General of the Indonesian Midwives Association
4. Nur Fauzah, representing nurses
5. Lusy Noviani, representing pharmacists
6. Agustini Setyorini, representing labour
7. Narti, representing general workers
8. Wiku Adisasmito, spokesperson for the Task Force for COVID-19 Handling
9. Reisa Broto Asmoro, vaccination spokeperson

Currently, there are 3 million ready-to-use doses of Sinovac vaccine that have been distributed to the 34 provinces in Indonesia, and the government is targeting to vaccinate 181.5 million people with COVID-19 vaccine, a process which will last until next year.

The first period of vaccination will be until April 2021, targeting 1.3 million medical workers, 17.4 million public workers, and 21.5 million elderly people.

The second period will run from April 2021 to March 2022 for 63.9 vulnerable people and 77.4 million others. The COVID-19 vaccination itself consists of 2 doses that needs to be injected per dose within a 14 day period.