A newly released survey on Indonesian businesses shows that the majority of local companies are not ready to face any crisis.
The research, entitled "Harga Sebuah Penyesalan" (The Price of Regret), was conducted by QBE Insurance Indonesia, based on telephone and online interviews between April and May 2017 with 1,220 business owners and decision makers from a variety of enterprises in Indonesia, Malaysia, Singapore and Hong Kong. As many as 300 Indonesian companies participated in the research that focused on business challenges and opportunities.
The study found that within the last 12 months, there were six main problems across industries: loss of revenue due to business interruption (32 per cent), lost or damaged inventory (23 per cent), damaged equipment (22 per cent), hacking of business systems and computers (20 per cent), damaged corporate building (20 per cent), work accidents (20 per cent) and Internet fraud (10 per cent).
According to the President Director of QBE General Insurance Indonesia, Aziz Adam Satar, the greater the challenges faced by a company, the higher the risks it faces.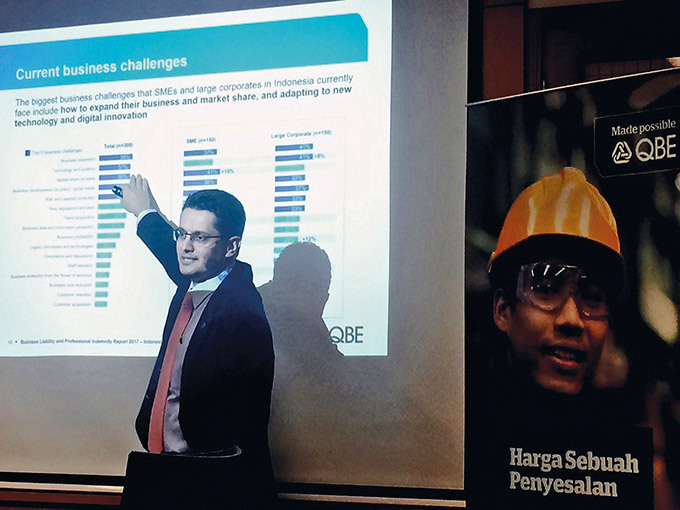 As the numbers showed, last year, 31 per cent of Indonesian companies faced lawsuits due to problems related to products or services.
The research also discovered that only 54 per cent of the companies have business liability insurance, potentially putting themselves and their consumers at a higher financial risk. The majority of the business owners and decision makers surveyed believe that business liability insurance is only needed by large enterprises.
Forty-one per cent of respondents said they have limited budget while 24 per cent others believed the size of their business was too small to need insurance. As many as 28 per cent of those surveyed said they found insurance policies to be too complicated and 19 per cent admitted to never considering the need to have insurance.
QBE's research further reveals a tendency among the companies to protect themselves against risks only after experiencing an incident.
As the economy grows, the use of business insurance becomes imperative as a form of protection that gives a sense of security and safety and removes uncertainties. Liability insurance provides defence against damages and reduces overall financial risk, which for small businesses could mean closure, as well as safeguards business longevity. It's also a socially responsible action to take.