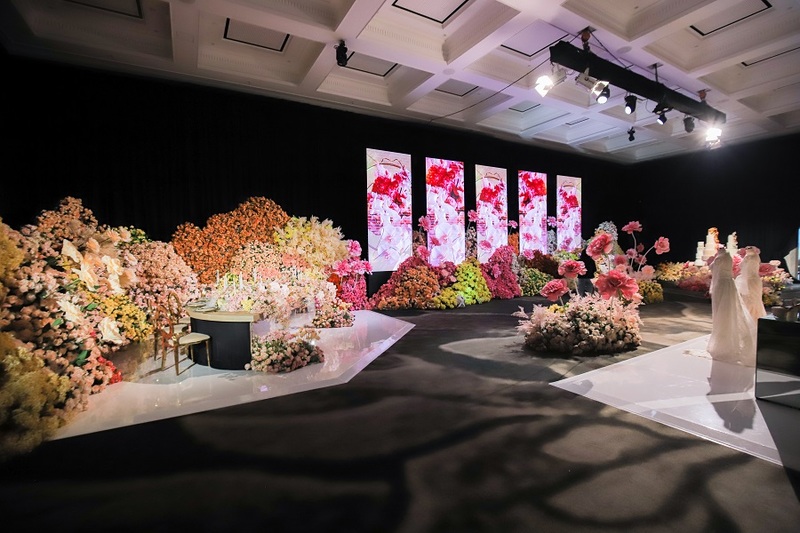 Following the success of their first wedding showcase in February 2022, The Langham, Jakarta recently held their second luxury wedding showcase – A Celebration of Love – on Saturday & Sunday, 18-19 June 2022.
For their second showcase, The Langham, Jakarta collaborated with wedding vendor platform, Weddingku, and wedding conceptor and stylist, Behind the Vows. The event was supported by over 25 curated wedding vendors and presented 3 thematic wedding concepts namely Oriental, traditional Indonesian and modern outdoor weddings in one luxury showcase,
"A Celebration of Love" drew inspiration from The Langham Hotels and Resorts' global campaign, "Celebrate the Everyday", where guests are encouraged to celebrate special occasions and enjoy memorable experiences at The Langham, Jakarta. The moment guests enter The Langham Ballroom, they were treated to unlimited inspiration displayed by the participating vendors and imagine their dream wedding.
"This showcase is set to visualize every detail of a wedding celebration at The Langham, Jakarta that brides-to-be have always dreamt of, from the luxurious ballroom venue, great quality food and beverage, as well as uncompromising services. With the utmost support from our participating vendors, we can tailor their needs and help them to bring their dream wedding into reality. Couples may also arrange a wedding consultation session with our wedding specialists, yet experience our facilities and services," said Alexander Poindl, General Manager of The Langham, Jakarta.
3 Wedding Inspirations in 1 Luxury Showcase

As guests entered The Langham Ballroom, they were presented with an Oriental (chinoiserie) wedding showcase of an Old-Shanghai tea room with hints of diversity. As the wedding conceptor, Behind the Vows married the luxurious ambience of an eclectic parlour to suit and elevate the more traditional old-Shanghai theme. Stunningly illustrated in a luxe thematic decoration by Royal Design are elements of Peacock, which represents divinity and beauty, as well as gorgeous peonies, which represent special meanings in Chinese culture. This area was supported by Sebastian Gunawan and SAS Design for qipao and cheongsam, EPA Bridal for jewellery, Thang Shoes, and Le Novelle Cake for the wedding cake.
In the second area, guests were treated to a traditional Indonesian wedding concept of 'The Beauty of Indonesian Heritage', which showcased the abundance of Indonesian traditions and cultures. Guests were able to visualise their sacred wedding ceremony (akad) in a classy wedding aisle and elegant table setting by Ebimoekti, complementing the exquisite ballroom interior. This area was supported by Vera Kebaya and Era Soekamto for wedding attire, EPA Bridal for jewellery, Thang Shoes, and Le Novelle Cake for the wedding cake.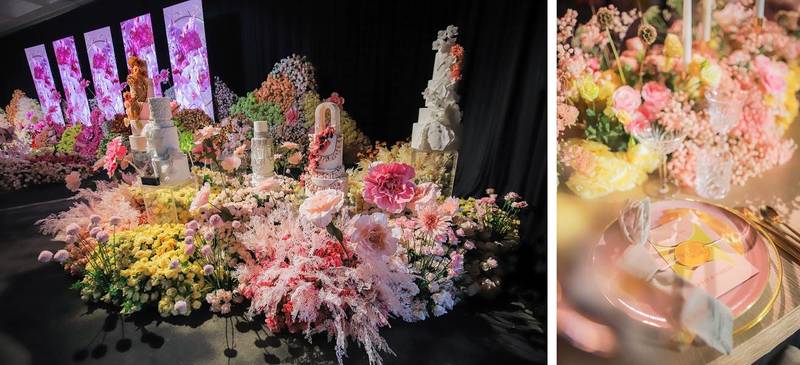 Guests seeking to organise an international or modern-themed wedding could find inspiration from the third area, where the showcase presented a modern outdoor wedding concept of an indoor paper flower garden with Parisian flair, which boasts a romantic and charming ambience in pastel hues, designed by Lotus décor. The modern wedding concept displayed a beautiful huge flower garden. This area was supported by Yogie Pratama and Wong Hang Tailor for wedding attire, EPA Bridal for jewellery, Thang Shoes, and Sweetsalt for the wedding cake.
To complement The Langham Ballroom as the main wedding venue, the hotel also features a welcoming lounge area and ballroom foyer as part of the wedding venue, with direct escalator access to the ballroom for wedding guests. A cocktail bar will welcome guests upon entering the 3rd floor, designed for a cocktail reception, after-party, or a welcoming area. During the showcase, the cocktail bar area was decked in a lounge style decorated with pastel-coloured flower canopies by Stupa Caspea.
The ballroom foyer was impeccably decorated with an eye-catching floral arch installation in a dominating pink palette, while a variety of wedding attire and shoes by Sebastian Gunawan, Wong Hang Tailor, Vera Kebaya, and Thang Shoes were showcased throughout the area. The showcase was also supported by tableware and wedding stationery SEMEJA and House of Papeterie.
This wedding showcase is exclusively supported by BRI Private and BRI Infinite, with special privileges for BRI cardholders. The supporting vendors are:
• Decoration: Ebimoekti, Royal Design, Lotus Design, Stupa Caspea
• Designer: Vera Kebaya, Era Soekamto, Sebastian Gunawan, SAS Designs, SAS Designs, Yogie Pratama, Wong Hang Tailor
• Jewellery: Epabridal
• Shoes: THANG Shoes
• Photography and videography: Soe&Su, Axioo, Hope Portraiture, The Leonardi
• Cake: Le Novelle Cake, Sweetsalt
• Lighting: Etcetera Lighting
• LED & Digital Art: PT. Lumen Teknologi Indonesia, Elora Digital Art
• Table setting & stationery: SEMEJA, House of Papeterie
For more information or reservations, please call +62 21 2708 7888 or email [email protected]
The Langham, Jakarta
District 8, SCBD, Lot 28, Jakarta
+62 21 2708 7888
[email protected]
langhamhotels.com/jakarta