Proudly hosted by NOW! Jakarta and American Express as the official card of The Best Restaurant, Bar and Café Awards (BRBCA), the Sasono Mulyo Ballroom, Le Meridien Jakarta welcomed over 200 guests from the Jakarta's culinary industry to a dazzling and stylish evening of appreciation in a Red, White and Rosè theme.
This year, 75,000 votes from over 20,000 voters online determined which of the 181 participating venues were deserving of this year's accolade. The NOW! Jakarta BRBCA honored these fine establishments, who through their excellent service delivery, dedication and creativity have brought success to their proud brands .
Alistair Speirs, Founder of NOW! Jakarta opened the event with his "alarming" speech on the necessity of increased awareness about sustainability especially in the hospitality industry and the SAY YES TO LESS (SYTL) campaign as a new platform and program for hospitality establishments to help the environment by segregating waste, reducing food waste and using more of eco-friendly appliances. SYTL is jointly organized by NOW! Jakarta and MVB, a sustainability advocacy aimed at increasing sustainability in companies.
The program continued to the main focus of the event, where NOW! Jakarta awarded 86 beautifully custom bone-china plates from Wedgewood (PT. Doulton) to winners from 20 main categories, 6 Editor's Choices, 7 Honorable Mentions, 10 Best of the Best Awards and 4 Most Sustainable Restaurant Awards.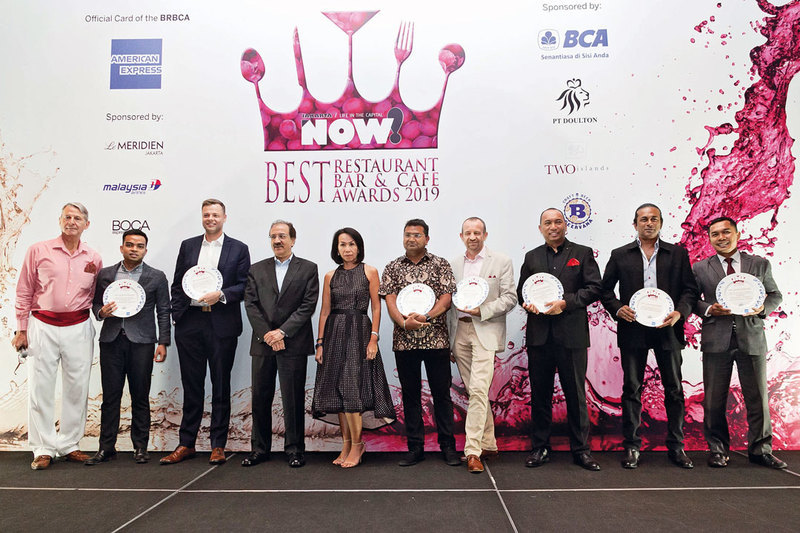 The awards plates were handed out by Mr. Sanjiv Malhotra as Vice President of Global Network Services for South East Asia & South Pacific of AMEX, Mrs. Perriz Azwir as President Director of AMEX, Chef Gilles Marx and Chef Yuda Bustara as BRBCA Celebrity Guest Chef, Mr. Stefan Pitterling as Head of Decal Factory & NPD Studio of PT. Doulton and Mr. Alistair Speirs as the Founder of NOW! Jakarta.
NOW! Jakarta greatly appreciates all sponsors of the Best Restaurant, Bar and Café Awards for their support and contribution at the event. Special thanks go to Malaysia Airlines for giving away two tickets at the awards, Le Meridien Jakarta for the delicious food and professional service, PT. Doulton for the award plates, Two Islands, Beervana and BOCA Espresso for the drinks, Puri Santrian for the stay experience and of course the main sponsor of BRBCA 2019, American Express.
Congratulations to all the winners and thank you for your contribution to Jakarta's ever-growing culinary scene!
WE ARE SORRY FOR ANY INCONVENIENCE CAUSED BY THE ORIGINAL ARTICLE
Please accept our apologies for providing incorrect or incomplete information that appeared in the BRBCA's story of NOW! Jakarta October issue, due to technical issues, unedited pages went to print.
Winners List
Best Asian Restaurant
So Thai - Winner
Jittlada Thai Cuisine - 1st Runner
Teras Dharmawangsa - 2nd Runner Up
---
Best Café
Nam Cafe 9 - Winner
Starbucks Indonesia - 1st Runner
Djournal Coffee - 2nd Runner Up
---
Best Chinese Restaurant
Jia by Shangri-La Hotel Jakarta - Winner
Paradise Dynasty - 1st Runner
Li Feng by Mandarin Oriental Jakarta - 2nd Runner Up
---
Best City Luxury Restaurant
Anigre by Sheraton Grand Jakarta Gandaria City Hotel - Winner
Sailendra Restaurant by JW Marriott Hotel Jakarta - 1st Runner
Asia Restaurant by The Ritz-Carlton Jakarta Mega Kuningan - 2nd Runner Up
---
Best Cocktail, Whiskey & Wine Lounge
Le Rendezvous by Le Meridien Jakarta - Winner
Bunk Lobby Lounge by Pullman Jakarta Central Park - 1st Runner
La Vue Rooftop Bar by The Hermitage A Tribute Portfolio Hotel Jakarta - 2nd Runner Up
---
Best Farm-To-Table Venue
Pish & Posh Cafe - Winner
Mars Kitchen by Chef Marinka - 1st Runner
Re.juve - 2nd Runner Up
---
Best French Restaurant
Lyon by Mandarin Oriental Jakarta - Winner
Amuz Gourmet - 1st Runner
---
Best Hotel Café
Momo Cafe at Courtyard by Marriott Bandung Dago - Winner
Lobby Lounge by Sheraton Grand Jakarta Gandaria City Hotel - 1st Runner
La Moda by Keraton at The Plaza - 2nd Runner Up
---
Best Indian Restaurant
Ganesha Ek Sanskriti - Winner
Queen's Tandoor- 1st Runner
Fez Kinara - 2nd Runner Up
---
Best Indonesian Restaurant
Le Gran Café by Hotel Gran Mahakam - Winner
Plataran Dharmawangsa- 1st Runner
Bogor Café by Hotel Borobudur Jakarta - 2nd Runner Up
---
Best Italian Restaurant
Rosso by Shangri-La Hotel Jakarta - Winner
Ambiente Ristorante by Aryaduta Jakarta - 1st Runner
Bruschetta Italian Restaurant by Hotel Borobudur Jakarta - 2nd Runner Up
---
Best Live Music Venue
B.A.T.S. by Shangri-La Hotel Jakarta - Winner
Hard Rock Cafe Jakarta - 1st Runner
McGettigan's - 2nd Runner Up
---
Best Mediterranean Restaurant
Al Nafoura Restaurant by Le Meridien Jakarta - Winner
Turkuaz Authentic Turkish and Ottoman Cuisine - 1st Runner
Warung Turki Shisha Lounge - 2nd Runner Up
---
Best Modern Fusion Restaurant
Beatrice Quarters - Winner
Canary Coffee Shop by Hotel Aston Priority Simatupang & Conference Center - 1st Runner
Mr. Fox Jakarta - 2nd Runner Up
---
Best Multi Cuisine Restaurant
Satoo by Shangri-La Hotel Jakarta - Winner
Collage All Day Dining by Pullman Jakarta Central Park - 1st Runner
Sana Sini Restaurant by Pullman Jakarta Indonesia Thamrin CBD - 2nd Runner Up
---
Best Single Japanese Restaurant
Kahyangan by Pullman Jakarta Indonesia Thamrin CBD - Winner
Shima by Aryaduta Jakarta - 1st Runner
Momiji Japanese Restaurant by Hotel Aston Priority Simatupang & Conference Center - 2nd Runner Up
---
Best Multiple Japanese Restaurant
Zenbu - Winner
Kintan Buffet - 1st Runner
Sushi Tei - 2nd Runner Up
---
Best Pub & Sports Bar
Eastern Promise - Winner
Pizza E Birra - 1st Runner
Paulaner Brauhaus by Hotel Indonesia Kempinski Jakarta - 2nd Runner Up
---
Best Steak & Grill Restaurant
Fire Grill & Bar by Royal Tulip Gunung Geulis - Winner
Up In Smoke - 1st Runner
Riva Grill Bar & Terrace by Wyndham Casablanca Jakarta - 2nd Runner Up
---
Best Tea & Coffee Shop
Lobby Lounge by Shangri-La Hotel Jakarta - Winner
Keraton Lounge by Keraton At The Plaza - 1st Runner
Fountain Lounge by Grand Hyatt Jakarta - 2nd Runner Up
---
10th Anniversary - Best of The Best Awards
Asuka Japanese Dining by JW Marriott Hotel Jakarta
Ganesha Ek Sanskriti
Al Nafoura by Le Meridien Jakarta
Amigos Bar & Cantina
Amuz Gourmet Restaurant
Hard Rock CaféJakarta
Starbucks Indonesia
B.A.T.S by Shangri-La Hotel Jakarta
Kinara Restaurant
Turkuaz Authentic Turkish and Ottoman Cuisine
---
Most Sustainable Stand Alone Restaurant
Amuz Gourmet - Winner
Rantang Ibu - 1st Runner
---
Most Sustainable Hotel Restaurant
La Vue Rooftop Bar by The Hermitage A Tribute Portfolio Hotel Jakarta - Winner
Sana Sini Restaurant by Pullman Jakarta Indonesia Thamrin CBD - 1st Runner
---
Honourable Mention
Plataran Menteng - Favourite Indonesian Heritage Restaurant
Shaburi - Favourite All-You-Can-Eat Shabu-Shabu Experience
Paradise Inn - Favourite Chinese Casual Dining Experience
Chandara Fine Thai Cuisine - Favourite Thai Fine Dining Experience
Busaba A Thai Café - Best Artisan Thai Café
Sugar & Spice - Favourite New All-Day Dining Venue
Damar Restaurant by Pullman Ciawi Vimala Hills Resort Spa & Convention - Favourite Local Variety Buffet
Ruth's Chris Steak House - Favourite Steak House Brand:
---
Editor's Choice Awards
Cork & Screw Country Club - Favourite Dayclub
AB Steak by Chef Akira Back - Favourite Modern Steakhouse Experience
Ambrosia Private Club - Favourite Private Club Dining Experience
Beer Brother - Favourite After Office Hangout
The Pallas - Favourite Nightclub
---
Chef Of The Year
Adhitia Julisiandi, 1945 Restaurant by Fairmont Jakarta