MVB believes that real corporate responsibility comes from organisations that adopt and adhere to a broad range of critical values, all of which need to be constantly addressed, but at the heart of the process is corporate values which guide the organisation's whole philosophy. This seminar brought together expert speakers from diverse areas of expertise to explore how companies can really benefit from identifying and applying specific expertise to different areas of corporate values.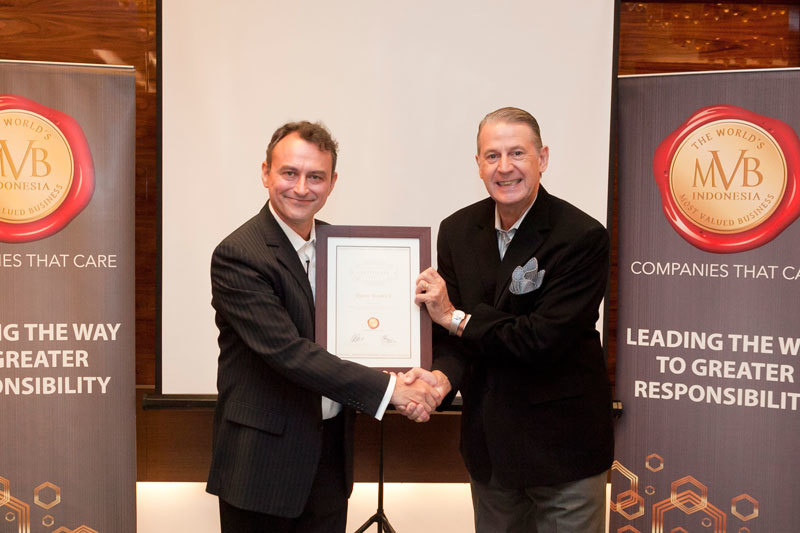 The seminar was opened by Alistair Speirs as Chairman of MVB Indonesia. H.E. Rasmus Abildgaard Kristensen, the Ambassador of Denmark to Indonesia as the Keynote Speaker then shared an inspiring presentation about the future of sustainability and the link between Sustainability and Business.
In his session, the Ambassador also announced their Annual programme, working together with the Habibie Center called "Ambassador 1 Day", where a talented young Indonesian student wins the opportunity to "become the Ambassador" for a day. And then he introduced and invited the Ambassador 1 Day candidate from Gadjah Mada University, Rudang Cecilia Pinem to deliver a short explanation about the on-going programme.
The programme then continued with a presentation from Mrs. Maria Nindita Radyati as Executive Director of CECT Trisakti who talked about How Business for Sustainability is Profitable and followed by fascinating presentation from Mrs. Paola Cannuciari as Co-Founder of Waste4Change who talked about how to maximise the effectiveness of your waste management process.
The session then continued with presentation from Björn Heidrich as President Director of PT. Bumiraya Suria Abadi (BayWa r.e.) who explained about the important role of renewable solar panel energy. The session ended by presentation from Alistair Speirs who talked about Compassionate Capitalism.
MVB Indonesia thanks the MVB Partners for their support and also all seminar participants who attended the Second INDONESIA SUSTAINABILITY SEMINAR 2018.
The next series of in seminar will be on 2 August with theme Being an Ethical Employer and Integrating Sustainability Into Management Practice.
Registration for this Seminar is available online through our official site www.mostvaluedbusiness.com or by email to [email protected].