Under the pen name, Trinity, her Naked Traveler series includes eight best-selling books about her travels around Indonesia and the World. Based on her first book, The Naked Traveler 1, a feature film was produced in 2017. A second film, Trinity Traveler, based on her book The Naked Traveler 2, is now showing to good reviews at a movie theatre near you.
Trinity is one of Indonesia's most influential travel writers and has received numerous awards for her work from major players in the national travel industry. A collection of her travel stories in Indonesia was translated into English under the title, The Naked Traveler: Across the Indonesian Archipelago, which was highlighted at the Frankfurt Book Fair. She writes in what she describes as a 'naked' open style, without pretence and doesn't mince words.
She also collaborated with writer, Erastiany Asikin, and illustrator Sheila Rooswhita, in producing the first graphic travelogue book in Indonesian. Aside from writing more books, blogging and creating YouTube videos, Trinity writes for various magazines, hosts TV shows and is a frequent speaker at travel conferences.
We caught up with Trinity for a brief interview two nights before the Jakarta premiere of Trinity Traveler.
From a travel writer and a book series with a catchy name, now you have two films based on your experiences. Tell us a bit about them.
Like the Naked Traveler books, both films are loosely biographical. The first film is adapted from my first book, Naked Traveler 1, in which Trinity wants to escape her corporate life and dreams of traveling first around Indonesia and then beyond as a travel writer. The second film is based on Naked Traveler 2, which tells the story of Trinity's life and continuing travels after she writes her first book. It's not always an easy life as she is never in one place very long and that makes the relationship with her family, friends and photographer boyfriend difficult.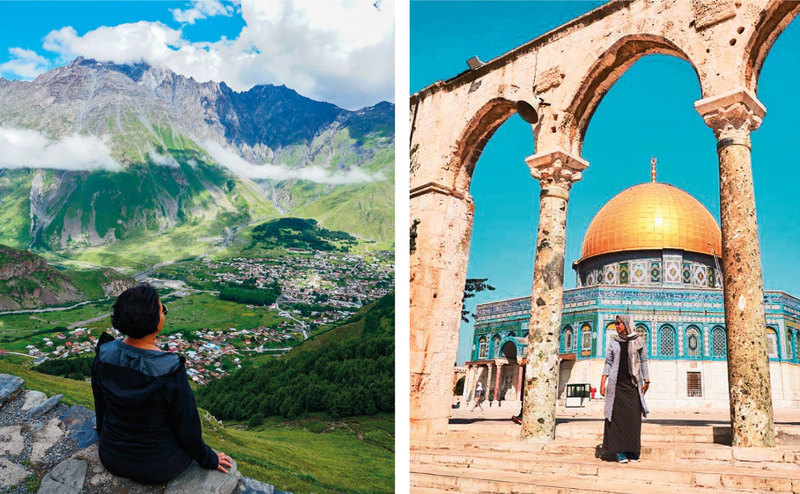 In both films, there is a conflict between Trinity and her parents, who want her to stop traveling, settle down, and get married. What do you want to say to people in the same situation, particularly Indonesians?
For Indonesians, it is in our culture that you must get married, have kids and all that. I want to tell people that it's ok to be single, like me, and follow your passion. People get married here sometimes just out of fear of being alone, peer pressure or the family. I want to tell people that they have options. They can create their own destiny.
You are a woman who has travelled the world and written books about it that are personal, almost like diaries. What's it like to now see a part of you on the silver screen for all of Indonesia to see and later in many other countries as well?
(Laughs) To see some of my life in one film is one thing, but now in two, it's bizarre. I mean who am I? I'm not the president! (Laughs) I don't know how to describe it. Again, I hope the films show people, especially Indonesians, that they can be successful at what they want. It's your life, not someone else's.
Some of life's best travel adventures occur when you get a little lost along the way. A traveller like you makes plans to go somewhere, but probably after that, lets a lot just happen. What are your next travel plans and how do you hope to get a little lost?
I don't even make travel plans, really. I just set a goal of visiting countries I have not yet been to. This year I have been to five, so far. I've already been to 93 countries so any new one at this point would be one not in the mainstream travel brochures. For example, this year I went to Pakistan. Not many people want to go there given all the problems. I also went to Israel and Armenia. What? So, I often don't just get a little lost, I get totally lost.
Both of Trinity's films are in Indonesian, but the stories are fun to follow even if you don't speak Indonesian. And if you watch both films, you will get acquainted with "Mr. X". The fine cinematography at various locations in this country and around the planet is made for the big screen of a film theatre.
The trailer for Trinity Traveler can be seen on YouTube: www.youtube.com/watch?v=JULU9daSUyw