Pastry lovers with a sweet tooth in Indonesia can relish in excitement as one of the world's most renowned cinnamon roll franchises, Cinnabon, has finally arrived in Indonesia! Cinnabon Indonesia recently opened its first Indonesian outlet in Jakarta at the luxury shopping mall, Grand Indonesia Mall, on Sunday, 12 June 2022. The Cinnabon brand was first established in 1985 in Atlanta, USA, and has since expanded its franchise worldwide in 50 countries with over 1,600 outlets.

Cinnabon Indonesia presents the brand's mainstay offerings of cinnamon rolls in various flavours along with other beverage offerings. The staple classic Cinnamon Rolls that were first introduced in 1985 have continued to be a favourite amongst customers, which will be available at Cinnabon Jakarta. The cinnamon rolls at the Jakarta outlet use Makara cinnamon, which boasts a unique aroma sourced from West Sumatra's mountains. The aroma of this particular cinnamon combined with Cinnabon's special dough produces Cinnamon Rolls that are soft, savoury, chewy and fragrant.
The Caramel Pecabon is for caramel lovers, which combines pecan nuts and caramel sauce that will surely tantalise the tastebuds of fans of this classic menu. Chocolate aficionados will be pleased with the Chocobon flavour, where each layer of the cinnamon roll is coated with chocolate and Cinnabon cream cheese frosting.
On top of these three main menus, Cinnabon Jakarta also offers additional menus including Roll on the Go and Cinnachips. In the future, Cinnabon will continue to explore other menus and showcase something new to foodies in Indonesia.
Cinnabon offers three variety of sizes for their cinnamon rolls, including the regular-sized classic rolls suitable for those who enjoy the flavours of freshly-baked cinnamon rolls; the Minibon, which offers the same pleasure as the Cinnabon Classic in a smaller size that is perfect to be enjoyed as a snack with tea and coffee; and the BonBites, which is the smallest size yet still rich in flavours, perfect to be shared with colleagues and loved ones.
Cinnabon Jakarta also presents a wide range of beverage offerings, including tea, coffee and other drink menus that perfectly complement the cinnamon roll collection, such as the Americano which features the bitterness of aromatic coffee to be enjoyed hot or cold. Cinnabon utilises Italian coffee beans from a mixture of Robusta and Arabica coffee beans. Other beverage offers special beverage menus such as Chillata and CinnaFizzie with a total of 26 beverage options. The offerings at Cinnabon Jakarta range from IDR 26,000 up to IDR 226,000.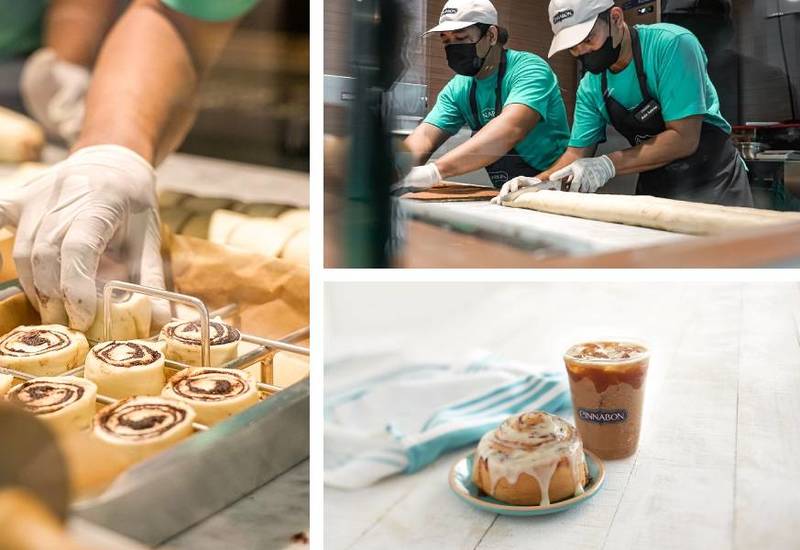 The cinnamon rolls offered are made fresh daily using Makara cinnamon, which boasts a unique aroma combined with the sweetness of brown sugar and cream cheese frosting on top.
"Cinnabon offers a unique and different taste that is suitable to be enjoyed together with coffee and tea, which are Indonesian people's favourite drinks. We also feel that this moment is a good opportunity to introduce ourselves to the public because we see the demand for quality and fresh products. People are starting to be more daring to explore various types of food," said Witia Arini, Director of PT Toffin Cinnabon Jakarta.
For this reason, Cinnabon Indonesia plans to expand in the Greater Jakarta area and does not rule out the possibility of opening additional branches in various areas of Indonesia.
Cinnabon Grand Indonesia, Jakarta is open daily from 10am to 10pm. For more information, visit their official Facebook and Instagram pages.
Cinnabon Grand Indonesia, Jakarta
Grand Indonesia Shopping Mall, East Mall, Level 3A, EM-3A-19
Jl. MH Thamrin No. 1, Keb. Melati, Kec. Menteng, Jakarta
facebook.com/cinnabon.id