What started as one man's concern for the huge waste problems in Indonesia has grown into a fast-growing responsible waste management company that has just celebrated its 7th year of operation last November.
Originally based in Bekasi, Waste4Change has come a long way since it was first established back in 2014 and has expanded its operational services to cover 21 big cities in Indonesia.
On its 7th year anniversary, Waste4Change have managed a total of 8,428 tons of waste responsibly, and our waste collection service have served 2,828 households in two residential areas, as well as 68 client companies in 114 location points. Waste4Change has also conducted 227 projects, from community assistance, research, and also waste management training, with a total of 514,306 beneficiaries from waste management projects throughout Indonesia.
Moreover, we have also empowered 68 waste operators with better wages and work conditions, as well as partnering with 18 recycling partners to make sure that the waste we collect is recycled optimally according to its category. In addition, from the organic waste section, we have produced a total of 17.78 tons of compost and harvested 12.600 kilograms of Black Soldier Flies maggot.
Having realized that Waste4Change would not be able to reach each milestone and achievement without the help and cooperation from their valuable clients, partners, as well as the general public, the company would also like to use this opportunity to appreciate and highlight the efforts of those who have fought alongside them in creating solutions for existing waste problem.
The recognition was delivered during an event called "Award4Change", which aims to give appreciation to companies and government institutions for implementing responsible waste management.
Award4Change Recipients
In total, there are 10 categories of appreciation with 27 awardee, Partner, Great Collaboration, and also Waste Warrior lifetime achievement.
Here's the complete list:
Most Zero-Waste to Landfill
DBS Indonesia - Cabang Jakarta (PT Bank DBS Indonesia)
IKEA Alam Sutera (PT Hero Supermarket, Tbk.)
Unilever Head Office (PT Unilever Indonesia, Tbk.)
Danone Head Office (PT Tirta Investama)
Potato Head - Threebuns + Kaum (PT Tiga Roti Perdana)
Ministry of Finance (Head Office)
Ministry of Public Works and Housing (Head Office)
Most Reduce-Waste to Landfill
Goethe Institut
British Embassy Jakarta
Kyo Coffee (PT Mata Segar Jiwa Segar)
Wisma Barito (PT Griya Idola)
Ministry of Energy and Mineral Resources (Head Office)
Most Responsible Brand
The Body Shop (PT Monica Hijau Lestari)
IKEA Central Fulfillment Unit (PT IKEA Indonesia)
Young Living (PT Young Living Indonesia)
PT Rouse Consulting International
Local Initiator of the Year
Audrey Bernanda (Co-Founder of Ecaps Cafe)
Community Empowerment Project Highlight
InspirACTion (PT Tetra Pak Indonesia)
Eco-Tourism Project Highlight
Fishing for Litter (GiZ Indonesia)
Research Project Highlight
Study of Food Loss and Waste in Indonesia 2021 (Environment Directorate, Ministry of National Development Planning of Indonesia)
River Waste Monitoring (The Ocean Cleanup)
Low-Value Plastic Collection Project Highlight
RePurpose Global
PT Nestle Indonesia
Best Recycling Partner
Daya Selaras Group
Great Collaboration
DKI Jakarta Environmental Agency
Bogor Regency Environmental Agency
Bekasi City Government
Waste Warrior Lifetime Achievement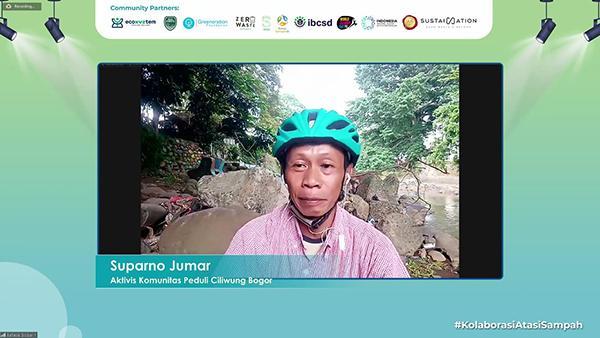 The title is awarded to two figures, the first is Mr. Suparno Jumar, an activist from Peduli Ciliwung community. He first joined the community in 2015, and later on left his job to contribute fully in becoming a River Defender. Along with the Peduli Ciliwung community, Mr. Suparno has been actively cleaning the Ciliwung river as well as educating local communities to keep the rivers and environment clean from waste.

The second awardee is Ms. Resa Boenard, the founder of a children education community called BGBJ in Bantar Gebang. Ms. Resa witnessed how Bantar Gebang, which was originally a paddy field, was turned into a dumping site with huge mountains of waste. She was concerned that the children who lived around Bantar Gebang would suffer the negative consequences due to the unhealthy living environment. Hence, she decided to build the BGBJ community.


Waste4Change recognized and appreciated these two amazon people as Waste Warrior due to their services and contribution in addressing waste issues and empowering the communities around them, in hope that what they do will be able to inspire many more people to also take part in battling the waste problems in their own unique ways.

Last but not least, Waste4Change realized that we still have a long way to go, and we obviously couldn't walk on this path alone, so we welcome all kinds of collaboration, be it with existing or even new partners and clients in order to magnify our impacts and work together in addressing Indonesia's complex waste issues responsibly and optimally.