Has anyone heard about Victory Garden? The emergency farming to fill up the food shortage during World War I and World War II is likely the solution that can be adapted right now during the coronavirus crisis. Well, past historical experience ha taught us that this independent small-scale private plantation in local area can be the answer to food justice.
Also known as 'war gardens' or 'food gardens for defence', Victory Garden has transformed and modernised its model for today's society where one can find a community garden in the local neighbourhood to supply food ingredients to the community members. It's a platform for social interaction and used an effective method to provide food for many people especially if there is pressure in the supply chain and social crisis such as right now where some people in the lower class have difficulties to afford daily needs.
As a trend in urban farming is rising during the pandemic, the private garden in the private residents has not fully solved the solution to food justice. Many people whose lives depend on government aid due to social restriction have not enough space to establish the garden. In Jakarta, RPTRA or children friendly park is supposed to provide community activity, no exception with a possibility to create a community garden. However, the function of those parks which is located in more than 250 spots has not been optimised by community leaders and residents.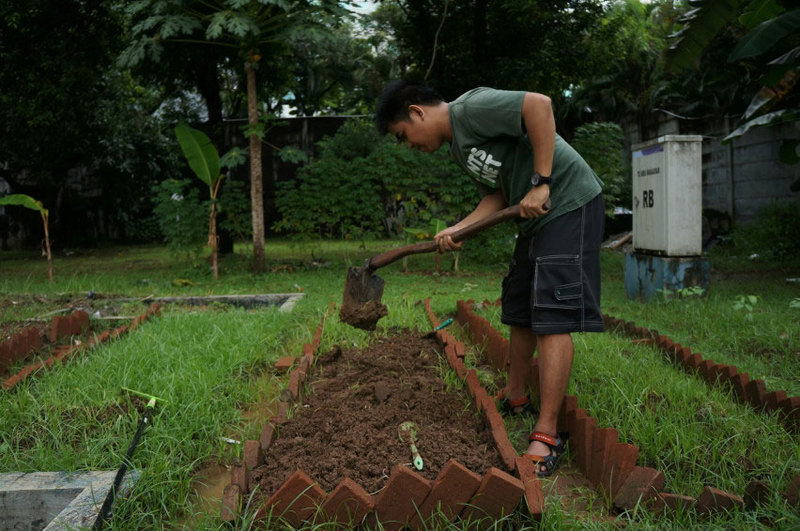 As a matter of fact, the community gardens can be 'a civil morale booster that empowers local community to be more independent. In few flats provided built the city government or Rumah Susun Sederhana (Rusunawa) in Jakarta, senior citizens have initiated community gardens in the area and sell them to a member of the residents with more affordable prices but cans only can be seen practiced in some location including Marunda and Jatinegara.
In the level of organisation, Indonesia Berkebun has been promoting community garden in the last ten years to create a sustainable culture in the archipelago nation, engaging with the local community including in Makassar, Bandung, and Surabaya to implement urban agriculture. Through Akademi Berkebun, the organization led by Ida Amal has been built a network and invites many people to establish community gardens in the local area that adapting the core concept of 3E (Ecology, Education, and Economy).
"It's a concept for a sustainable future with a social and ethical vision in the application. It also can encourage people to prepare with survival skills towards a possibility of crisis like right now," Amal said.
Amal said that a community garden can create social interaction between residents as the urban community tends to be more private and has no time for social life in their neighbourhood. Unvacated land or dedicated land own by one of the residents can create social interaction with positive energy where people are able learn about organic farming, invite their kids to live with nature, and of course, have healthier and quality food ingredients,
"There is nothing wrong to utilise empty land to create productive activities especially if it is useful for its community itself and it's sustainable," Amal added.
Later, the community also could generate its economic values by selling the product to people around the area or at least provide the primary need for food among families who need it. "If we have this culture in Indonesia, we don't have to wait for aid from the government because we are actually independent in providing food for our family where the member can freely access it to cook it at home," Amal said.
In a few counties in Europe, America, and Japan, people have a different gardening culture for decoration to farming. Indonesia, with its tropical climate, can grow diversity of plants that can be used for ingredients for our food at home. In the time of crisis and its limitation to social mobilisation, the community garden is expected to create more inclusive access to food and create justice among many different levels of society.
Weather neighbourhood can donate the harvest products to those who need it the most or dedicate land to create this green lifestyle. Those who know about biodiversity, horticulture, and agriculture also can teach others to grow diverse plants in the area using a different variety of methodologies in the landscape from vertical to hydroponic. At the end of the day, the community garden has been looking forward by many people to create a more sustainable living and achieving food security at local scale.
For more information about Indonesia Berkebun, visit indonesiaberkebun.org