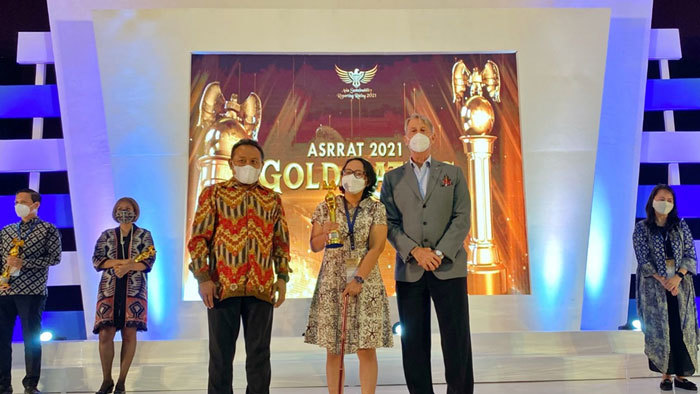 Danone-AQUA's 2019-2020 Sustainability Report won the gold category rating from the 2021 Asia Sustainability Reporting Rating (ASRRAT), which was held on November 17, 2021, in Jakarta. The report, which was compiled using the Global Reporting Initiative (GRI) Standard framework, collected Danone-AQUA's efforts in nature conservation, community and internal empowerment, as well as the involvement of various sectors in support of the government's sustainable development goals (SDGs) in Indonesia.
National Center for Sustainability Reporting Chairman Dr. Ali Darwin appreciated the reporting and performance of companies participating in ASRRAT 2021. "Sustainability requires innovation and collaboration from various stakeholders, and these actions need to be disclosed in a sustainability report. We appreciate companies that have made efforts to continue to uphold transparency through the preparation of sustainability reports and encourage improvements in both quantity and quality of reports," he said.
In the sustainability report entitled "Maintaining Good for a Sustainable Indonesia", Danone-AQUA reaffirms its commitment to implementing sustainable business practices and Good Corporate Governance by providing transparency in every aspect of its operations. Through this sustainability report, Danone-AQUA describes its vision, strategy, and achievement of its sustainability performance for the last two years.
Danone Indonesia VP General Secretary Vera Galuh Sugijanto explained, "Danone-AQUA always strives to build a balanced, profitable, and sustainable business growth model to create long-term value for stakeholders. In line with Danone's global vision, One Planet One Health, we are committed to ongoing development of various sustainability initiatives to achieve the Government of Indonesia's Sustainable Development Goals (SDGs). Through this sustainability report launch, we hope to provide transparent information to stakeholders about the extent to which these sustainability initiatives have been achieved and their impact throughout our business chain."
Previously, the Indonesian government had integrated 17 major goals and 169 targets from the SDGs agenda into the National Medium-Term Development Plan for 2020-2024. This demonstrates that the SDGs agenda is not just a global commitment, but also a guide for Indonesia to implement an inclusive and sustainable national development program. Realizing the importance of the company's role in this regard, Danone-AQUA is developing various initiatives that address natural sustainability by maintaining circularity in three areas, namely water, energy, and packaging. Danone-AQUA actively campaigns for healthy lifestyles, building business models that empower communities, building an inclusive work climate, and empowering employees.
The Danone-AQUA 2019-2020 sustainability report manifests the company's commitment to doing business while integrating wellness and good faith - be it for business progress, improving community welfare, or creating a sustainable environment.
"We thank all of the partners who have worked together to enact wide-ranging sustainability programs, the people of Indonesia, and of course the consumers who are involved in realizing a sustainable Indonesia," concluded Vera.