With the city's current waste situation, Bantar Gebang, Jakarta's main and only mass landfill, will be out of commission in 2021. Jakarta Less Waste Initiative took to the field to focus on prevention.
Jakarta Less Waste Building and Restaurant Initiative continues its initial mission by inviting related industries to start implementing better waste management strategy. After the public launch on 13 June, Jakarta Provincial Government through the Ministry of Environment and Forestry organised a training for F&B entrepreneurs and business owners aimed to optimise preventive action on waste management.
More than 100 restaurant entrepreneurs and business owners participated in the three-day event, which included an outdoor training at Integrated Waste Management Site (TPST) Bantar Gebang, Bekasi, West Java. As a strategic partner, Waste4Change conducted a waste management practice that they are hoping to be implemented within related commercial sectors.
During the training, participants learned how to process organic waste and composting as well as discussed the method of material recovery to be used later on for recycling and upcycling. Participants got a chance to learn more about waste management directly from the experts and discover new methods with potential application in their business. With help from the organisers, participants are provided with the five basic aspects of waste management as they simulate their reference through Forum Group Discussion (FGD) and practice their knowledge directly at TPST Bantar Gebang and Waste4Change headquarter in Bekasi.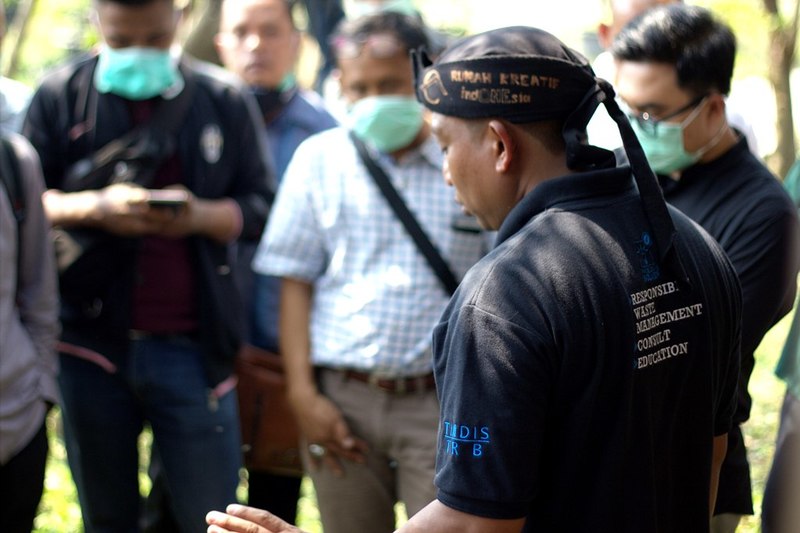 Rahmawati, Head of Waste Management at the Ministry of Environment and Forestry explained that industry commitment is needed to achieve the target of reducing abundant waste around Jakarta area. Participants are expected to participate during six month period of process to prove the significant change in their business.
"This three-day event provides fundamentals that the industry needs to understand and see how these can be applied in their business. Most importantly, this process will not stop here because it needs to be sustainable," Rahmawati explained during an outdoor field training at Bantar Gebang.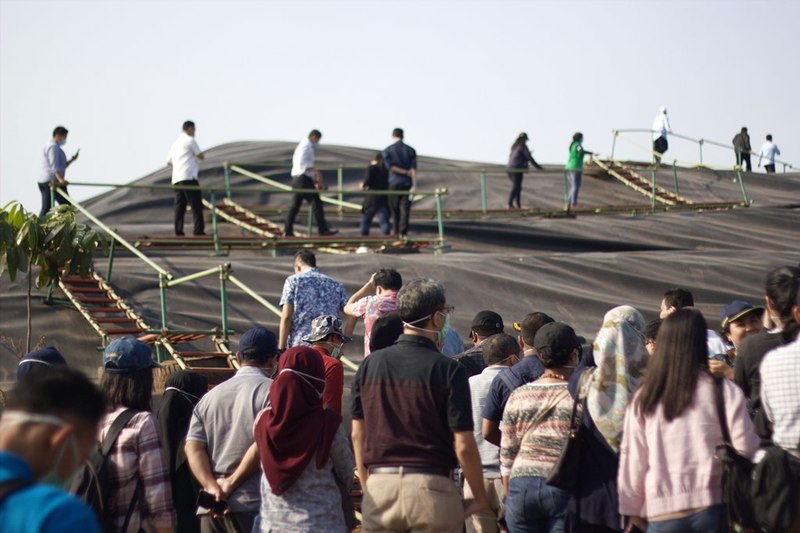 Waste4Change co-founder, Faiza Fauziah explained the importance of seeing the actual condition in Bantar Gebang dumpsite in order to understand the urgency of the matter brought about by uncontrollable waste production. After the direct counselling on waste management, Waste4Change hopes the industry could optimise prevention acts in their business to minimise the burden in the dumpsite, which has nearly reached its maximum capacity.
"The rising volume of waste transported to the dumpsite is unavoidable. The best way to solve this waste problem is to address it at the source. We are pretty much focusing on prevention on the upstream level and hopefully convince consumers to also change their habit," Fauziah stated.
The rising volume of waste transported to the dumpsite is unavoidable. The best way to solve this waste problem is to address it at the source. We are pretty much focusing on prevention on the upstream level and hopefully convince consumers to also change their habit

- Faiza Fauziah, Waste4Change co-founder
In the initial programme, Jakarta Less Waste Building and Restaurant Initiative is expected to reach 100 participants from culinary industry and 100 stakeholders from the business to achieve the target to reducing waste up to 20 per cent and 80 per cent on garbage handling. During two month counselling from June to July, the team of Jakarta Less Waste Initiative will be monitoring and evaluating the implementation as well as analysing industry performance until the results announcement in November. Ultimately, this initiative hopes to reduce current waste contribution from commercial sectors to be lower than 28.7 per cent.
Waste Truck in on the Line
Family and people at home may be careless with litter and take the trash for granted, leaving the responsibility to those handling waste collection in household and commercial area. What they do not see is the long line of orange dump trucks filled with tonnes of Jakarta's waste waiting to reach the dump site.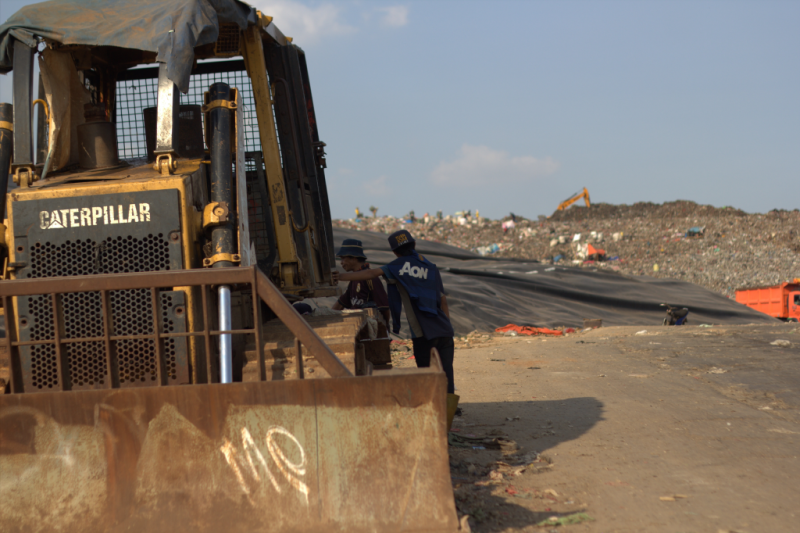 As many as 260 trucks come and go every day without stopping to transport more than 7,400 tonnes of hazardous waste. The Waste Management Site operates for 24 hours a day, making it the busiest dumpsite in Indonesia. Recent data from TPST Bantar Gebang shows that the landfill will reach its maximum capacity by 2021. You can smell the foul odour coming from mountains of waste from kilometres away, showing that Bantar Gebang sub-district is polluted by methane gas formed by organic waste and other harmful things coming together, and this is extremely harmful to the immediate environment, including to nearby residents. During the site visit, representatives from TPST Bantar Gebang invited participants of Jakarta Less Waste Initiative to help solve this critical waste problem. Bekasi City Government suggested the construction of an Integrated Treatment Facility (ITF) to process waste inside the city. Geomembranes are applied to reduce powerful odour and avoid landslides as a temporary shot-term fix. The membrane would catch the methane gas, preventing its release to the atmosphere and directing the gas to the garbage power plant (PLTSa) of Bantar Gebang which was launched last year.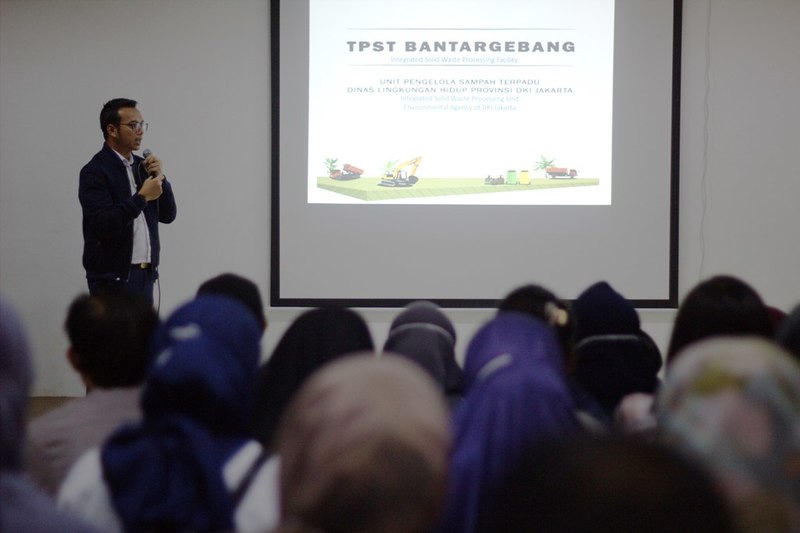 TPST is expanding its management capacity by upgrading the composing site, planting 1,040 trees to recover the landfill and benefit surrounding neighbourhood, as well as developing a research team to prepare for the upcoming National Waste Centre in the future.