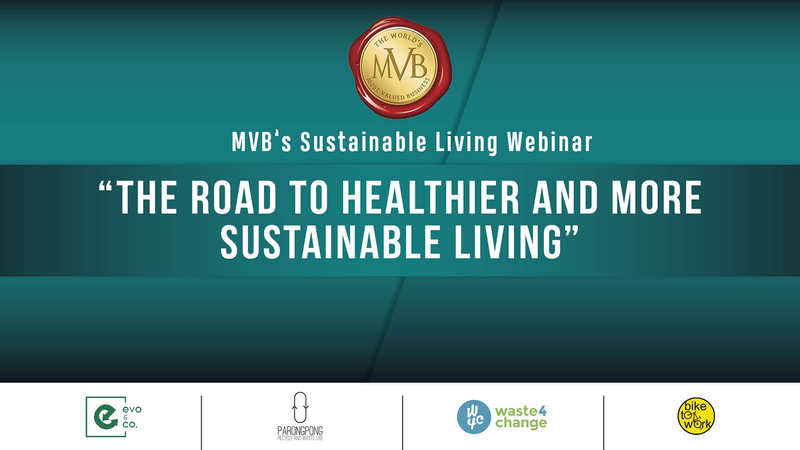 MVB Indonesia was excited to present their Sustainable Living Webinar which feature well known organisations in sustainability who can guide you, professionally and personally on a new path: Waste4Change, Parongpong, Evoware and Bike2Work on sustainable living.
This webinar was designed to directly increase your understanding of practical things you can do - NOW – to increase your personal sustainability and live a healthier lifestyle, and as a result take these ideas on to your residential and business communities. It was especially relevant to people who have already taken some sustainability steps and are looking to deepen sustainability efforts by linking with expert organisations that can help them on their path and get them up to speed on:
- recycling waste and composting, at home or in the office
- understanding sustainable materials especially those made from waste ,
- replacing plastics in their household utensils,
- and getting to grips with cycling!
And once you have got the bug it will be easy to pass on to other citizens interested in jump starting sustainability in their community and adopt it for everyday lifestyle!
This webinar was about getting to grips with things that CAN BE DONE by you and your family or colleagues, and changing your role from passive ('yes that's a good idea') to active ('actually I'm already doing that ') Here are the excellent expert speakers who led the discussions.

Hana Nur Auliana –Waste4Change
Fascinated by the concept of healthy and conscious living, Hana has been involved in some of the local nature preservation movements and social volunteering projects since her university years. Graduated from the Biomedical Engineering major at Swiss-German University (SGU) Jakarta in 2012, Hana continued her work at ProSehat, amobile-based health innovation start-up, at which she developed her skills and passion in business development, digital marketing, and efforts to improve the quality of human life in general.
Hana's encounter with Waste4Change in 2015 has introduced her to the massive positive impacts of responsible waste management. After participating as a volunteer for several of Waste4Change's PasukanBijakSampah projects, Hana decided to join PT WasteforchangeAlam Indonesia (Waste4Change) in 2016. Hana's crucial contributions for Waste4Change consist of helping to develop the standard operating procedure for the most part of the company's main services and business lines. As the brain of Waste4Change's Business Development division, Hana's main responsibility is to explore and ensure Waste4Change's future collaborations and business expansion in order to attain the company's main goal: improving the quality of people's lives through a responsible waste management system.
David Christian -Evoware
David Christian is founder and CEO of Evo& Co, that have 3 different brands under it: Evoware, Evoworld and Rethink Campaign. Evo& Co vision is to create a world without plastic pollution by providing one stop solution for single used plastic alternatives.
Back to Indonesia after his study in Canada, he was surprised with how bad environmental condition in Jakarta was and moved to create something to address this issue. Now with Evo& Co, he aspires to give positive impact, not only for the environment but also the society.
Outside Evo& Co, he is the head of maritime, agriculture, forestry & environment in Indonesian Young Entrepreneur Association Jakarta (HIPMI JAYA). He is also a co-founder and chairman of Terra BePro, a social enterprise that focused on an environmental management system. In 2020, David listed as Forbes 30 under 30 Indonesia and Asia. With this positions he hopes to inspire and engage other people to be more sustainable.
Rendy Aditya –Parongpong
RendyAdityaWachid born on 26th December 1985, is an Indonesian Researcher, Architect, and Entrepreneur.
He is mostly known as the founder of Parongpong RAW Lab, CEO of Rawhaus, Founder of Tokopong Coop, Co-Owner of Burgreens Bandung, General Manager of RumahStroberi Resort & organic farm.
After graduating from one of the best architecture school in Indonesia, in 2008 he started GaleriGerilya, free exhibition centre for young artist in Bandung, and he's also co-founder of RisetIndie Indonesia, a community based research centre, responsible for the birth of Alinea : Indonesia first animatronic project. From 2008 to 2010 while taking his master degree, he worked voluntarily for Studio Habitat under Habitat for Humanity Indonesia as Project Coordinator, managing and coordinating design and build of cost effective houses for low-income family in Jakarta and Bandung, Indonesia. He is a member of modern asian architecture network (mAAN) since 2007, he assist workshop and seminar for the organization activities in Indonesia and later held the Muntok Tin Mining CIty Workshop in 2011 as head workshop coordinator.
Rendyspecialised in start up business and project management focusing on sustainability, social entrepreneurship and creative industries . He has 8 years experience supervising and managing projects for government and private sector in South East Asia, and China.
Since 2016 Rendy returned to his hometown in bandung Indonesia, teaching business class for young designers at a private university, founded his waste management company in 2017, and actively investing on sustainable business. He truly believe in people, planet, profit. The three bottom pillars of sustainability. Rawhaus was founded in 2018, the first micro house in Indonesia built from recycle materials, in 2019 Burgreens Bandung is the first plant based restaurant in town, and the first outlet outside Jakarta, in the same year Rawlife is the first GA of Manulife in Bandung. in 2020, He's currently the Chairman of International Conference of Village Revitalization, and an active partner of Sustainable District Association or LingkarTemuKabupaten Lestari. In 2021, he's supporting Conture Concrete Lab as their CFO. On the weekend he's a full time father, organic farmer and maker in Parongpong Village, West Java, Indonesia.
Purwanto –Bike 2 Work
For more than 25 years, Purwanto Setiadi followed a career as a journalist in several media. He had been assigned in almost any beat. When he was still has to do his job in office he also wrote articles on music and, later on, about bicycling and coffee out of a passion.
Born in 1962, his loves for music has its root in early 1970s when he was still a teenager in his hometown in East Java. At the time he was exposed and got used to listened to any kind of music because there were different tastes in his family.
Since retiring from Tempo in 2017—his last position was managing editor—he works as a freelance editor and writer, and also volunteering for B2W Indonesia. In his free time he gets out every now and then of Depok, where he lives, to take a long distance trip by bicycle.
As you can imagine their presentations were practical, inspiring and easily followed and we are making them available to you by a simple email request to [email protected] Make sure you get them and folow the lead to a better life.