The LafargeHolcim Awards is the world's most significant competition for sustainable design. The competition is held by the LafargeHolcim Foundation for Sustainable Construction in five world regions and in two categories: The Main category is for projects ready for implementation, and the Next Generation category seeks visionary concepts for participants up to 30 years of age. We bring you these wonderful ideas by these young people who are thinking ahead about how to improve our lives by innovative and sensitive design. Read on then click through to the individual awards and see what great ideas they had. This is how to make a 'smart city'!
The 6th LafargeHolcim Awards competition announced 21 Next Generation prize winners by students and young practitioners from around the globe. The prize winning projects show how the best and brightest students and young professionals are concerned with the sustainable future of construction on many levels – and that they are prepared to disrupt conventional approaches to achieve it.
1. Unmaking Architecture, New York –An artificial-intelligence-based tool to optimize the reuse of demolition rubble.
Certain issues stood out as being of particular concern to the next generation: With what should we build in the future so as not to overburden the environment? The answers reach from repurposing and sustainably upgrading buildings to facilitating the reuse of demolition waste to producing new material from agricultural byproducts.
2.Buoyant Amenity in Indonesia –A project that upgrades vernacular river sanitation systems to reconcile ecosystems with the local community.
Another focus is informal settlements. Already at the beginning of their careers, young professionals are recognizing how important it is to integrate these communities into the broader urban context, for example by proposing multiuse mid-rise buildings to make best use of existing space without destroying an established community.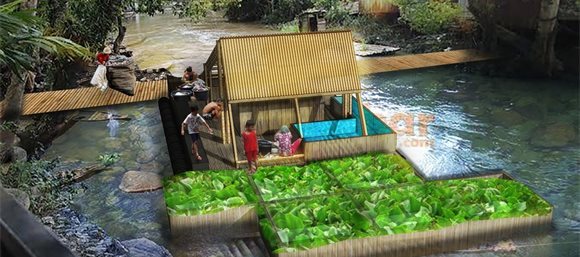 3.Earthen Education in Iraq –An educational complex to revive the architectural and cultural value of Mesopotamian Marshes.
Many projects demonstrate the courage to cast aside established concepts and rethink them: From using waste heat from data centers to heat and cool buildings to a reinterpretation of cemeteries or by reinventing traditional building methods to support the preservation of cultural heritage.
4.Accumulating Shelter in Spain –A project where the forces of nature are harnessed by creative landscape design and iconic architecture to regenerate the coastline
Global challenges are not limited by national boundaries. Several winning projects were designed by authors in other regions of the world than where they are planned. A Mexican student presents an approach to community housing for socially empowered living in Belgium, a Russian student in Germany addresses the problem of plastic waste in Sierra Leone, and an American student proposes a concept for upgrading waterfront districts in India.
5.Protective Canopy in Colombia –A botanical pavilion heals landscape from human activities and offers new pedagogical and recreational public space.
"With their fresh ideas, the next generation keeps us at the forefront of sustainable and innovative building solutions," says Jan Jenisch, CEO of LafargeHolcim, sponsor of the LafargeHolcim Foundation and its Awards competition.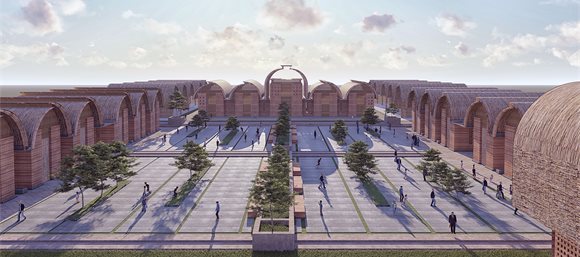 Championing innovation in sustainable design and construction.
The announcement of the Next Generation prizes marked the start of presenting the LafargeHolcim Awards 2021. The winning projects and authors in the Main category will be honored at a hybrid event at the international Venice Biennale of Architecture in mid-November 2021 including Hashim Sarkis, head of the Global LafargeHolcim Awards Jury 2021 and curator of the current Biennale.
Online presentations of the Next Generation winners, including detailed descriptions of the projects from each world region, complete jury reports, and numerous photos and videos, are available at www.lafargeholcim-foundation.org/awards/6th-cycle. The English-French trade journal "L'Architecture d'Aujourd'hui" (AA) has devoted a special issue to the Next Generation winners of the LafargeHolcim Awards: www.lafargeholcim-foundation.org/aa.