Sachet waste has reportedly been polluting the rivers and waters of Jakarta, which is evident by the findings from the recently-conducted brand audit. The brand audit is performed by various institutions in Jakarta's waters and rivers for a week, from 12th to 19th June 2022. The aim was to find out the pollution level in both Jakarta's rivers and water.
Waste Audit in Several Places in Jakarta
In the Thousand Islands area, the audit is performed by Gerakan Indonesia Diet Kantong Plastik (GIDKP), specifically in Pulau Rambut. Whereas in Muara Angke, Muara Baru, and Muara Kali Adem, the audit is conducted by River Warrior. Another audit is also done in the Ciliwung river, specifically at the TB Simatupang bridge segment up until Condet by involving other communities such as Komunitas Peduli Ciliwung Condet, Ciliwung Institute, and Ecoton.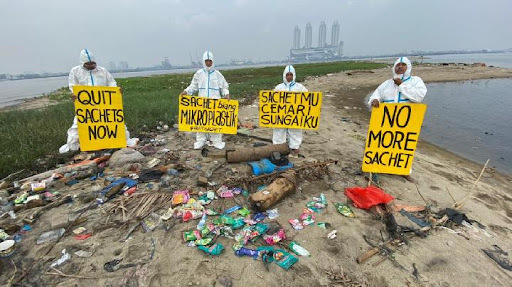 The waste audit is done by taking a minimum of 500 sachet waste samples from each location. These sachet waste were either floating on the river, stuck on tree branches, lying around at the beach, or buried on river banks. For waste that was floating on bodies of water, the audit team used boats and nets to be able to collect the waste. They also took some documentation on the waste that was floating in the waters.
In Muara Angke, Kali Adem, and Pulau G, volunteers from River Warrior found that many plastic waste were stuck on mangrove trees. This poses some serious threats to the surrounding wildlife such as the long-tailed macaque, waterfowl, and also lizards which might digest the plastic packaging waste.
Meanwhile, in the Ciliwung river, volunteers found that more than 1.000 tree branches were entangled in plastic waste.
The Dangers of Sachet Waste
According to the World Economic Forum's insight report on National Plastic Action Partnership with Indonesia, sachet plastic waste makes up 16% of all the plastic waste that is found in Indonesia's waters and environment. Similar results from the brand audit conducted by #breakfreefromplastic also identified sachet waste as one of the plastic waste that is most often found.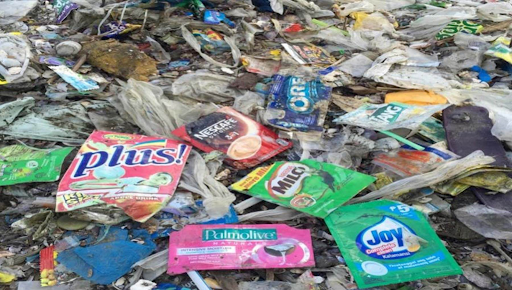 Sachet waste should come to our attention because it is categorized as residual waste that is difficult to be recycled. Sachet waste is a multi-layered packaging also known as MLP, and there are at least 4 layers of plastic in one sachet, namely aluminum foils, polymer EVOH, PP, and lamination plastic. This makes the recycling process difficult because plastic should be processed according to its category. If we want to recycle sachet waste, then we have to separate each layer of plastic. This is not something that many recycling agents, especially the informal ones, can do.
The difficult nature of recycling this waste makes sachet waste even more prone to being discarded irresponsibly. What's even worse is that the sachet waste will eventually break down into microplastics and pollute the environment even more.
How Can We Quit Sachet Waste?
Well, the first and foremost problem that we need to address is the waste production itself. The ultimate solution is to reduce the number of waste from its source. The second way that we can do is to process the waste that was already produced to prevent it from ending up in our waterways, rivers, and oceans. Even though multi-layered plastic is difficult to be recycled, there is a way to recycle it using RDF technology. The sachet waste will then be used as fuel in making cement.
However, this is clearly not a one-man job. We need all parties to do their roles, be it the government through strict regulations and law enforcement, private companies taking accountability through their CSR programs, as well as society as a whole.
Companies and businesses can also take part by setting up examples and start managing their own sachet waste by partnering with Waste4Change. With our Responsible Waste to Landfill service, your waste will not end up polluting the environment. To learn more about our service, kindly visit w4c.id/RWTL . [Miriam Bahagijo]
References:
Ecoton.or.id
Tempo.co