Introducing a very welcome start-up that provides daily household products from well-known brands in returnable and reusable packaging as a solution for shopping without waste. Photos Koinpack.
Koinpack is an Enviu venture through its Zero Waste Living Lab Program, and was introduced in Indonesia on August 2020 to enable people to get eco-friendly products and to start a zero waste lifestyle. It is a reusable system which shifts the traditional linear business model to a circular business model and prevents single-use plastic at source.
Bintang Ekananda, the Director of Koinpack said, "The Koinpack system is actually simple, it's like a gallon water subscription, you buy it full, or have it delivered to your house, then when it's finished, the package is taken again to be replaced with a refilled one. But the difference is, the products sold can vary for all daily household needs, from products such as soap, shampoo, detergent, and dishwashing liquid, to food such as rice and cooking oil from brands familiar to the community. With this system, it is hoped that the packages that come with the product will be reused as long as possible."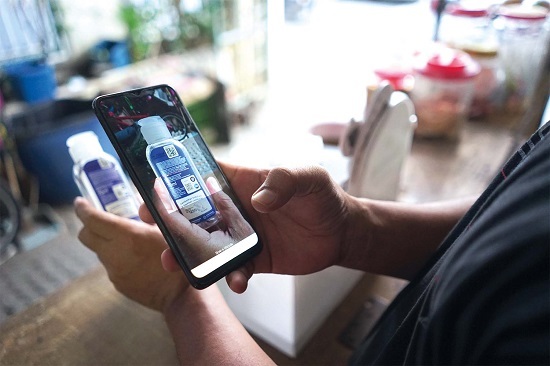 The motivation for running Koinpack is quite simple, said Bintang who completed his Masters Degree, majoring in renewable energy and the environment, at the University of Leeds, UK, the fact that certain types of plastic waste that are very difficult to recycle economically, such as sachets and pouches, are widely circulated in the less well off communities, while the recycling rate in Indonesia is only 10%. This non-recyclable waste pollutes waters and coastal areas. In addition, sachets have no value in the recycling market and take a long time to collect. For example, sachets have a very low market price for recyclers (less than IDR 700,000 per ton in some locations, even if there is demand) and it takes a long time to collect 1 ton! As a consequence, informal/private collection systems and the recycling industry are not interested and this type of plastic is likely to leak into the environment.
"We repackage products from well-known brands that we produce from our collaboration, but about four months of starting Koinpack we stopped and re-evaluated our system, and developed a community base and empowering network. Many housewives are interested in marketing Koinpack, and we also work with waste banks. Initially we were successful with 100 bottles then we expanded to other channels such as direct sales through online stores. After six months, our online sales reached 200 customers. What matters most in running this business is that we strive to be as transparent as possible about consumer protection. We provide original products from brand distributors and we guarantee the sanitation of our packaging." Bintang explained.
Now Koinpack provides more than 51 brand products and reaches almost 1000 customers throughout Greater Jakarta (Jabodetabek) and has 30 points of sale for customers to buy their products, apart from online.
How does it work? In fact the system is quite simple:
1. Customers buy Koinpack products from Koinpack sales partners or directly from Koinpack via WhatsApp
2. If they buy through a Koinpack partner, the product bottle will be scanned by the Koinpack partner using the Koinpack application to keep it tracked digitally.
3. Customers use their products.
4. Then the customers return their empty packaging to the same Koinpack partner they bought from, or it can be picked up by the Koinpack team if they buy directly from Koinpack
5. Customers will get cashback/rebate for their next purchase after they return the packaging. Each package has a rupiah value: for example, there is 500 ml of bath soap, on the back of the package there is an inscription that you can get IDR 5,000 rupiah off your next purchase.
But if the customer lives in an area far from any Koinpack partner, they can buy it via Instagram or through the website. Uniquely, customers in Jakarta who buy Koinpack products via online the shopping will be delivered by bicycle. Koinpack collaborates with the pioneer bike messenger from Singapore, Westbike.
Bintang revealed that building Koinpack was not easy because it's trying to change people's habits. Previously, they were used to throwing away the packaging after finishing their product, now they are invited to return the packaging so that it can be exchanged with cashback and can be reused by Koinpack. For this reason, Koinpack continues to train its partners so that they can also become qualified educators for their customers and the company gets more attention in the community, in addition to growing its business.
So far, Koinpack won several awards, such as The Best Startup of AIS Innovation Challenge 2020, The Best Startup of Responsible Product Packaging and Fulfillment Models Challenge from P&G and finalist of Circular Jumpstart 2021.
Koinpack also sees a good response from brand owners for their business innovation. For example, the company has launched a pilot project with one of the leading shampoo brands in Indonesia from P&G, Pantene. Apart from helping FMCG companies like P&G to accelerate the achievement of their sustainability ambitions, Koinpack also proves that this new business model is also feasible. Koinpack hopes that more big brands will follow P&G's footsteps to adopt the business innovations brought by Koinpack.
Until now, Koinpack has succeeded in preventing more than 40,000 single-use sachets being thrown away, which is already a major acheivement, but Koinpack now aims to increase its sales points in the Greater Jakarta area to 300 points of sale by the end of 2022, so has the potential to reduce up to 10 million sachet in waste in Jabodetabek by the end of 2022. In addition, by increasing sales partners, it means that it could be even more. There are also many new micro-entrepreneurs who are born under this system and can feel the economic benefits - they can get additional income of around 15% per month - from working with Koinpack. This alone is worth supporting this innovative and truly sustainable program. Well done Koinpack. A great idea.
For more information:
www.koinpack.id
Instagram: @koinpack
Email: [email protected]