There are approximately 2,5 million vehicles registered as partners of the two major ride-hailing transport services Gojek and Grab Indonesia that work every day transporting passengers, delivering food and packages. The recent carbon offsetting initiatives launched by these two companies are meant to reduce emissions from transportation and invite users to participate in the sustainability movement.
Based on the United Nation Environmental Programme in 2019, Indonesia is ranked 12th as one of the biggest contributors to global emissions. In big megapolitan Jakarta, the data from the city environmental department shows that 60-70 per cent of carbon emissions in the city caused by road transportation.
Over the last two years, environmental activists have been demanding and campaigning, asking the city administration to take action to reduce air pollution and provide healthy air for the community as hazardous air quality index could lead to debilitating respiratory diseases.
Basically, a carbon offset is equal to a reduction in emissions of carbon dioxide (CO2) or other greenhouse gases made in order to compensate for emissions made elsewhere. This is can be called a redemption programme from individuals or businesses who contribute to the daily emissions by investing money to be allocated for green initiatives.
This trend has created a healthy competition among business players especially to those ride-hailing platform to get green certification. It's a wind of change as the transportation industry has responded quickly to the current environmental crisis.
On 30 November, Grab Indonesia introduced its carbon offsetting initiative through collaboration with BenihBaik.com and World Resources Institute (WRI) Indonesia. The Singapore-based ride-hailing services have committed to invest in the environmental programme in Indonesia since the company has millions of partners, both motorcycles and car drivers who are mobilising on a daily basis. Grab becomes the leading company to seriously invest in green initiatives as the community might recognise from the driver who rides Grab electric vehicles (EV) including, e-scooter (GrabWheels), e-bicycle, e-motorcycle (GrabBike) as well as an electric car (GrabCar). Currently, Grabs owns more than 5,000 electric vehicles that operate daily. Carbon off-setting initiative is the logical step from the company to build a sustainable ecosystem for the business to be used as a tool to redeem its contribution to greenhouse gas emissions.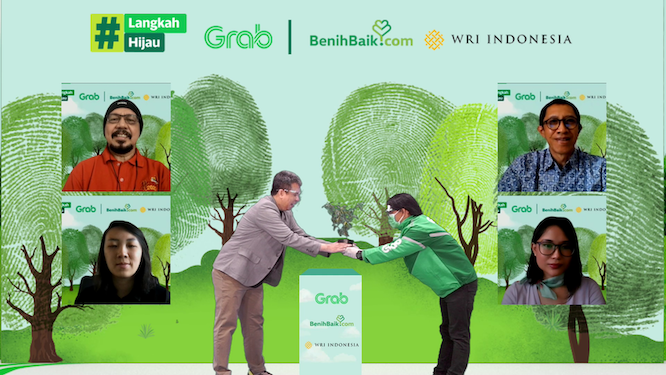 President of Grab Indonesia Ridzki Kramadibrata said that the company's mission GrabForGood is aimed to achieve a more sustainable business that cares about social issues and commits to solving the global crisis. Through the Apps' feature such as carbon calculator, crowdfunding, and social media campaign, the company targets to collect donations from users until it reaches IDR 600 million with the intention to plant trees in city parks and other locations across the nation that will be implemented in 2021.
According to Kramadibrata, #LangkahHijau program that was introduced in 2019, Grab Indonesia is also committed to supporting Presidential Regulation (Perpres) Number 55 of 2019 concerning the Acceleration of the Battery-Based Electric Vehicle Program for Road Transportation.
"Carbon Offsetting initiatives will be a concrete form of our commitment and responsibility toward the environment. We also invite all the Indonesian people to join in this initiative in order to create a better world for all of us," Kramadibrata said on the virtual press conference.
Back in September, Indonesian ride-hailing service Gojek first introduced its carbon offsetting initiative called GoGreener. For Gojek, it had always been the very first mission from Gojek to become a green transport service since it was established in 2009. In 2020, the ride-hailing company founded by Kevin Aluwi, Nadiem Makarim, Michaelangelo Moran officially launched its major green initiative in collaboration with homegrown startup Jejak.In who is the stakeholder to support in running Gojek's carbon offsetting and conservation programme.
Available in the shuffle card in the all-in-one Gojek mobile app, users are now able to measure their personal emission and convert it to invest in a tree-planting initiative to absorb the carbon in the air. Similar to Grab's carbon offsetting initiative, GoGreener is available with a more transparent interface where users can monitor the growth of their tree as well as access other outcomes of the carbon offsetting programme.
Co-Founder and co-CEO of Gojek Kevin Aluwi said that the investment in technology development is the commitment for Gojek to incubate derivative projects that could support the ecosystem of the business towards a more sustainable way. According to him, this platform will touch every heart of the person, the users who want to participate in protecting the planet.
From a technology perspective, Aluwi believes that collaboration is an important key to bridge every need of society. As one of the alumni of Gojek Xcelerate programme, Jejak.in has vast experience and expertise in the field of environmental conservation to develop this social service that connects users with social and ecological issues.
"Gojek continues to invite fellow homegrown startup like Jejak.in to create a wider positive impact through various innovations, including in the environmental initiatives," Aluwi said.
The first phase of GoGreener will plant mangrove trees in the Pantai Indah Kapuk Mangrove Ecotourism Area Jakarta, the Bedono Coastal Mangrove Conservation in Demak, Central Java, and the Laskar Conservation of the Bontang Mangrove Park National Park, East Kalimantan. To ensure sustainability, feature development in the next phase will add location options, tree species, as well as other forms of carbon sequestration such as tree adoption.
Head of Jakarta Environment Department Andono Warih strongly supports community collaboration efforts in developing carbon offsetting initiative to make the city greener. "The ease of technology like this is one of the solutions to increase community participation in saving the environment. We hope that in the future there will be new technological innovations in the environmental field," said Andono.