Waste4Change recently launched waste management governance solution supported by information technology and smart city platform through a talk show on waste management solutions from every stakeholder.
On 9 March at CoHive, Plaza Kuningan, Jakarta, Waste4Change signed a MoU with Bekasi city to have a partnership on waste management governance using IT-based technology to support Bekasi smart city. The signing ceremony was presented by the Mayor of Bekasi city, Rahmat Effendi and the Founder and Managing Director of Waste4Change, M. Bijaksana Junerosano. The signing was conducted after the announcement that Waste4Change has obtained investment fund from Agaeti Ventures, East Ventures and SMDV.
Rahmat Effendi explained that the existing waste management system and mechanism is very much dependent on the landfill, which later on can cause damage to the surrounding areas and led to overcapacity. The technology system brought by Waste4Change can tackle the fundamental problems from improving law enforcement, retribution fee standardizing, waste management information sharing and up to integration of stakeholder in one platform.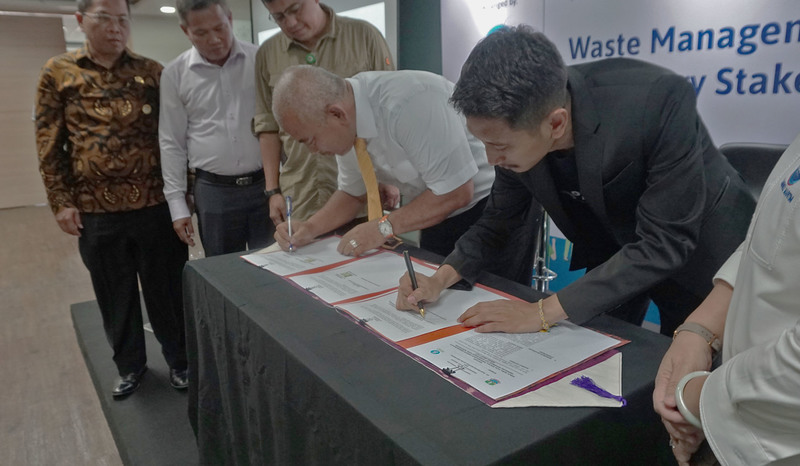 The signing ceremony was followed by a talk show titled Waste Management Solution from Every Stakeholder, which invited prominent speakers, such as Nani Hendiarti (Deputy of Environment & Forestry Management of Coordinating Minister for Maritime Affairs and Investment of Indonesia), Novrizal Tahar (Director of Waste Management of the Ministry of Forestry of Indonesia), Maya Tamimi (Head of Sustainability & Environment of Unilever Indonesia), Michael Soerijadji (General Partner of Agaeti Ventures) and Medrilzam (Director of Environment of the Ministry of National Development Planning), in addition, the event was also attended by stakeholders related to waste management in Indonesia to discuss domestic waste management from various sectors, which are projected to grow along with the increasing Indonesian economy.
The talk show revealed that waste management solution is important to be applied immediately and needs integration from all sectors and stakeholders. The data from Ministry of Environment and Forestry in 2015, Indonesia produces 175,000 tonnes of waste every day and is predicted to accumulate into 71,3 million tonnes of waste in 2025. Novrizal Tahar shared that the targets based on Jakstranas (national strategy and policies) are 30% waste reduction and 70% waste processing by 2025. While Medrilzam said that the strategy of waste management that will be very much improved when the partnership between government and private sectors is established and integrated.
While M. Bijaksana Junerosano explained that many cities in Indonesia lack funds to manage all of the waste in their city. therefore, those cities are not in their maximum capacity to give waste management services. The improvement on city waste management governance will be supported by IT-based technology, a smart city platform. There are four main features of the smart city platform for waste management, including monitoring law enforcement in waste issues, supporting the financing system for upstream-to-downstream waste management purpose, delivering waste management socialization and education to the community following the standards set by the city/district and integrating the work of all waste management stakeholders in one platform.