One of leading art fairs in Indonesia, ART JAKARTA, is set to return from August 2-5 at the Ritz Carlton Hotel Pacific Place. This year marks its tenth installment.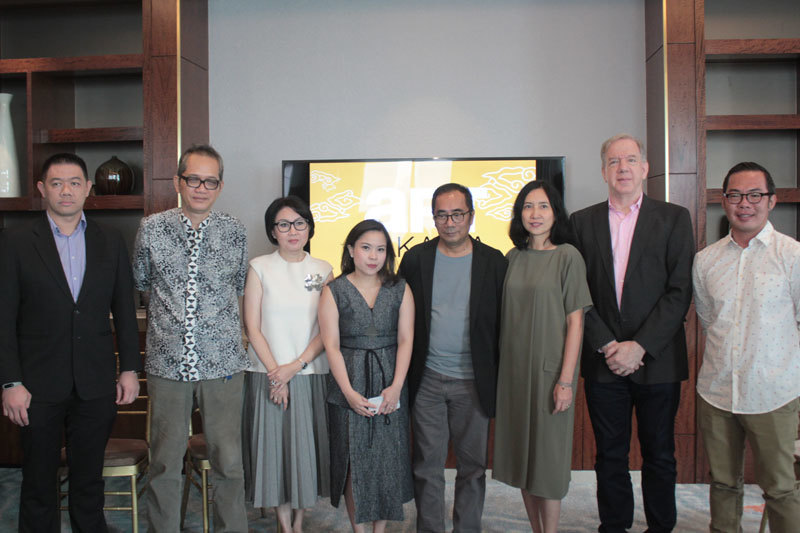 In addition to art exhibits, visitors can participate in creative art performances, art talks, workshops, and charity events.
Curated by Rifky "Goro" Effendy, the fair is expected to display more than 1,000 fine art pieces from more than 300 artists and 51 local and international galleries.
The theme this year,"Celebrating the First Decade of ART JAKARTA", the fair will present '10 for 10 ', art installations by 10 prominent Indonesian artists.
Work by artists Kemal Ezedine, Yani Mariani, Agus Suwage, Syagini Ratnawulan, Bagus Pandega, Hahan, Chinati Juhansyah, Eddie Sutanto, Heri Dono, and Tere will be featured and an installation will be based on their style.
Known from his three-dimensional work, Faisal Habibi was selected as this year commissioned artist. He is set to present a large art installation at Pacific Mall Atrium Hall to welcome visitors.
In addition, there will also be 10 artists from 'Japan Art Now' who will showcase their creations. Visitors can explore the exhibit further at the special performances of Flying Balloon Puppets from Yogyakarta and Pasar Purnama by Sasikirana from Bandung.
At the fair, National Creative Economy Agency (Bekraf) will promote its current program 'Art Unlimited' with curated artworks from artists across the region including Sumatra and Kalimantan. ART JAKARTA which consistently features emerging artists supports Bekraf's programme to highlight Indonesia's art scene.
At AJ 100, a series of emerging art galleries is set to sell several works at prices under IDR 100 million. Among them are Big & Small (Phil), Warehouse, Indoseni, World of arts, and Gayathri who offer artwork at affordable prices.
Visitors can also view the special exhibit 'Art Metamorphosis Ay Tjoe Christine', take a picture in Art Gram corner and visit the Art Merchandise/Bar and shop at Creative Market.
Establishing Jakarta as Art Destination in Asia
Ria Lirungan, Deputy Head of Committee, ART Jakarta said that the fair aims to become a melting pot for artists, galleries, and the public, since it was first held in 2009 when it was called Bazaar Art Jakarta. By using lifestyle as an approach, Art Jakarta mediates the visitors to the visual art to become closer and reachable.
"We facilitate people who don't have time to explore the galleries in Jakarta or other cities. We also want to eliminate one's perspective that art is exclusive," Ria Lirungan said.
For a decade, ART JAKARTA has been promoting the event as a place where artists, art gallery owners, and art lovers mix in a world-class art exhibition. According to Lirungan, the initiative came from the mission to establish a strong art ecosystem in Jakarta.
"We can not compete with Hong Kong Art Basel, but this is an art fair that suits our capacity. Jakarta is an art marketplace. We want Jakarta can compete with Singapore, Korea, and Japan who develop their international scale art exhibit," Ria said.
Last year, ART JAKARTA had more than 47,000 visitors. Over 80 per cent of the artwork was sold. To elevate its quality standards, organisers have collaborated with fair consultant, Gill Schneider who has worked with ART JAKARTA previously.
Entry Fee: IDR 50,000.

ART JAKARTA 2018
2 - 5 August
Ritz Carlton, Pacific Place
SCBD, South Jakarta
www.artjakarta.com/