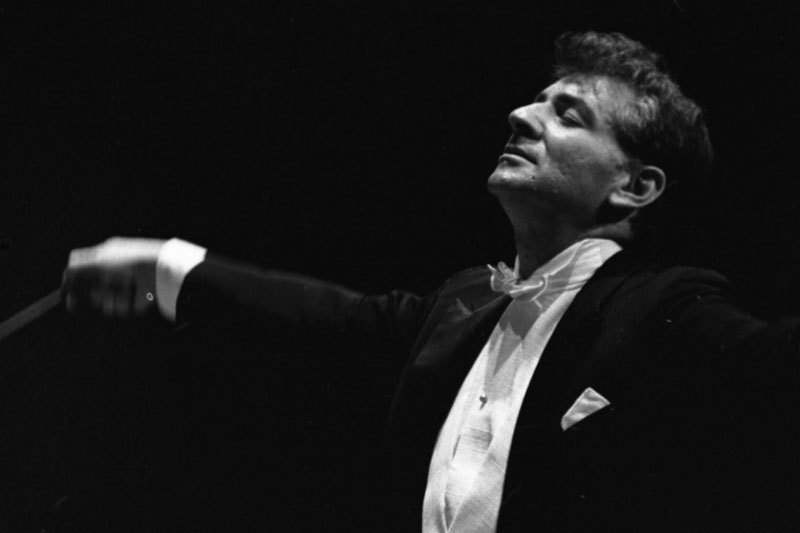 The Jakarta Simfonia Orchestra "Leonard Bernstein at 100"
Last year the Leonard Bernstein Office in New York announced, "Leonard Bernstein at 100," a two-year global celebration of the life and career of the 20th century cultural giant, featuring more than 2,500 events on six continents, kicking off at The John F. Kennedy Center for the Performing Arts. As part of this homage, the Jakarta Simfonia Orchestra will perform Bernstein's Candide Overture and Symphonic Dances from West Side Story. In addition, they will also perform Aaron Copland's Appalachian Spring Suite from his ballet and Symphonic Dances from American composer, Bruce Stark.
Traditionally composers usually orchestrate their own works, a potentially tedious part of the composition process. One might recall Mussorgsky's pride in managing to complete the scoring of his Bald Mountain tone poem in just twelve days. The score for West Side Story was orchestrated by Sid Ramin and Irwin Kostal following detailed instructions from Bernstein, all three of whom are billed as orchestrators in the original 1957 Broadway production. The suite of orchestral music from the show, titled Symphonic Dances from West Side Story, is 100% Bernstein which he prepared in 1961. The show was already a critical and commercial success even since its pre-Broadway run in Washington DC.
Date/Time : 25 August, 5 pm
Venue : Aula Simfonia Jakarta
Tickets : (021) 6586 7808; 08777 100 2009
Sabrina Vlaskalic
It is almost unimaginable that the youngest guitar professor in Europe, Sabrina Vlaskalic, was nearly refused at her entrance exam and labeled as "musically ungifted" in her early years. Overly demanding auditions, especially at the early stages of (music) education are really just a form of laziness on the part of educators as supposedly "untalented" students require more work.

Today, even a concise list of Sabrina's achievements might easily take up the entire space of this article. Among the 12 special prizes and 26 first prizes she has won in various guitar competitions the most notable include special prizes for the best interpretations of classical repertoire ("Anna Amalia Wettbewerb", Germany), Spanish repertoire ("Julian Arcas International Guitar competition, Spain) and the music of Bach (Iserlohn Guitar Competition, Germany).

What is that, like a couple of top prizes a year since the day she was born? High-achieving guitarists typically need to include second and third prizes to have an extensive list of accolades. Sabrina makes other high-achievers seem merely average. The program for this concert includes works by Bellinati, Gismonti, Poulenc, and Piazzolla among others. She will also perform some duets with Dutch guitarist Jorrit Douwes. Kudos to the good folks at Guitanesia (www.guitanesia.com) for organizing this event.
Date/Time : 2 September 2018, 4 pm
Venue : Jakarta Conservatory of Music, Jl. RS Fatmawati 15 Blok E-18
Tickets : 0838 4216 9492; 0859 2137 8413
Adam Cordle
The viola, like the guitar, is a relatively common instrument. Lone guitars may be found in an average home or school while violas are present by the dozen or so in every modern orchestra. Yet fine soloists are a rare gem. Besides the above guitar concert, Jakarta music lovers have the opportunity to hear renowned violist Dr. Adam Cordle, who will be the soloist for the world premiere of Ananda Sukarlan's "Sebuah Simfoni tentang perempuan", commissioned by B.J. Habibie to commemorate 20 years since the Indonesian Reformation and the female heroes of this era.
Dr. Cordle has been featured as a soloist and chamber musician in various venues across North America and Europe, including Carnegie Hall.
Date/Time : 12 August 2018, 3 pm
Venue : Soehanna Hall, The Energy Building Lt.2, SCBD Lot 11A, Jl. Jendral Sudirman Kav 52-53
Contact : 0818 891038 (Chendra)