Founded in 1765, the opulent French cognac brand Hennessy has revealed its secrets though an exhibit at Pacific Place Jakarta. The travelling exhibition "The Hennessy Declassified" has visited many cities across Asia and has arrived here at last. Set up in a series of five "rooms", each narrates a part of the brand's journey across eight generations.
The exhibit focuses on the production process over the generations and highlights its exquisite flavours.
The short presentation shows the long, complex process involved. As one goes from room to room, one is guided to explore each division from A Walk in Cognac, Distillation Room, In the Heart of Hennessy, Time for Decision, and Hennessy Collection.

Andrianto Surohadikusumo, the Brand Manager of Hennessy Indonesia said the exhibition is aimed to open Hennessy's secret to the public audience through one-stop experience. "We provide knowledge about product and the process of making it . For those who may be confused between whiskey and cognac, we help clarify the definitions," Surohadikusumo told NOW! Jakarta.
Walking into the room, one is taken to the vineyard in Cognac, France where an area of 200 hectares is the start of it all. Indeed, Hennessy's connection to Cognac is powered by local tradition that has been an identity of the community. It begins in A Walk in Cognac.
The heart of Hennessy is in every drop of eaux-de-vie, a result of double fermentation of Ugni Blanc grapes that proceeded from distillation to create a pure alcohol up to 75 per cent. In the Destillation Room, a bottle of Hennessy is produced from 60 different eaux-de-vie which create a harmonious and well-structured blend, followed with deep aromas and a long lasting finish.
"It's truly an expensive process, a result of craftsmanship, blending, and maturation," Surohadikusumo noted.
In the Heart of Hennessy, one is told that a bottle of Hennessy is filled with alcohol that has matured between 12-30 years. Eaux-de-vie is stored in handcrafted oak tree barrels to strengthen the quality and authenticity of the cognac, passing long-time maturation. To create its unique flavour, more than 400,000 barrels owned by Hennessy are made with no nails/glue and constructed from 100-year old wood and trunk from sustainable forest in France.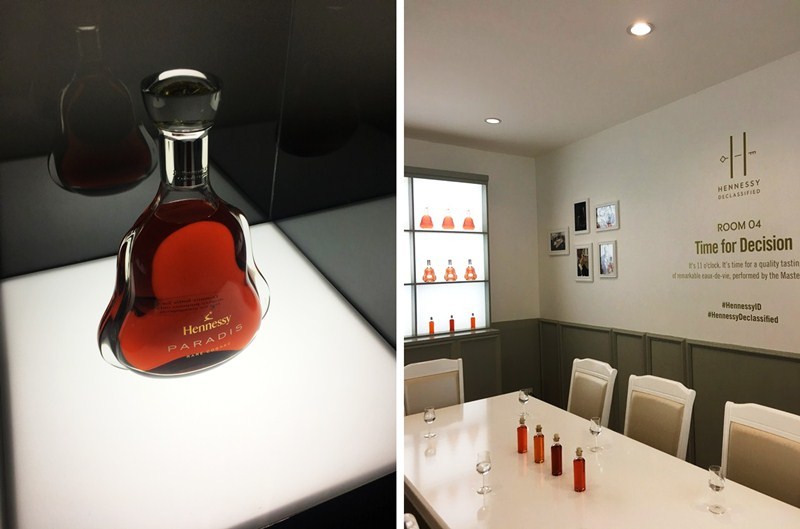 In the room Time for Decision, Hennessy master blenders work from generation to generation, sit down everyday at 11 am to create a perfect blend of the finest cognac in the world. Yann Fillioux is among the experts who inherit family tradition to be master in sensing the eaux-de-vie.
"There is few tradition that makes Hennessy is unique and distinctive as we have been keeping the tradition from generation to generation," Surohadikusumo added.
At the last room, Hennessy Collection, an array of Hennessy cognac masterpieces are showcased in the glass box as an visual illustration of the process. The collection includes XO, VSOP, Paradis, and Richard Hennessy. One ends the journey with a taste of Hennessy XO, which has a perfect finish, a testament of the premium drink that has notes of sweetness, rising heat, spicy edge, along with combination of chocolate with hints of wood.
Exhibitions like these help create a wider audience for the maison. Cognac is an exclusive product and can be enjoyed on its own or as part of a cocktail.
The Hennessy Declassified Exhibition is open to the public until 2 November 2018.