The most anticipated annual summer festival in the city, We The Fest 2018 is just around the corner. NOW! Jakarta has put together a guide to enjoying the best acts at the festival that's set to take place from 20 to 22 July.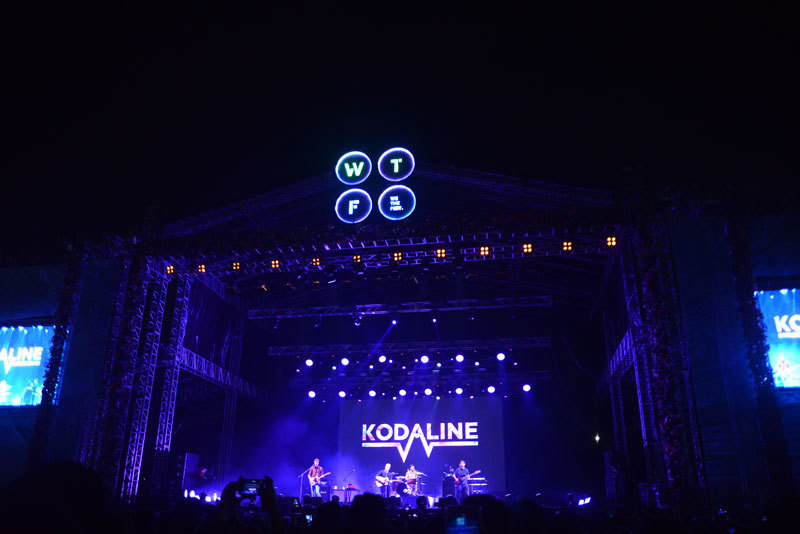 Since its debut in 2014, We The Fest by Ismaya Live has become the biggest summer outdoor festival in Indonesia featuring local and international performances.
To welcome the #WTF2018 here's a guide to help you explore the best it has to offer.
LINEUP AND SCHEDULE
This year, WTF has lined up a number of exciting artists. International names such as James Bay, academy award winning artist Lorde, as well as Miguel, SZA, Vine Staples, Nick Murphy FKA Chet Faker, and Odesza are some of the performers to look out for at this year's festival.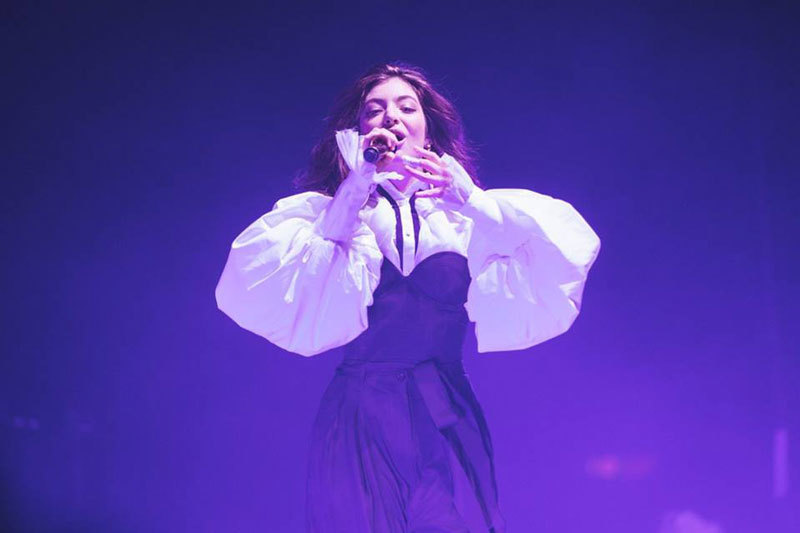 There are also Indonesian acts like Andien, GAC, Barasuara, Teza Sumendra, Afgan, Isyana, Petra Sihombing, Nonaria, Dipha Barus, Pee Wee Gaskins, and Rendy Pandugo. Here is the full day-to-day performers and schedule.
DAY 1 - 20 July: GAC, Maliq & D'Essentials, Albert Hammond Jr, Nick Murphy FKA Chet Faker, James Bay, Alt-J, Monner, Pijar, Polka Wars, Petra Sihombing, Ramengvrl Feat. Gbrand & Keilanboi, Moon Boots, Louis The Child, Whatsonot, Aydra Feat. Prince Husein, Testpack, Monkey To Millionaire, Softanimal, Neurotic, Nonaria, Laze, Patricia Schuldtz

DAY 2 - 21 July: Afgan, Isyana, Rendy; Efek Rumah Kaca, Barasuara, Hpnne, Lorde, Odesza, Mantra Vutura, Seringai, The Sam Willows, Andien, Eric Nam, Majid Jordan, Medasin, Party Favor; WW Feat. Mc Drwe & Soulid; Garside, Garhana, Semenjana, Bam Mastro, Matter Mos; A. Nayaka & Blue; Room Boys; Fun On A Weekend x Emotion All Stars; Diskoria.

DAY 3 - 22 July: White Shoes & The Couples Company; Padi Reborn; The Neighbourhood; Vince Staples; Miguel; SZA; Teza Sumendra; Kimokal; Neonomora; Dipha Barus; SG Lewis; Petit Biscuit; Basenji; Rayssa Dynta; Thearosa; Pee Wee Gaskins; Greybox; Midnight Fusic; Abenk Alter; Bitzmika.
Venue and Accomodation
The festival will be held at JIEXPO KEMAYORAN, Jalan Benyamin Suaeb, Pademangan Timur, North Jakarta. It's accessible via TransJakarta and Jakarta Commuter line.
On the commuter line, the nearest train station to JIEXPO Kemayoran is Stasiun Rajawali on the Bogor - Jatinegara line. If you plan to use Transjakarta, you could exit at Jembatan Merah bus stop on Corridor 12 (Penjaringan - Tanjung Priok) and Corridor 5 (Kampung Melayu - Ancol). From the bus and train stop, you can order a GO-RIDE or GO-CAR to reach the venue, or walk 1.7 kilometers.
For those from out of town, the hotels around Kemayoran are Grand Mercure Kemayoran, Ibis Kemayoran, or Best Western Plus Kemayoran Hotel that offer a range of prices. You could book via booking.com
STAGE
Based on the information from the website, there are three different stages such as WTF stage presented by SHVR, This is Bananas presented by H&M, and Another Stage.
WE THE FEST EXPERIENCE
At the festival, visitors can also explore the Art Village, Art by Mademoiselle Maurice, WTF Cinema Club, and WTF Skate Park.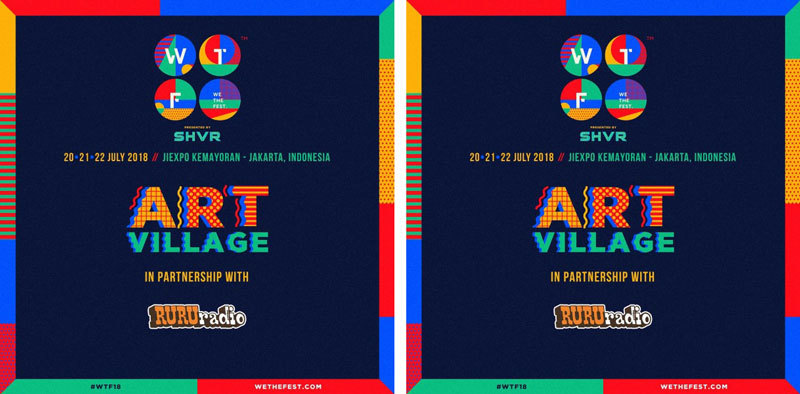 In partnership with Ruang Rupa, WTF organises Art Village, a epicentre of creativity and art as people can create their own festival souvenirs, learn music and art from the experts and partake in on-site mural painting. Teaming up with Kinosaurus, British Council, and Institut Francais d'Indonesie, WTF brings back the most talked-about silent cinema experience from last year at WTF Cinema Club. At WTF Skate Park, people get to experience grinding and carving skating tricks with fellow enthusiasts as well as meet with the skater community.
In partnership with Institut Francais d'Indonesie, visitors can also see Mademoiselle Maurice who is known from her wall art creation using recycled material all 3 festival days.
MERCHANDISE
WTF 2018 has announced the official merchandise on the website which will be also available at the booths during the event. There are number of choices such as t-shirts, bomber jackets, scarves, shawls, and sandals.
Order the merchandise here http://wethefest.com/merchandise
TICKET
WTF offers a variety of tickets sold online and offline at selected Ismaya outlets. There are options including Early Bird, General Admission, 3 Day Pass, to Very Important Banana (VIB). The tickets are priced, ranging from IDR 600.000 to IDR 5 million.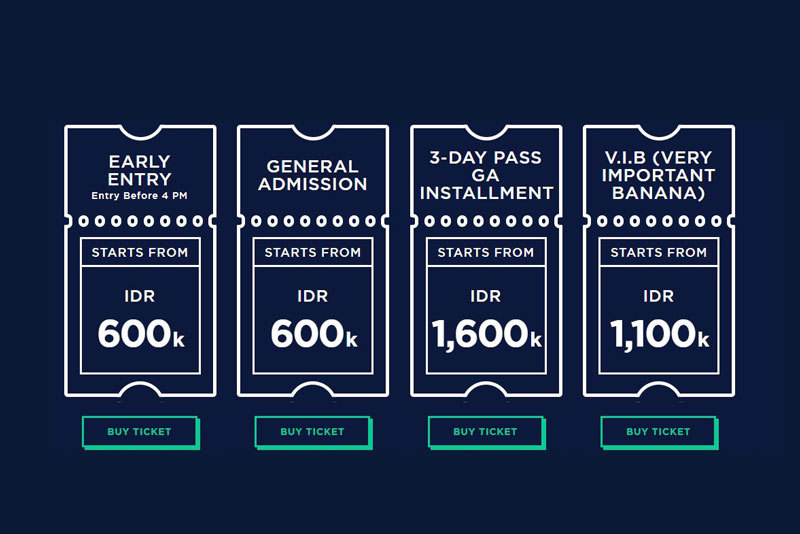 Check out the ticket box here http://wethefest.com/ticket
VERY IMPORTANT BANANA (VIB)
For those who go to WTF as a group, you could experience the festival by choosing Very Important Banana (VIB) which allows one to enjoy everything through number of privileges such as skipping long queues, seeing favourite acts up close, VIB toilet and Top Up booth. If You want to get full privileges, you could upgrade your access to Cabana Banana.
MORE INFORMATION
Visit We The Fest 2018 official website at http://wethefest.com or follow WTF on Facebook, Twitter, and Instagram.