Easter Concert
In a 1775 letter to J.N. Forkel, C.P.E. Bach listed ten people whose music was held in high esteem by his father, Johann Sebastian Bach. Among these was Jan Dismas Zelenka.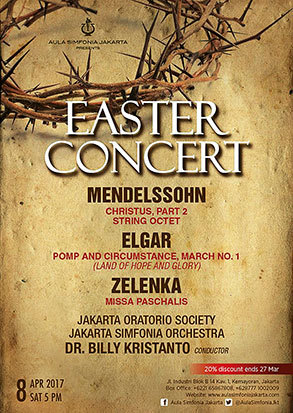 You know you are an exceptional composer when J.S. Bach considers you among his top ten. If you have never even heard of Zelenka or his music, that is all the more reason to attend the Easter concert at Aula Simfonia Jakarta featuring the Jakarta Oratorio Society and the Jakarta Simfonia Orchestra under the baton of Billy Kristanto. Besides Zelenka's Missa Paschalis, the program also features excerpts from Mendelssohn's Christus, as well as Elgar's Pomp and Circumstance, March No. 1.
Date/Time: 8 April 2017, 5pm
Venue: Aula Simfonia Jakarta
Ticket: (+61-21) 6586 7808, (+62) 8777 100 2009
Piano Four Hands Recital
Music critic Louis Ehlert predicted in his 1878 article for the Berlin National-Zeitung, that Dvorak's Slavonic Dances would make its triumphant way through the world in the same way as Brahm's Hungarian Dances. Indeed, by that time Dvorak's music had already gained the approval of such important figures as Hanslick and Brahms, adjucators of the Austrian State Stipend competition during the five consecutive years (1874-1878) in which Dvorak won the award. As it makes its way into the program of the piano four hands recital by Miranda Octora and Leonardi Juwono, may it triumph with the Jakarta audience.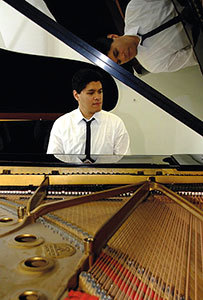 Both performers are members of the piano faculty at the Jakarta Conservatory of Music (JCOM), host and organizer of this event. Leonardi holds a LRSM diploma from the Associated Board of Royal School of Music. He was a prize-winner at the Piano Teachers' Guild of the Philippines Piano Competition. Miranda studied with Igor Machlak in Sydney and is currently completing her performance studies under the guidance of renowned Indonesian pedagogue Iswargia Sudarno.
Besides Dvorak's first and second Slavonic dances, the program also features Waltzes op. 39 (Brahms) and 6 Pieces, op. 11 (Rachmaninoff).
Date/Time: 22 April 2017, 19.30
Venue: JCOM Resital Studio
Contact: (+61-21) 2782 8143
Cello and Piano Recital
Another noteworthy concert this month is a cello-piano recital featuring the Cello Sonatas of Chopin, Debussy, and Shostakovich. For each composer, it was the only major work they wrote for this combination of instruments. Most of Chopin's works were published posthumously. Of the few which were published during his lifetime, this was the last. Debussy's sonata for cello and piano (1915) was also among the last three Sonatas he wrote before his death (1918). In contrast, the Shoshtakovich sonata was a rather early work, composed in the same year as the premier of his opera Lady Macbeth of the Mtensk District which earned a certain succès de scandale in his native Russia and abroad.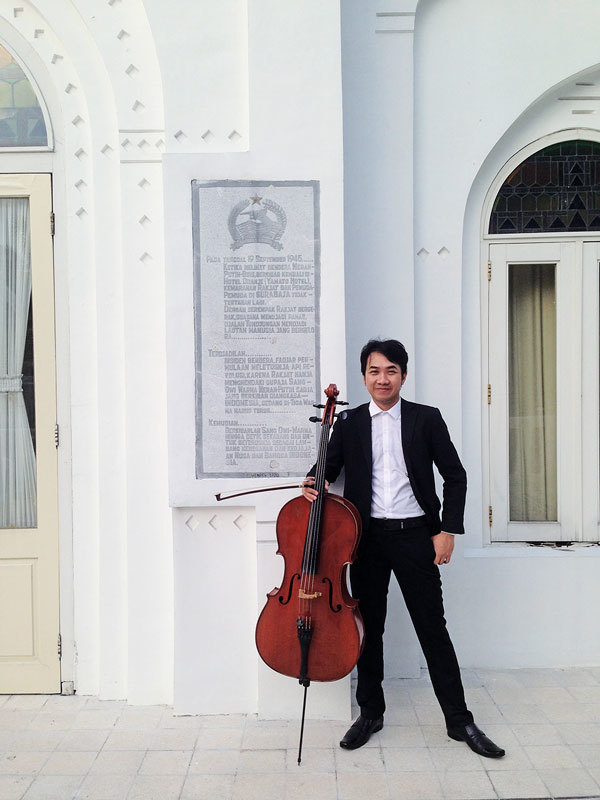 One can expect a fine performance of such an exquisit program by Dani Ramadhan (cello) and Harimada Kusuma (pianist). Dani frequently performs in chamber music concerts in Jakarta. Highlights of his career include being among the soloists selected by conductor Avip Priatna for the 2014 Simfoni Untuk Bangsa with the Jakarta Concert Orchestra. He also took part in the Twilite Orchestra's 2012 tour of Bratislava and Berlin under the baton of Addhie MS. Harimada Kusuma graduated cum laude from the Conservatory van Amsterdam. His collaborations with violinist Annet Verboom, Melanie Broers, cellist Ephraim van Ijzerlooij (The Netherlands), and flautist Cheng-Yu Wu (Taiwan) among others have resulted in concerts in Germany, Italy, France, Hungaria, Taiwan and The Netherlands. He was a member of the faculty at Rudolf Steiner College Rotterdam and Hogeschool Leiden until 2015 when he returned to Indonesia to focus his much needed music contributions in his homeland. He currently teaches at the Jakarta Conservatory of Music.
Date/Time: 29 April 2017, 19.30
Venue: JCOM Resital Studio
Contact: (+62-21) 2782 8143