High quality guitar concerts are unfortunately rare in Jakarta. One featuring a fine Indonesian talent? Almost never. Read on for my interview with Theduardo Prasetyo and details of his upcoming concert.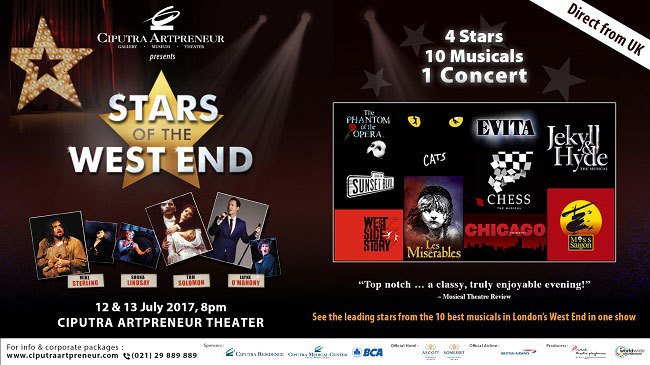 First up though is a concert featuring the Stars of the West End. Mike Sterling, Shona Lindsay, Tom Solomon, and Jayne O'Mahony played leading roles in some of the most successful musicals in the history of London's West End Theatre, including The Phantom of the Opera, Les Misérables and Grease. The programme consists of the most popular tunes from these musicals and others and is an event not to be missed.
Date/Time: 12 & 13 July 2017, 8 pm
Venue: Ciputra Artpreneur Theatre
Tickets: http://www.ciputraartpreneur.com/stars-of-the-west-end/
---
Among the few Indonesian guitarists who have had the chance to study abroad, Theduardo Prasetyo is one of the elite few who have managed to maximize such an opportunity: teaching in Germany and performing in several countries across Europe, making his mark on the international music scene. A fine chamber musician, he was a finalist with Duo Schoko (guitar and violin) and received the Bronze award with the Arau guitar duo at international chamber music competitions in Spain and Slovenia, respectively. He is only just finishing his Bachelor studies, so expect to hear a lot more of him soon.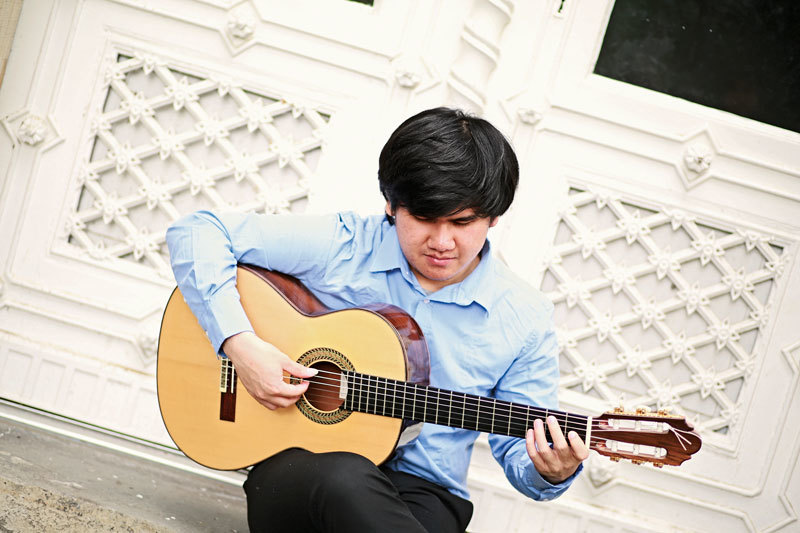 He began his guitar studies with Eddy Husni Rachim at Yayasan Pendidikan Musik, and is currently completing his undergraduate degree in instrumental pedagogy at the Hochschule für Musik Detmold, Germany, with world-renowned guitarist Prof. Dale Kavanagh. In addition, Thedo has also been an active participant in the masterclasses of Thibault Cauvin (France), Prof. Jurgen Rück (Germany), Prof. Hans Werner Huppertz, Prof. Tilman Hoppstock, Michael Newman (USA), Bruce Holzman (USA) and John Paul (Indonesia).
His interest in Flamenco has led him to frequent the workshops of various Flamenco artists such as Eduardo Trassierra, Rafael Rodriguez, Antonio Andrade, and Salvador Gutierrez. In Detmold, Thedo actively collaborates as tocaor for the bailaoras in the class of Ángeles Santiago. His programme for this concert includes his own take on the Bulerias as well as the standard repertoire by Bach, Barrios, Berkeley and Legnani. Jump straight to the concert details at the end or learn more about Thedo through the interview below.
How has studying and performing abroad affected your perspective on the classical music scene in Indonesia in general, particularly regarding the classical guitar?
It has been an eye-opening experience for me personally, being able to compare and reflect on the classical music scenes in various countries, particularly the classical guitar. In my opinion, we lack two things, which are community and identity. In Europe, classical guitarists are connected to each other even though they work and live in different countries. This helps the guitar community to grow and the players to hone their skills in order to compete in the market. In Indonesia, we don't have such a big connected classical guitar community, unlike the Indonesian classical piano scene, which has grown and can even compete internationally. We have good players, who could do better given the opportunity to study and perform regularly. Unfortunately, the Indonesian guitarist diaspora remains an untapped resource for guitar schools and events in Indonesia. Hopefully this will improve soon. Secondly, in my opinion the classical guitar scene in Indonesia should also have an identity just as Heitor Villa-Lobos did in Brasil and Leo Brouwer did in Cuba. This would help us significantly to build a greater sense of community and also encourage more people to learn and study guitar because we would feel more connected through "Indonesian guitar music".
How does your formal education in classical music and your interest in Flamenco and ethnic music influence your performance of either genre?
Studying Flamenco, ethnic music and jazz helps me understand the importance of improvisation and flexibility in music which is rarely explored in classical music. On the other hand, my classical music studies make me aware of the importance of detail, tone, and music theory. I strive to find the middle ground between these aspects and combine them in my performance.
What do you hope the audience bring back from your concerts?
I hope the audience enjoys the music I present and this can stimulate interest and openness to various genres. There is a lot of great music that goes relatively unheard because it doesn't get the attention of the media. Cultivating public interest is crucial for the development of arts in Indonesia.
Date: 29 July 2017
Venue: Studio Resital Konservatorium Musik Jakarta, Jl. R.S. Fatmawati no 15 Blok E/18 Ruko Golden Plaza
Tickets: (+62-21) 2782 8143 / 0812 4054 7097