As Eid Mubarak approaches, Muslims in Jakarta are starting to anticipate mudik, a tradition of leaving the Big Durian visit families and relatives in their hometown.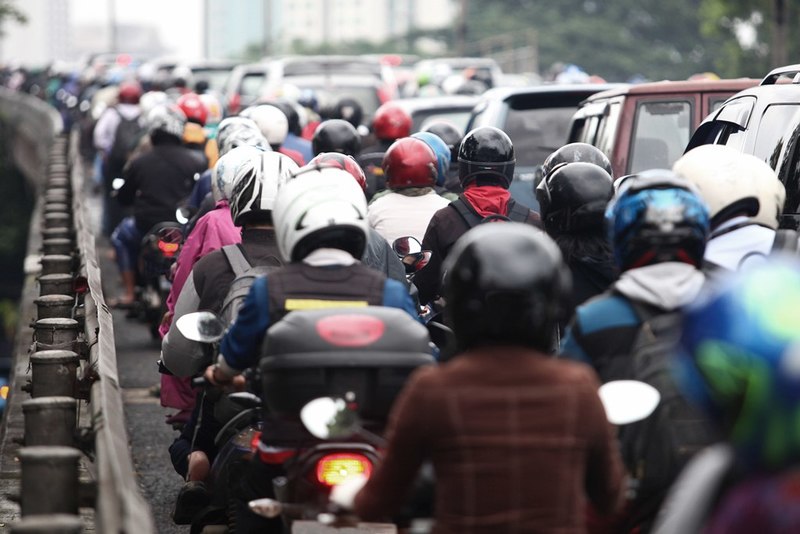 Less-than-ideal conditions on overcrowded streets and extended period of travels does little to deter mudik goers. Mudik or pulang kampung became popular among Muslims in Indonesia, especially in Jakarta, around the 70s. Under Soeharto's administration, urbanisation thrived, inviting more people to pursue their dreams in the glamorous capital city. As is the case with most Muslim migrants, many Jakartans came to own their own land and property and raised a family in the city, keeping the tradition alive each year.
Now a city of 14 million population, Jakarta feels like and empty ghost town with empty streets and public areas each year during mudik. The tradition that was previously focused on Jakarta is now happening in other regions in Indonesia as urbanisation spread to other big cities, such as Bandung, Semarang, Surabaya, Medan, and Makassar.
Using road, sea, or air transportation, people start leaving the city at least four days before Eid Mubarak (Idul Fitri) starts. Most of the time, they are faced with a crowded airports, ports, train stations, bus stations, not to mention unbearable traffic jams on most of the main roads. Despite enduring one gridlock after another, crowded trains, and days of travel time, the people power through. With a full heart, many people said that no matter what happens on the road, they just have to get to their family at home. Many stories and terrible experiences have been shared, but year after year, the mudik crowd grows.
Indonesian Muslims believes that mudik is part of their religious obligation—a personal journey to maintain family bonds; the reward they deserve after a whole month of fasting. Silaturahmi (maintaining human relationship) is one of the reasons to go back home for Lebaran (Eid Mubarak). Then, there is the image of success that many returning relatives wishes to display to those at their hometown. They would spread prosperity by giving money and other materialistic gifts to relatives. It is clear that people are keen on showing off the results of their migration to Jakarta. It is a known fact that the number of people who goes follows the mudik tradition increases every year—often bringing from their hometown back to Jakarta more relatives swayed by the Indonesian dream.Once again, for most its residents, Jakarta is temporary home that offers the promise of a good life. Selamat Mudik!