The beginning of May sprang to life with the annual PTA Country Fair at British School Jakarta.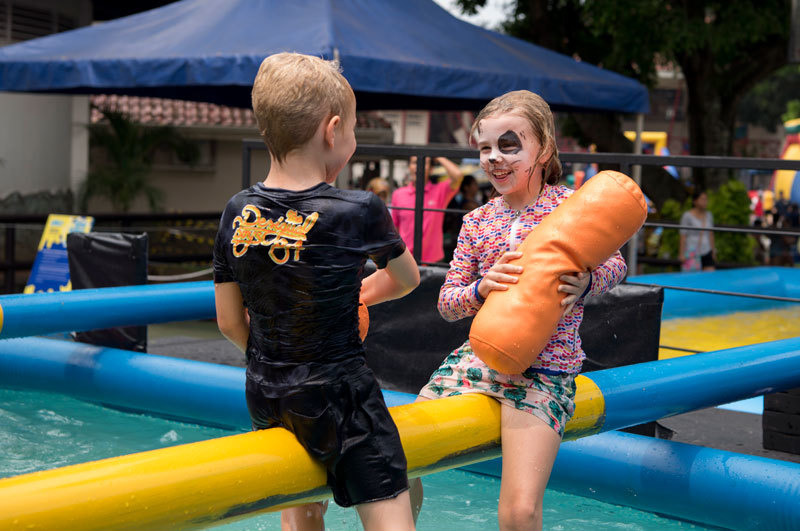 British School Jakarta's Parent Teacher Association (PTA) fosters collaboration and communication between parents and the school, and raises funds to support charitable and school projects. And with their awesome track record, they are certainly a force to be reckoned with. Year in and year out at their Country Fair, the school's community is blessed with an amazing array of games and food, not to mention a plethora of shops and stalls.
In the outer reaches of Tangerang, the sun was blazing down on our backs and not a cloud was seen. As a long-time student of BSJ, I've had the pleasure of experiencing a diverse range of school events throughout my academic life. From the drenched days of the water-filled Splash-o-rama (where I somehow sprained my ankle on a slide within the first hour) to the cool evenings of November for Bonfire Night, sitting by the campfire singing our jolly tunes, I've been lucky to get the change to both enjoy and help out in these events. The amount of tears and sweat that is thrown into making these events a time to remember is unquantifiable.
On 6 May, the venue was a little different from previous years; rather than hosting it on the vast expanse of the football pitches, this year the event was in a more compact but convenient layout within the Primary play areas. After some campus-wide renovations, the 1,000 attendees entered via a new staircase skirting the swimming pool, bringing them to the 'pod' area of Years 5 and 6.
Under the shade of the building were stalls upon stalls of food, kids' prizes and a bustling crowd of families and friends, happily munching away. One of the more popular stalls was run by the PTA themselves, as they were grilling up fresh sausages for the wildly desired hot dogs. They had an endless stream of customers; the line remained long throughout the day, and, at times, it took upwards of 10 minutes for someone to get their hands on one!
But where there's food, there's also fun. Throughout the confines of the Primary school were 30 different activities, ranging from quiet activities such as Henna Painting and Bamboo Tinkering to the refreshing pleasures of the Slip 'N Slide and a towering obstacle course. Fair visitors had to pay to participate in the games but the PTA uses the funds to support charitable and School projects.
On behalf of everyone who attended, I'd like to thank the whole PTA committee for organising such a fantastic event, gratitude to the volunteers who came and helped out on the day, as well as our appreciation to the sponsors who helped make the event possible.