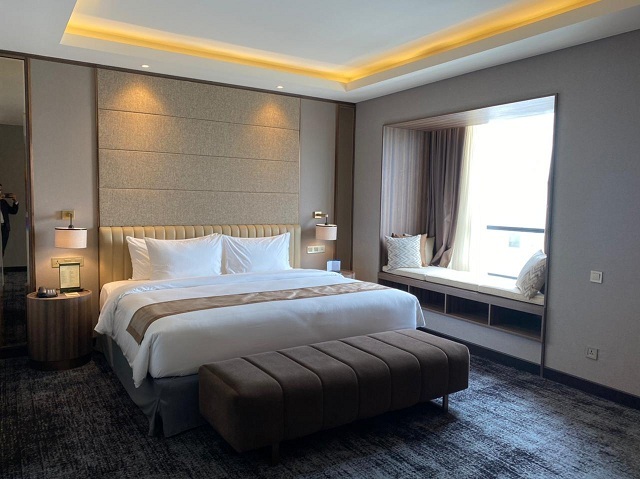 Namaskara which means 'Welcome' in Sanskrit , to Sutasoma Hotel, a luxurious heaven, that captures the essence of Indonesian traditional culture identity. Located at The Tribrata Darmawangsa – Jakarta hospitality complex which is inspired by Kakawin old Javanese poem, Sutasoma Hotel is more than a 4-star luxury boutique hotel. Designed with passion and inspiration, it presents an age of timeless ambiance, where Indonesian beauty and charm are infused with modernity.

Nestled in the conveniently located prestigious area of Darmawangsa in South Jakarta, the hotel is close to upscale shopping and entertainment options including Darmawangsa Square, Kemang Village, Pondok Indah Mall and Gandaria City. It is also near commercial areas like Blok M and Wijaya Grand Center, and SCBD. The hotel recently opened with 105 deluxe, well-appointed guestrooms, four sanctuary private executive rooms and two discreet and enchanting Sutasoma Suite rooms.

The exclusive sanctuary concept of the Atman Lounge allow guests to feel they are in an old Javanese sensational natural setting and will be a great pleasure for every guest comes for daily breakfast, afternoon tea and all day dining. Other facilities include a 1,5m deep adult swimming pool and a separate kid's pool and a modern gymnasium center.

For meetings, conventions and weddings the hotel offers an amazing 1,600sqm ballroom able to be divided into 4 separate halls, which can accommodate up to 2,500 guests. The Opus Grand Ballroom showcases soaring high ceilings with majestic chandeliers. Then there is the Sutsoma Rooftop, which lays claim to be the best rooftop function venue. In fact it's hard to imagine a better vantage point of the South Jakarta skyline than Sutsoma Rooftop. Located in the most stylish district in the classy Darmawangsa area, and perched on the top of the hotel , this venue presents guests with a unique space for private events such as weddings, anniversaries or birthday bashes. And because of its central location, the venue will be perfect for corporate events as well. Of course there are a collection of meeting rooms with great designs to accommodate the normal business meetings.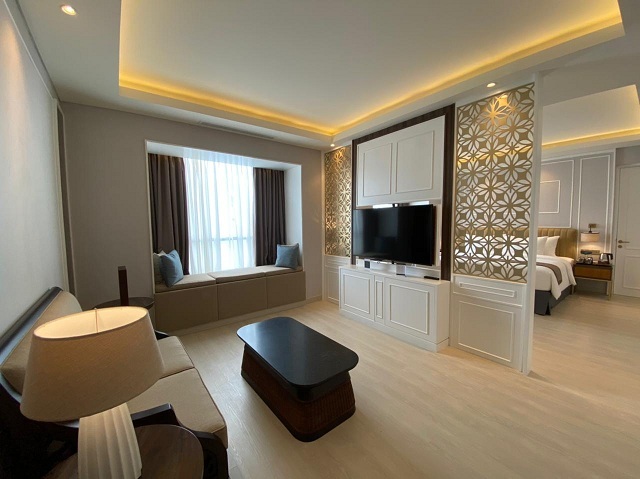 All Rooms & Suites are very well equipped to ensure maximum guest convenience , here's a quick rundown:
Arriving in a Deluxe Room will feel like coming home to your own personal haven. You can sink into your comfortable bed and the same time take in the artful design elements of Indonesian traditional arts and art deco style.

Custom furnishings from local artisans in a separate living area and a deep soaking tub are just a few of the standout features that charm the feeling of a polished high-end Sutsoma Suite. Cool marble surfaces, gold accents and beautiful tilework in the bathroom contrast beautifully with the warmth of the living spaces leave you wanting for nothing as you relax and recharge in your own private sanctuary for a soulful stay experience

The Executive Rooms bring luxury with 42sqm of elegantly styled design in a modern with traditional Indonesian touch. These rooms feature a king size bed, marble bathroom, waterfall shower - then wrap yourself in our comfortable bathrobe.
Sutasoma Hotel is more than a story as 4-star boutique hotel located in the prestigious of Darmawangsa area in South of Jakarta. It is a passion and an inspiration. It is a compendium of culture that connects you to the soul of Indonesia. Each and every detail in Sutasoma Hotel is crafted to evoke the feeling of time-honored Indonesian tradition, diversity, and virtues in a contemporary way. Sensible, Engaging, Convivial and Proficient, Sutasoma Hotel makes your stay memorable and inspiring. Inspired by the Sutasoma poem, Sutasoma Hotel is true to its Indonesian roots while delivering admirable hospitality for a quintessential hotel experience.
For more information please visit