Every year, New Year's Eve is a welcome opportunity to hang out with friends and head to the most happening places, wait for the countdown at midnight and dance until dawn. As the capital, there is no shortage of New Year's celebrations in Jakarta. NOW! Jakarta has picked the most promising ones.
The Pallas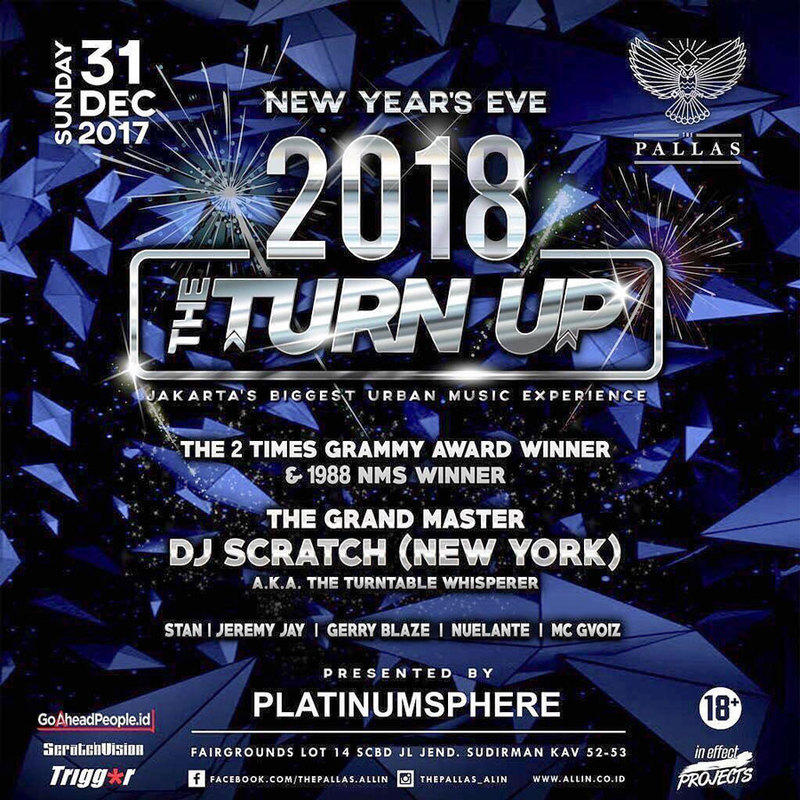 On Sunday December 31, 2017, The Turn Up "NEW YEAR'S EVE 2018" party at The Pallas will see two-time Grammy Winner DJ SCRATCH - also known as The Turntable Wisperer - bring some New York heat and funky tunes to Jakarta's dancefloor. Besides the highly-anticipated performance of the grand master, The Pallas has invited other musicians and DJs, including Stan, Nuelante, Jeremy Jay, and Gerry Blaze. Read more event's detail here.
X2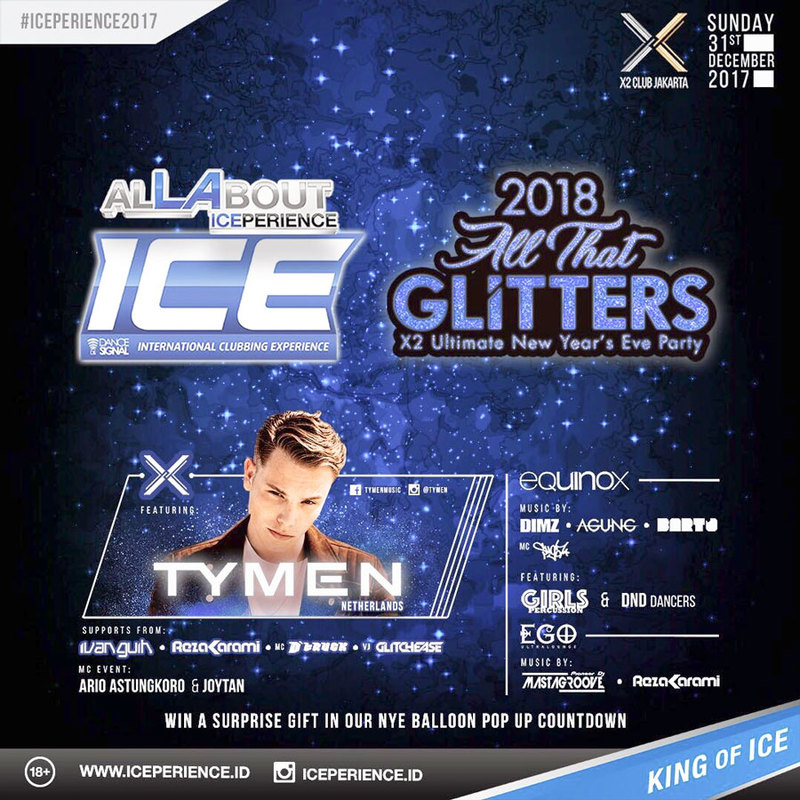 The "All That Glitters" NYE Party 2018 at X2 Club Jakarta is undoubtedly going to be one if the hottest year-end events in Jakarta, with Dutch DJ Tymen stepping behind those turntables to deliver his signature funky uplifting house tracks. Besides, DJ Tymen, X2 welcomes Ivan Guih, Roni Joni, Reza Karami and 3 KINGS & Suga. Watch out for a special performance by Girls Percussion and D&D Dancers. Party guests also have the opportunity to win exciting prices, such as trips to South Korea, Hongkong, Bangkok, Gili and Bali for two. Click here to see more detail.
Hennessy Privilege Party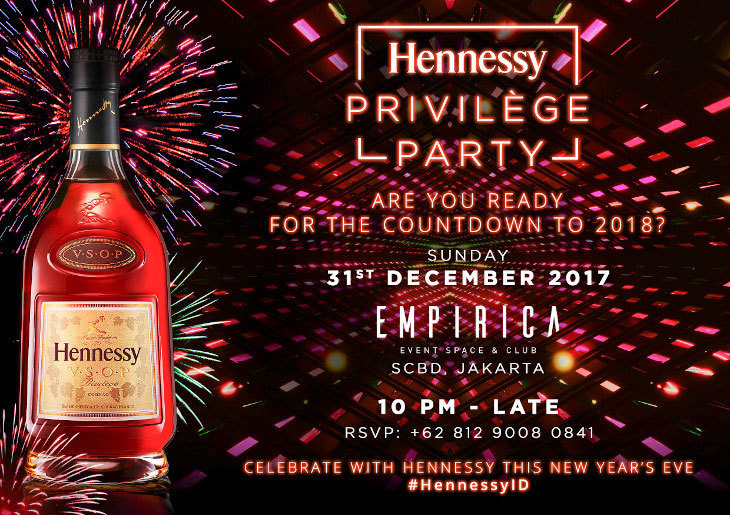 This year, cognac company Hennessy hosts New Year's Eve Parties simultaneously in several clubs across Jakarta, including Immigrant, Empirica, Savoi Ultralounge, Emporium and Club 36. Hennessy will provide special offers and exotic drinks throughout the night, as the crowd is entertained by various rave DJs who will spin some tunes until the early morning hours. Click here to see the detail.
Blowfish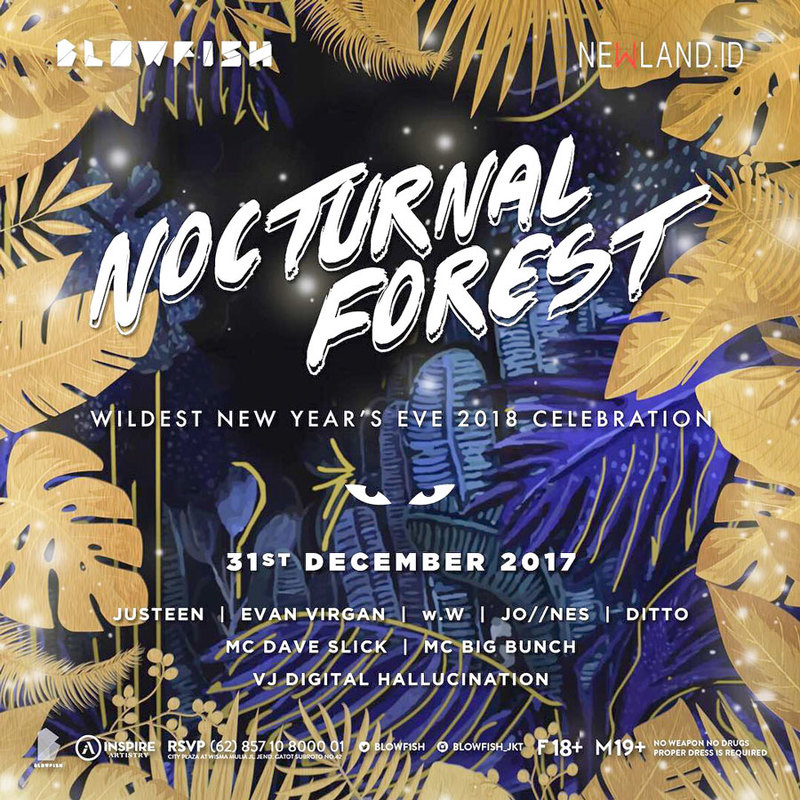 Discover your wild side and immerse yourself in the adventure of your lifetime by gathering your tribe to dance at NOCTURNAL FOREST at Blowfish Jakarta on New Year's Eve. The bar and club rings in the new year by presenting the finest sets of Justeen, Evan Virgan, w.W and JO//NES and many more. Click here to see the detail.
Jenja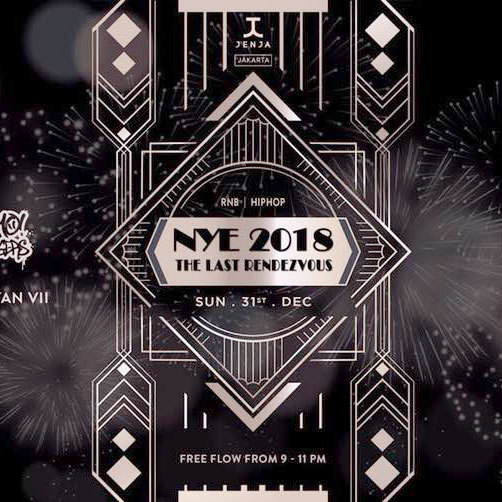 "The Last Rendezvous Party" at Jenja Club Jakarta will see DJ Waxfiend from Amsterdam take to the stage and spin the freshest R&B tracks throughout the night, alongside DJs Bima G, P Double and Fyan VII. The Hollywood Glam theme will make this night even more memorable, as will the chance to win some special prices. See more detail.