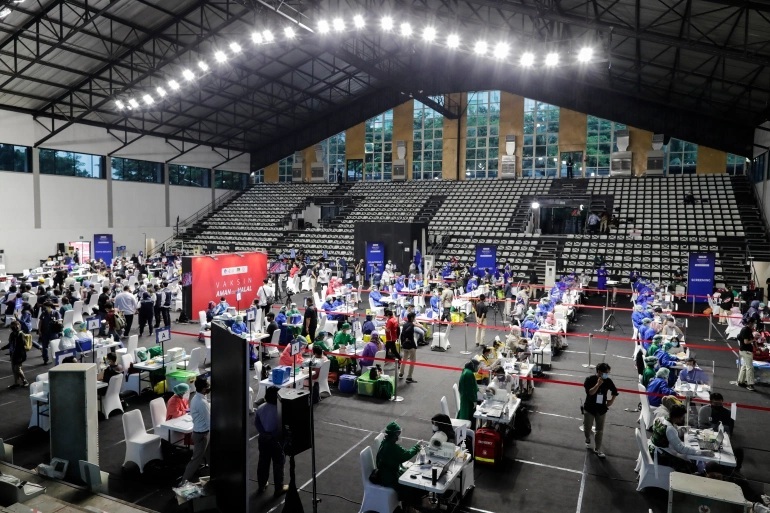 Out of all Southeast Asian countries, Indonesia has suffered the worst coronavirus outbreak with 1.35 million recorded cases and almost 36,000 deaths since the initial outbreak last year. Of course many think these figures are very under-reported but there is no way to be able to tell at this point.
In January, Indonesia began mass vaccinations with the first phase of vaccinations covering 1.3 million healthcare workers and is now moving forward onto the next phase. However, the second phase has been delayed due to inventory shortages, which was aimed at 38.5 million citizens, including nearly 17 million citizens in the public sector and 22 million elderly folk.
Indonesia aims to vaccinate 181.5 million out of the 270 million population by the year-end, however, only one million people have gotten the full two-dose vaccination since public vaccinations launched on January 13.
To accelerate so called "herd immunity", now being more properly called "population immunity", the Indonesian government approved a new scheme, albeit a controversial one, which allows affluent private companies in the country to independently immunise their staff without having to wait for public vaccination. Hopefully this will ease the pressure on the public program and ensure that the companies whose employees are being vaccinated remain open and operational.
From 16 March to 5 April 2021, mass vaccinations are held at Istora Senayan, where senior citizens without a Jakarta ID Card can get the first vaccine shot. This programme is organised by the Health Ministry, the Ministry of State-Owned Enterprises (SOE), the Jakarta Provincial Government, and the Indonesian Healthcare Corporation (IHC) as the SOE holding company.
Senior citizens looking to be vaccinated can register through https://loket.com/event/vaksinasicovid19untuklansia to acquire the e-voucher via email with a barcode, e-voucher number and schedule for the vaccination. They can then go over to the location according to the given schedule and present their ID Cards for verification. Non-Jakartans must bring supporting document of their domicile in the city, while elderly citizens undergoing treatments for chronic disease must present a recommendation letter for the vaccine from a doctor.
This news is warmly welcomed by everyone since the older members of the community are those in the greatest risk categories.