H.E. Madame Sri Astari Rasjid, a gifted visual artist and Indonesia's Ambassador Extraordinary & Plenipotentiary to Bulgaria, Macedonia and Albania, is exhibiting her contemporary art installation, 'Welcome Home' at Oasis Heritage Restaurant Jakarta.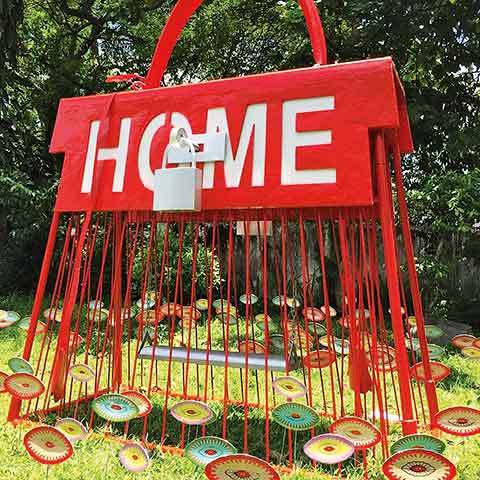 Madame Rasjid has been working and experimenting with a wide variety of media for her art, including paintings, three dimensional works, sculptures, installations, art photography, and stage performances. To stay fresh, the artist believes that an individual must be willing to try new things. Therefore, this year she decided to explore another medium, ceramics.
"As an artist, I always find myself working with ideas or concepts or issues related to my endless experiences - as a woman, as a mother and as a human being - in relation to Mother Nature and the feminine force that dwells within all mankind. The source of the feminine force of which I speak, in fact, is the womb… the place from where all creative energy in the world is born," she explains.
Welcome Home is Madame Rasjid's latest conceptual work consisting of fine porcelain 'Garba' platters scattered around a red bag sculpture entitled 'Home'. The installation resembles a dashing tree that is surrounded by colourful Garba flowers. The limited edition Garba porcelain ceramics are conceived to be a set of three pieces, each different in size and unique in design. Stop by at Oasis Heritage Restaurant Jakarta to see the unique installation up close.
Oasis Heritage Restaurant
Rukan Garden House Blok B No. 17-18A, Pantai Indah Kapuk
North Jakarta 14440
Phone: +62 21 2903 3217